Hello and welcome to our blog! We are a team drawn from the International Office, the Public Relations Department, as well as the Student and Academic Services Department of the University of Göttingen. Together with our student reporters, we want to provide you with information, insights and stories revolving around the University.
Student Reporters:

Fabian Hartmann, 28, had worked for different newspapers before he started studying. BA in economics and political science, now studying international economics. And, of course, working as a reporter for "Blug".
Kristin Fricke, 22, studies English and German and writes for the campus newspaper Augusta. The big goal? With pen and paper around the globe. But right now it's time to do some blugging.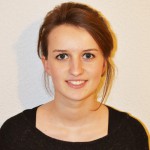 Lena Karger, 24, born near Hannover. BA in german and english, now studying compared literature. After two years spent in munich and spain, now back again in Göttingen and ready to write.
Employees: