This Christmas season, BLUG will be opening some festive doors for you! Behind them you will find information, advice, and support concerning all aspects of studying and life at Göttingen University. You can of course visit these places even when it's not Christmas season, but we know – the first step to get out there is the hardest. Therefore we want to give you a special incentive to get to know the advisory and information services that our university offers! Starting now and through all of December, BLUG will introduce different advisory offices around campus every week. You will also have the chance to win a voucher worth 50 Euro redeemable at any canteen and café on campus. How? You simply need to visit the "BLUG advisory office of the week", answer one of our questions concerning their services, and then send a picture to us to prove you've really been there! Important note: Please take a selfie with the BLUG logo (we have left one at every advisory office we introduce to you)! The winners will then be drawn from everyone who has sent in a picture and a correct answer to our question.
This week, we will visit…
…the Office of Student Affairs: Everything you'll need!
While on summer nights it's one of the most popular gathering spots for students, by day it is first and foremost home of the most important service centre for students: The Wilhelmsplatz. In the Office of Student Affairs you can find different help desks and counseling for questions revolving around your application, registration, organizational matters, earning your degrees and entering a career. The staff at the registration desk will help you immediately with your concerns: You lost your student ID? No worries, you'll get a new one here. Urgent questions regarding funding, studying or internships abroad or structuring your studies? You'll get advised at which desk you'll be helped with what:
The e Central Student Advisory Service (Zentrale Studienberatung or ZSb in German), is the central advisory service for all questions regarding your degree programme. Here, orientation is offered for the time before, during and after your studies, meaning questions about choosing your subjects, funding or help with problems during your studies. Their open office hours (no registration needed) take place mo-fr from 10am-12pm and mo-thu from 2-3pm (you can also ask for an individual appointment).
⇒⇒⇒Their highlight of this week is mid-term check starting on Monday, December 9th and taking place again on Monday, December 16th (both from 2-4pm). Use this opportunity to check if you're still happy with the degree programme you've chosen and check out other options.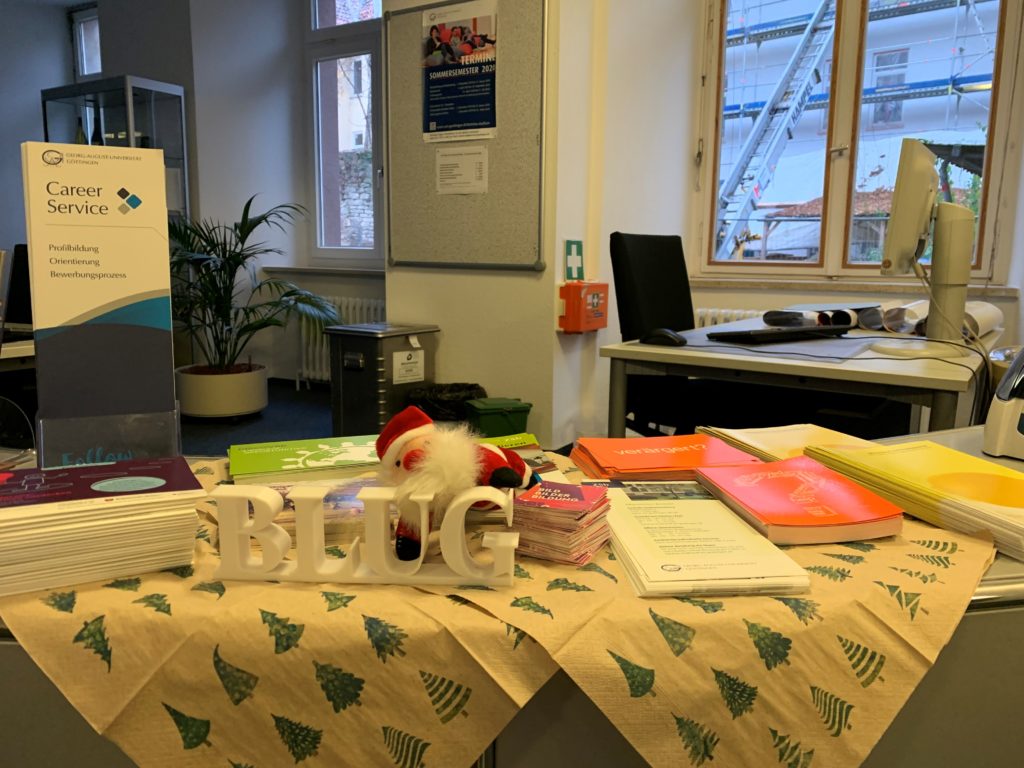 And if you are there anyway, then why not take a quick selfie with our beautiful BLUG logo that you can find at the help desk (Infotresen) of the Office of Student Affairs at Wilhelmsplatz 4 from December 9th to December 13th between 10am and 4pm (Friday till 12!). To win a mensa voucher worth 50 Euro all you have to do is send the selfie with the BLUG logo at blug@uni-goettingen.de (The picture is only proof that you've really been to Göttingen International. Of course, we will NOT publish it without your consent)! Also, in the mail with your selfie, please answer the BLUG-question of the week: "Have you ever made use of the services offered at the Office of Student Affairs? And if so, which one? .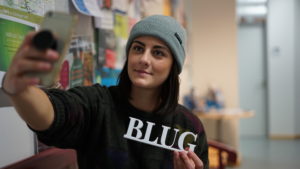 We will draw the winners of the 50 Euro voucher from everyone who sent in a selfie with the BLUG-logo and who answered our question no later than Friday, December 13th, at 12.30 o'clock!
Conditions of participation: The aim of this campaign is to raise awareness among students of the Georg-August-Universität Göttingen for the advisory services offered on campus. This is why only students are eligible to participate. The e-mail sent in must contain a selfie with the BLUG logo, which was taken in the corresponding institution, and an answer to the weekly question. Each student may participate only once per week. The winners will be decided by lot and notified via e-mail.