From the library index to the self-pickup area. What happens in the stacks of the SUB after I requested a book?
For loan
Available → Request
I click the button. Number, password, send – request received. How many times I went through this during my time at university? No idea. All I know is that my books are going to wait for me in the self-pickup area in the SUB the next day. But what happens after I placed my order in the GUK (Göttinger Universitätskatalog)?
Change of scene: Heike Mahrt is leading me down a flight of stairs at the oft he central library. And another one. And anothert. "We store about two million books down here", she says. Down here, that's the two floors of stacks that spread out underneath the entire SUB main building. Down here, that's where 100,000 meter of shelves give a home to a mere fraction of one of Germany's biggest library collections. (Down here is also where I'll be desorientatedly wandering around if Ms. Mahrt would decide to leave me behind). And it's down here where my request is heading after I clicked the button on my screen.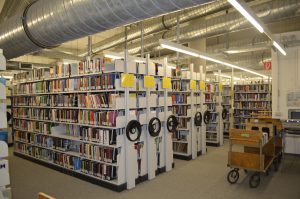 "The computer recognizes in which of the stack-rooms the book you requested is located and sends the data to the respective printer", Ms. Mahrt explains to me. And then it's the time of the uncelebrated heroes of our university library: Eleven employees who spend their days in the library vaults (those of you still familiar with the infamous "Freihandmagazin" might remember the welcoming atmosphere of this beautiful place). With the help of the printed paper slip which is going to accompany the book until we, not knowing of its importance, use it as scrap paper or throw it in the bin, the library elves search and find every single order in the uncountable lines of shelves and storage. Easy peasy? Nuh-uh. "If you misplace a book down here you might only find it again after two or three years", Ms. Mahrt laughs. But the space is limited nonetheless: Parts of the adjoining underground car park have already had to be converted into storage space. The space for monographs on the upper stacks level will only last for another six years.
The next step finally leads the books into the sunlight. In the self pick up area the orders are scanned and pre-booked, changing the status of our request from "requested" to "self-pick-up area" where the books will be waiting for us for the next five days. And in the end, after the books, journals and articles fulfilled their destiny by making us a little bit smarter, they return to the vaults oft he SUB where their spot in the shelves is already waiting for them.