Actually, this would be a video of our collective blood donation experience by the BLUG-Team (#BLUGSpende). Instead, because of Corona (which by now feels like a whole state of mind) and the according contact restrictions, we discarded our original plan to visit the Department of Transfusion Medicine with 10 people. That's the number of people I actually needed for moral support, when I go to donate blood for the first time in my life, but okay.
During this time of crisis, blood banks are in desperate need of donations and it seems that the numbers decrease significantly right now. I want to contribute with my own blood–although I can't do it entirely without support. That's why Kristin is joining me to mentally hold my hands–#contactless. As if I wasn't already scared enough of needles–and well, blood!–one question is capturing my brain: How safe is donating blood right now?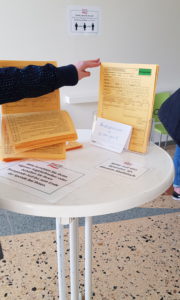 The Department of Transfusion Medicine assures us that there is no health risk at all, but safety precautions have of course increased. I definitely get the same impression when we arrive at the center for blood donations. Welcomed by a sign that instructs us to keep appropriate distance and guiding red and white tape on the ground, we are advised to use our own pen for filling out the forms (thankfully I never leave the house without one). Obviously the staff is equipped with face masks, gloves and all other kinds of protective gear. The sight of them is somehow eerie and strange I have to admit.
Apparently this isn't dystopian enough; I am experiencing the most bizarre medical examinations to this day (March 25th). The doctor and I are sitting on chairs two meters apart, one at each end of the room. She is yelling questions at me, I am trying not to shout to loud, when I tell her "No, I've never done this before! No, I don't have a cold! No, no medication either! Nuh uh, no more questions!" Now she examines my breathing, but only as I am directed towards her with my back: "Please exhale! In the other direction!" Okay then!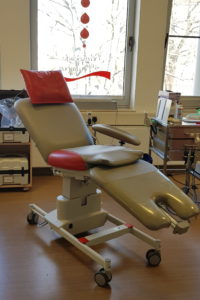 I am healthy, so I am allowed to donate (yaay??). I still don't know what to expect. I notice how nervous I am getting. That's why Kristin wants to show me how to get it over with. She's climbing the seat professionally, her arm stretched out, only a little prick. She is smirking at me: "That was as bad as it gets, nothing to worry". Well, then! Dorothea, one of the staff members, smiles at me assuringly (at least I assume she is smiling under that mask). I am confidently stepping forward, sitting down on one of the chairs, pulling up my sweater and waiting for the pain to set in. But nothing yet.
"Have you read this?" Dorothea is handing me a sheet with information. Definitely a diversionary tactic, but I am starting to read, trying to concentrate on every single letter. Then, everything happens so quickly: The blood flow in my arm is getting stemmed to make the veins visible, the crook of my arm disinfected before I notice a little pain. "Can't do it without a little prick", Dorothea is looking at me apologetically. Yeah, well, then that's the way it is.
After a minute or so, my body loses its motivation. I am getting hot and dizzy. Dorothea is suggesting to discontinue. "No, I can do this!", I am telling her –and couldn't be more wrong! My sight darkens, I am ready to abort this mission. The lower part of my seat is now elevated, so my feet are higher and my blood can circulate more easily. A second staff member is handing me dextrose and a cup with apple juice and a straw (I don't even have to hold the cup myself). The doctor is checking in on me, measuring my blood pressure. Wow, I would have never expected this kind of all-around treatment. I am moved.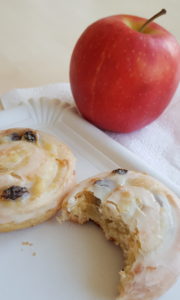 I am allowed to lie down for a while longer, before I am accompanied to the snack room. Once I am taking a seat, they ask me of my favored snack. I am picking a cheese sandwich, a cinnamon roll, an apple and apple juice (Is this an all inclusive holiday?).
During my conversation with the staff in the snack room, I am learning that they have a case like me at least once a day. I take comfort in that. They also let me know that the number of donations has decreased throughout the years–the Corona pandemic worsening it. In the beginning, there were as many donators as never before, but in the past weeks, it again declined immensely. Higher safety precautions and the preliminary closing of the blood donation facility in the Klinikum contributed to this downturn. The Department of Transfusion Medicine definitely takes notice of this crisis.
Due to my little incident, I wasn't necessarily able to help this shortage of blood donations. A little test glas with my blood was the only thing they've gotten from me today. I am allowed to try again in three months, and I am sure I can endure this whole thing for longer by then. My conclusion: Donating blood sounded horrible to me; in reality, the whole atmosphere was easy and relaxed. I probably would have performed better if I hadn't made myself so nervous beforehand.
Here are a few tipps, if you're now interested in donating blood yourself and help out a bunch of people with you contribution (which I am sure you are): The donation facilities in the Klinikum are currently closed, but you are free to visit their location near the main campus, Weender Landstraße 1. They are usually packed on Tuesday afternoon, so you might want to pick another date. And don't forget your pen!
For more information, visit the website of the Department of Transfusion Medicine (in German).