Drag has fascintated me ever since I stumbled into a free show by Drag Queen Taylor Mac in New York's Prospect Park during a vacation. I loved everything about it: the opulent dresses, the glitter, the casual wit of the moderation, which always slightly embarrassed the audience without ever making them uncomfortable, the pompous finale during which Taylor Mac asked everyone to embrace their neighbors and spread love to the sound of Joy Divison's "Love Will Tear Us Apart". I was impressed by how effortlessly the performance treated moldy gender categories and ancient heteronormative concepts of love. Of course I hadn't been entirely unfamiliar with drag before: I knew the German drag queen Olivia Jones, a year befor ConchitaWurst had won the ESC and in a class I attended (I had just finished my second semester back then) there had once been a discussion about drag in which the name Judith Butler was dropped and I didn't understandmuch else. But during this show, for the first time I felt like I understand what drag as an art form was all about.
Not long ater that, I discovered RuPaul's Drag Race, a casting show for drag queens developed by the US drag queen RuPaul. I watched the first episode in irritated amazement in view of the cordial bitchiness of the contestants, their elaborate make-up looks, their talent in singing, dancing and stand-up comedy and the high quote of referenced to pop culture, queer icons and Drag Race itself of which I only understood a fraction. And even though I had hardly any clue what was going on, the show had a strange allure which kept me watching.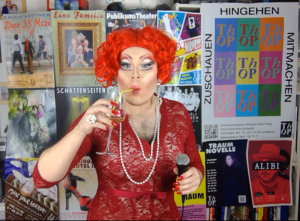 Renelopé Fauxwell, a drag queen from Göttingen, knows to describe this allure better than I can: "People like drag queens," she says during a Skype interview in which I want to learn more about the drag scene in Göttingen. They are colorful, dazzling people without negative associations, she explains. I understand what she means: Drag has something good-hearted about it, it's about fun, about undermimng gender roles in a playful way. Drag is colorful, loud and funny, involving a lot of glitter and party equipment.
Basically, drag means to dress up as another gender and by that often playing with stereotypes. Most drag performers are drag queens, so men performing as women, but there are also drag kings, the exact opposite. By now, drag has evolved so far as a culture that there are also queens whose performance entirely transcends gender categories and becomes more art than costume. A drag queen usually has a persona who performs on stage, is called with the pronoun "she" (or other non-binary alternatives) and often has an extravagant name. The origins of the word "drag" are controversial, but supposedly it has been used in its contemporary meaning since the late 19th century. A theory suggests that the word comes from theater language and refers to claoks 'dragging' over the floot. The theory that Shakespeare coined the term by putting the abbreviation d.r.a.g. for "dress resembling a girl" in the margins of his plays to mark the many crossdressing-scenes, has (sadly!) been disproven.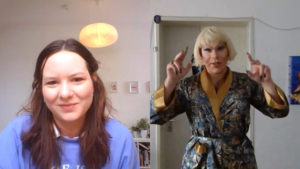 Renelopé, who is actually called René and used to be a student at the University of Göttingen, has put on her drag attire for our interview: she is wearing an embroidered robe, a blonde wig and impressive make-up. This took her three hours, she says, which is quite common for "full drag", which means not only putting on make-up but also forming the body into a more feminine shape using pads. We have agreed on the interview taking place in drag beforehand – because Renelopé gives another kind of interview than René would. Renelopé's journey as a drag queen started with a bet about Conchita Wurst winning the ESC. Renelopé doesn't quite remember whether she lost or won, anyway it resulted in her performing as a drag queen for the first time. After that, she appeared in a ThOP production in drag and Renelopé was born. Ever since, she works as drag queen besides her day job, moderating events in the ThOP or Göttingen's Christopher Street Day. Making a living by doing drag alone might be possible elsewhere, in Berlin or Cologne, but not in Göttingen, the right scene for that doesn't exist here. "Göttingen just isn't a great oarty town," says Renelopé. I can't object.
It's important not to take yourself too seriously as a drag queen, says Renelopé, also it's necessary to have a certain tolerance for pain. Because drag is exhausting: the high heels, the uncomfortable clothing, the need to be quick-witted throughout the entire performance. But it pays off: Renelopé recommends everyone to dress up in drag just once, because it makes you feel more present, almost invulnerable. "With the make-up comes the god complex," she laughs. Besides, she likes the interactions with people she experiences as a drag queen.
Sadly, drag isn't always perceived positively. Especially in conservative or alt-right circles, there are prejudices and openly homophobic resentments against drag queens and kings. This is why drag is genuinely political in Renelopé's eyes: "Having such loud looks makes drag queens always also representatives and activists." She has never had any bad experiences in Göttingen, however, this is not a rude town, she says, people are too proud of being well-educated for that here.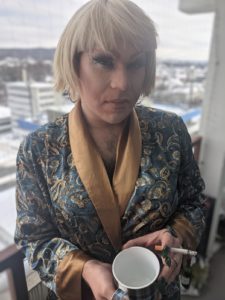 In recent years, drag has moved more towards the mainstream. The success of RuPaul's Drag Race has led to increasingly more people getting in touch with drag. This has caused somewhat of a backlash: Especially members of the LGBTQ community accuse RuPaul of commercializing drag which use to be a subculture and by that, taking away all of its subversity. The German network ProSieben received a lot of criticism two years ago when it produced a spin-off of Drag Race, with the uninispired name Queen of Drags – and Heidi Klum as its main judge. Drag Queens such as Olivia Jones or Conchita Qurst only had marginal roles in the show. Renelopé sees these developments ambivalently: As important as it is to etablish platforms for queer history and people in order to question heteronormativity, as questionable it is to put Heidi Klum at the center of a show about drag. By becoming part of mainstrem culture, drag could be in danger of losing its edge to become suitable for a mass audience.
Mainstream or not, culture isn't doing great in times of Lockdown. Also for Renelopé, working as a drag queen has become harder due to the pandemic: Her long-planned show "Drag am Stecken" (a pun on the German saying "Dreck am Stecken haben" which roughly translates to "having a skeleton in the closet") had to be cancelled, when moderating online events, she misses the audience. She hopes this year to be better. So do I: One of the last events I attended before the pandemic hit was a drag show whose glamour I remember dearly during the dull lockdown months. Perhaps the first event I go to after Covid will be a performace of Renelopé Fauxwell.