In this year, I have taken more walks than ever before in my life. Since March it has become part of my routine to walk, jog, or ride my bike every day to escape the confines of life in Social Distancing and to safely meet people without risk of infection. But taking the same routes again and again gets pretty boring after a while (another round around the Wall will cause me to lose my mind!), so that I have moved on to expanding my radius.
The worst part of the lockdown may be over (for now), but the Corona pandemic is still going on which means possible activities this summer continue to be limited. So it's time to strike new paths – literally! So your semester break won't get boring, we have tested and compiled five routes for tours to get to know Göttingen and its surroundings. No matter whether you're new in town or have been locals in the Göttingen hood for years, whether you prefer to walk, run or ride your bike – the Blug walking tour guide has something to offer for everyone!
1. Wanderlust
Route in a nutshell: Göttingen – Bovenden – Eddigehausen – Burg Plesse
Area: Weende
Length: 8 km (one way)
Duration: ca. 1 hour (one way, without breaks)
Mode of transport: bike and hike
Strenuousness: 4/5
Inclination: 4/5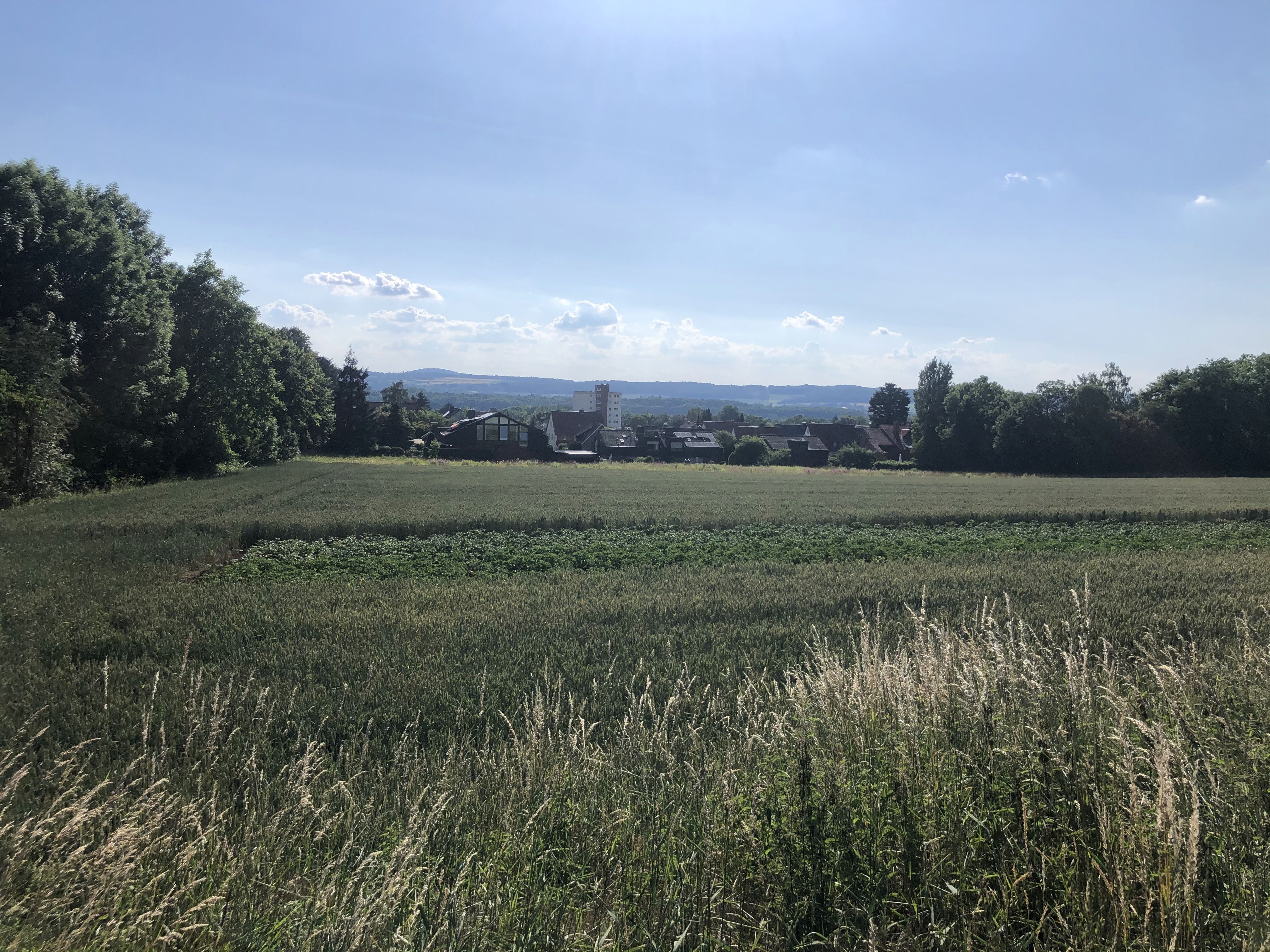 Die erste Aussicht in Richtung Westen // The first view facing West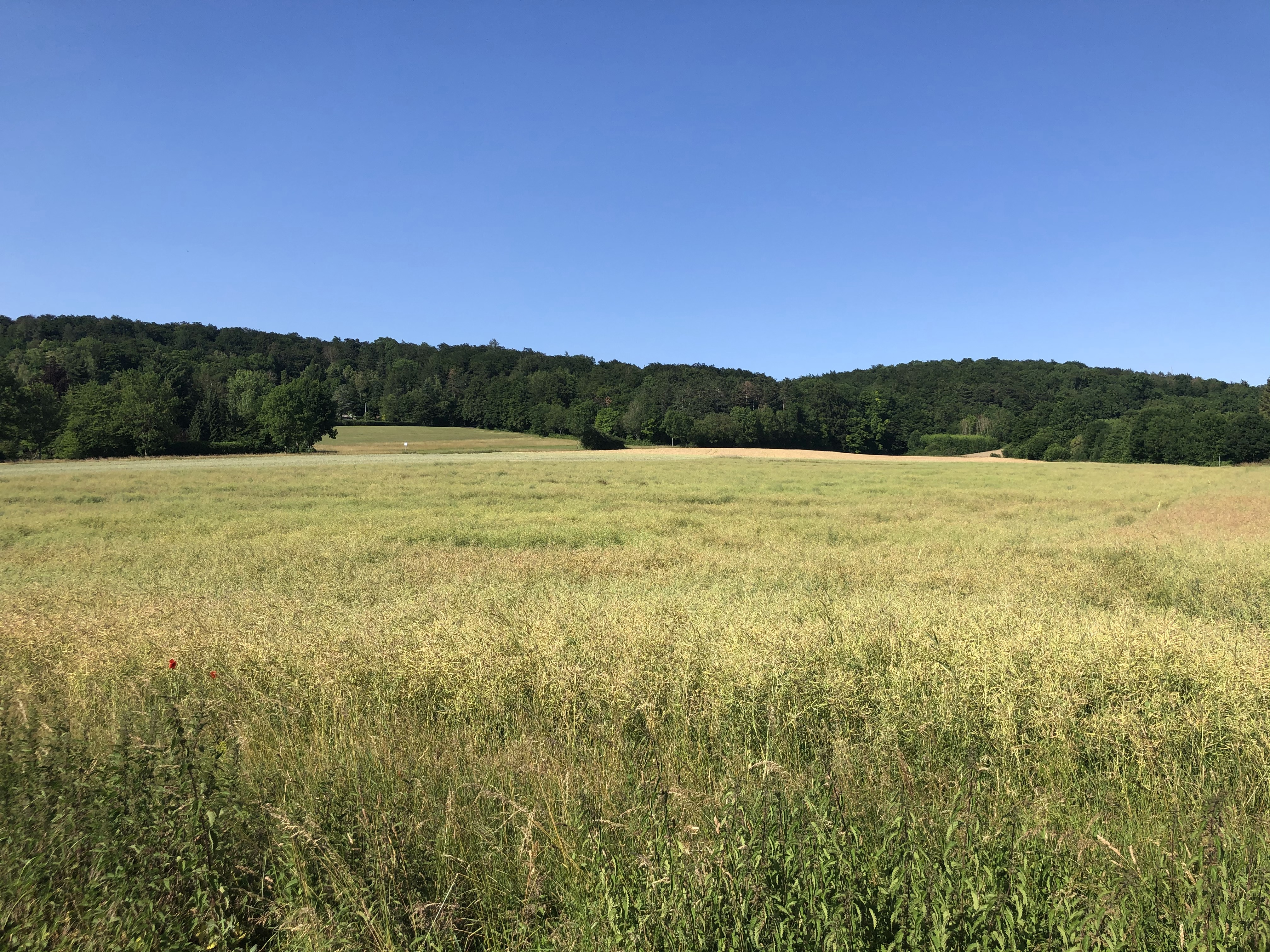 Auf der anderen Seite ist es auch hübsch // The other side looks nice as well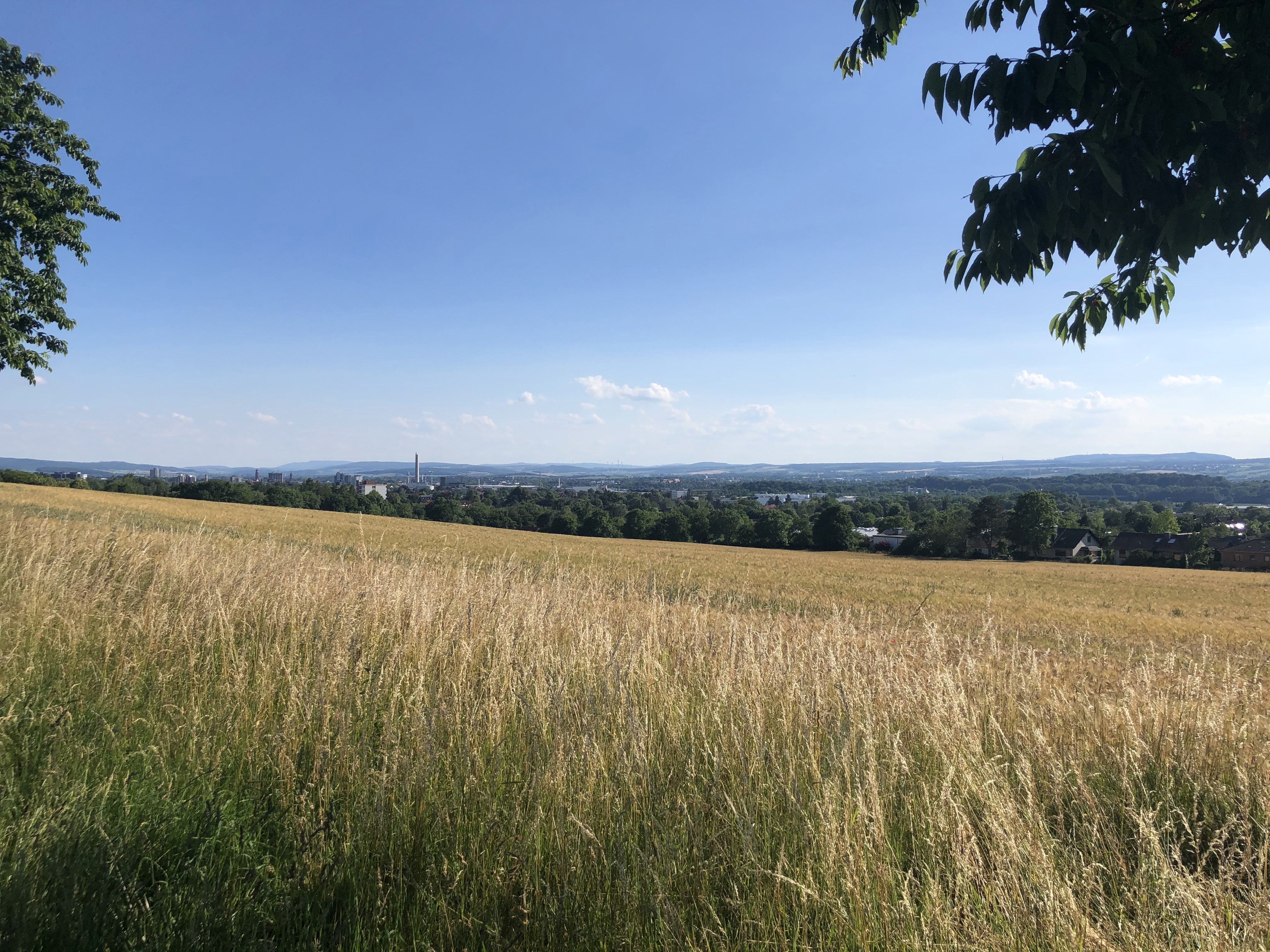 Von hier blickt man schon weit // From here you can see far already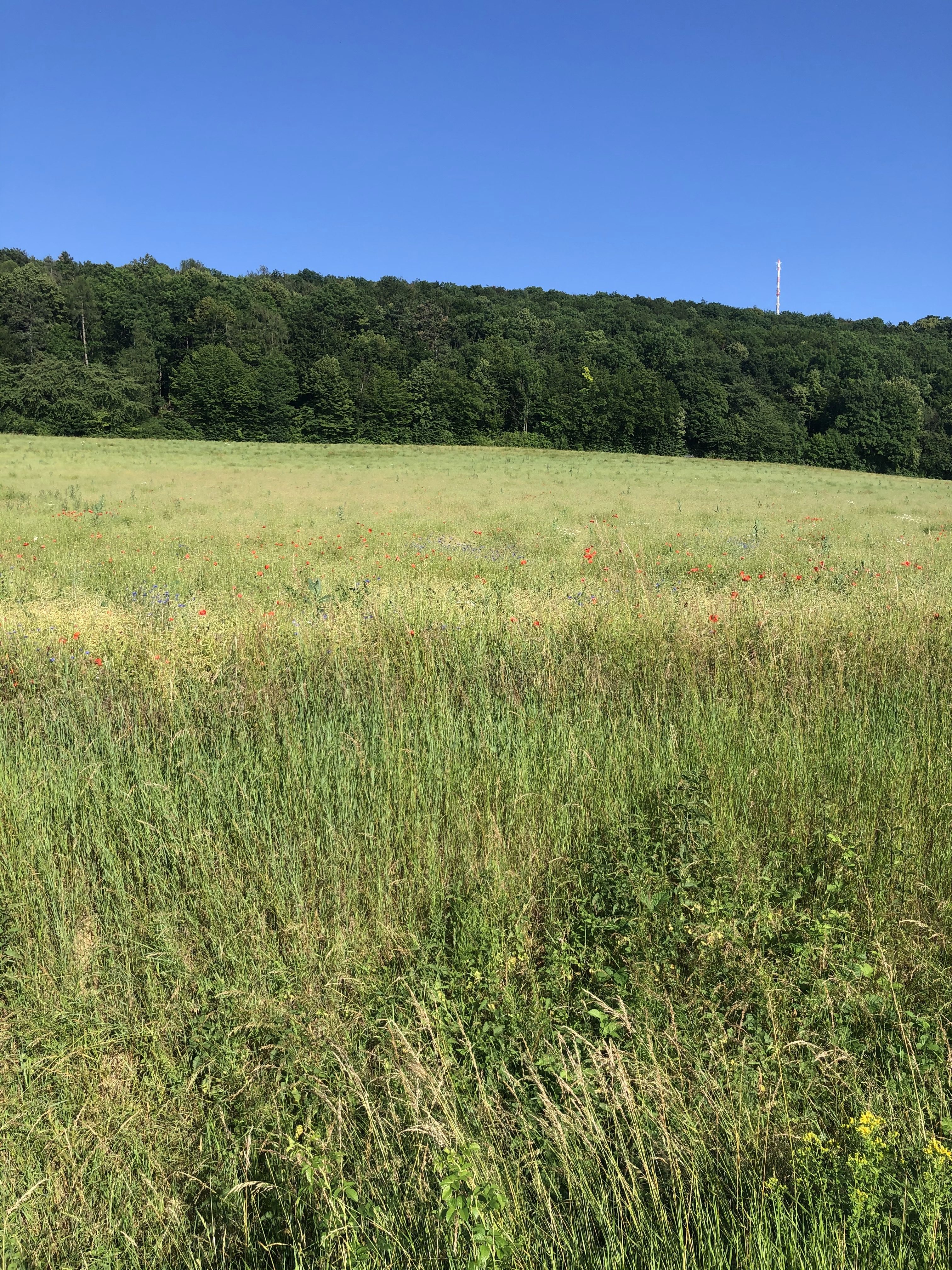 Mohnblüten gibt es auch zu sehen // You can see blossoming poppies along the way as well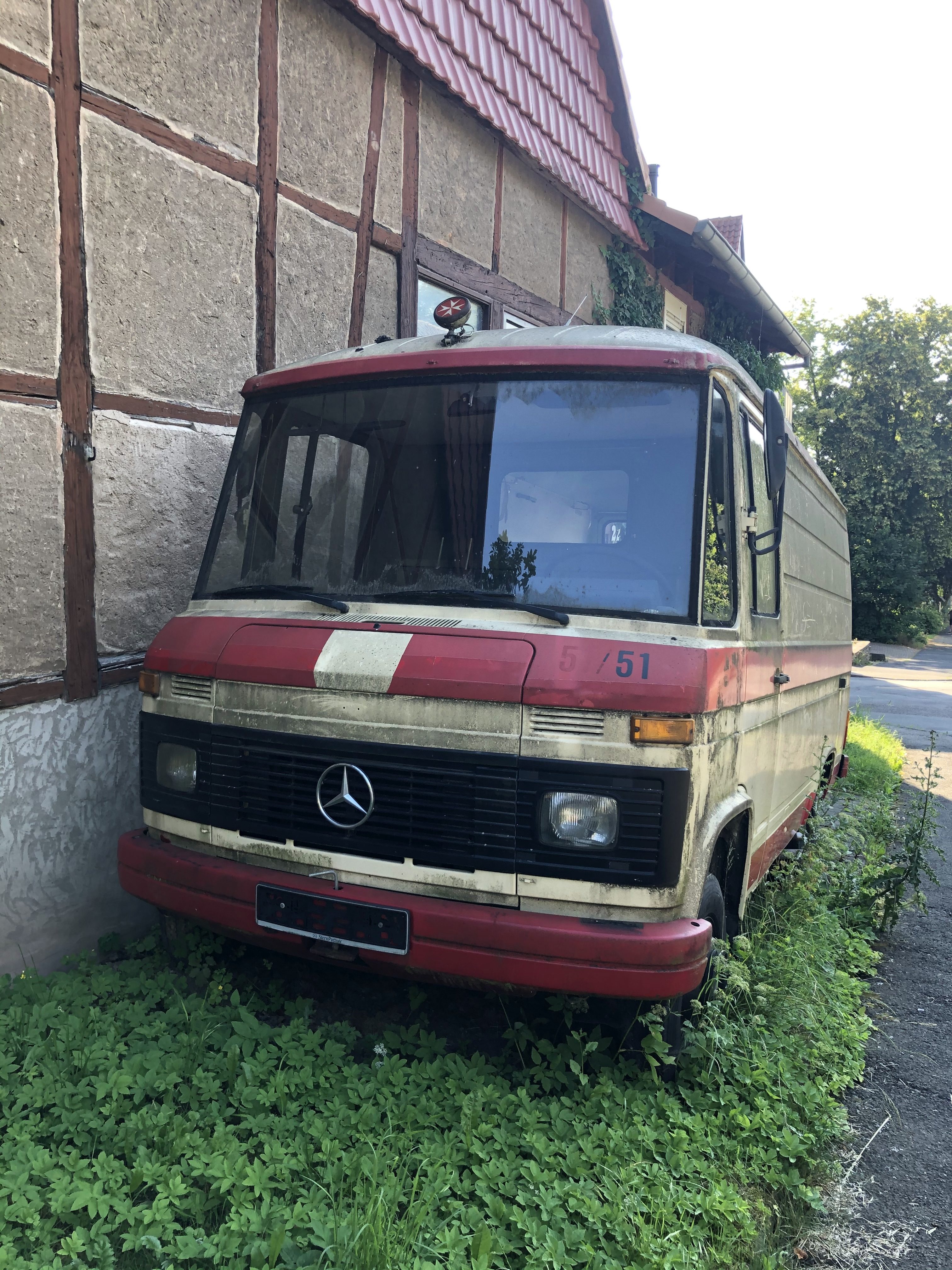 Auch Eddigehausen hat ein paar Sehenswürdigkeiten zu bieten // Eddigehausen has some sights to offer too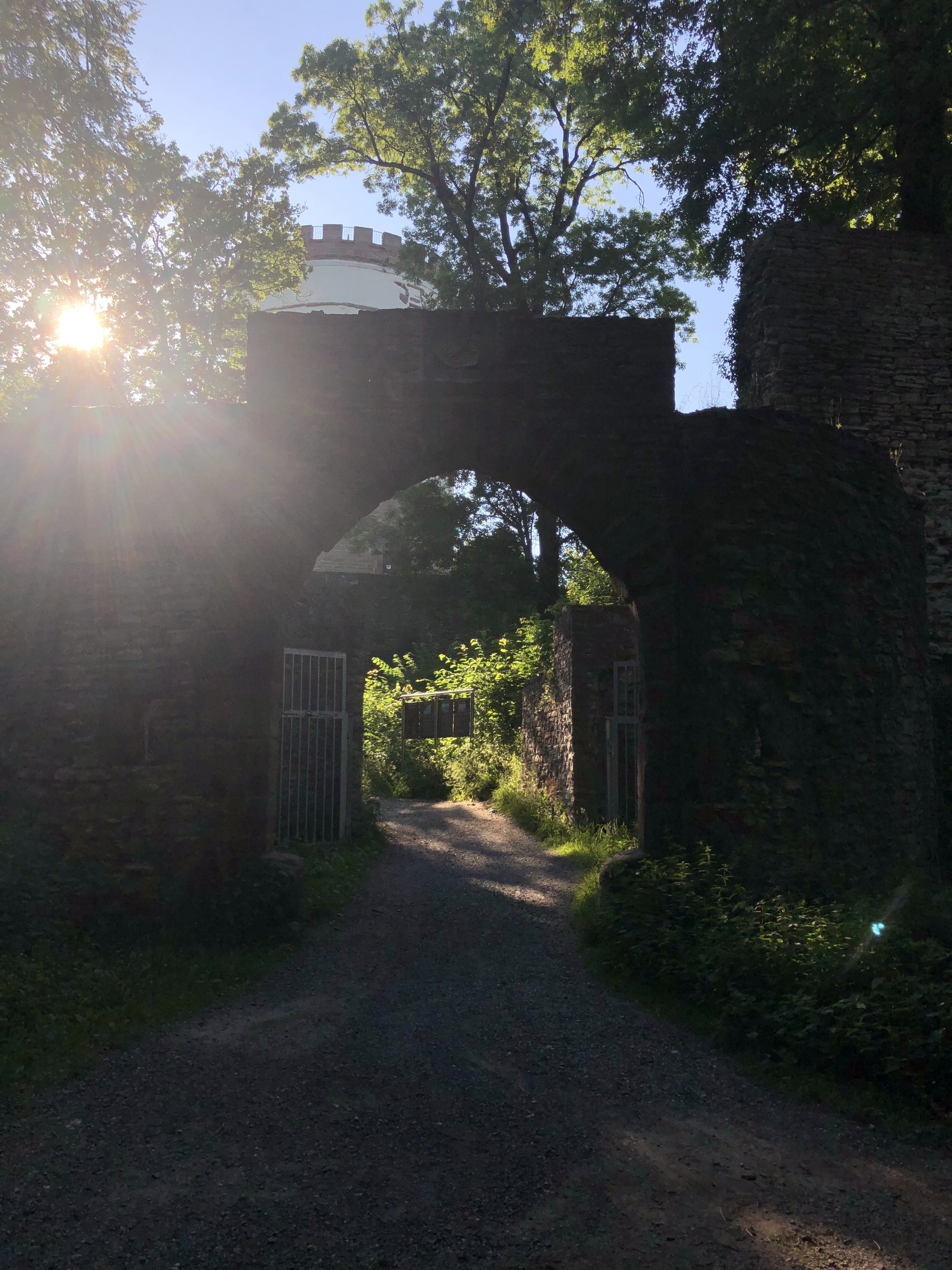 Hereinspaziert! Das Eingangstor zur Burg // Come on in! The gate to the castle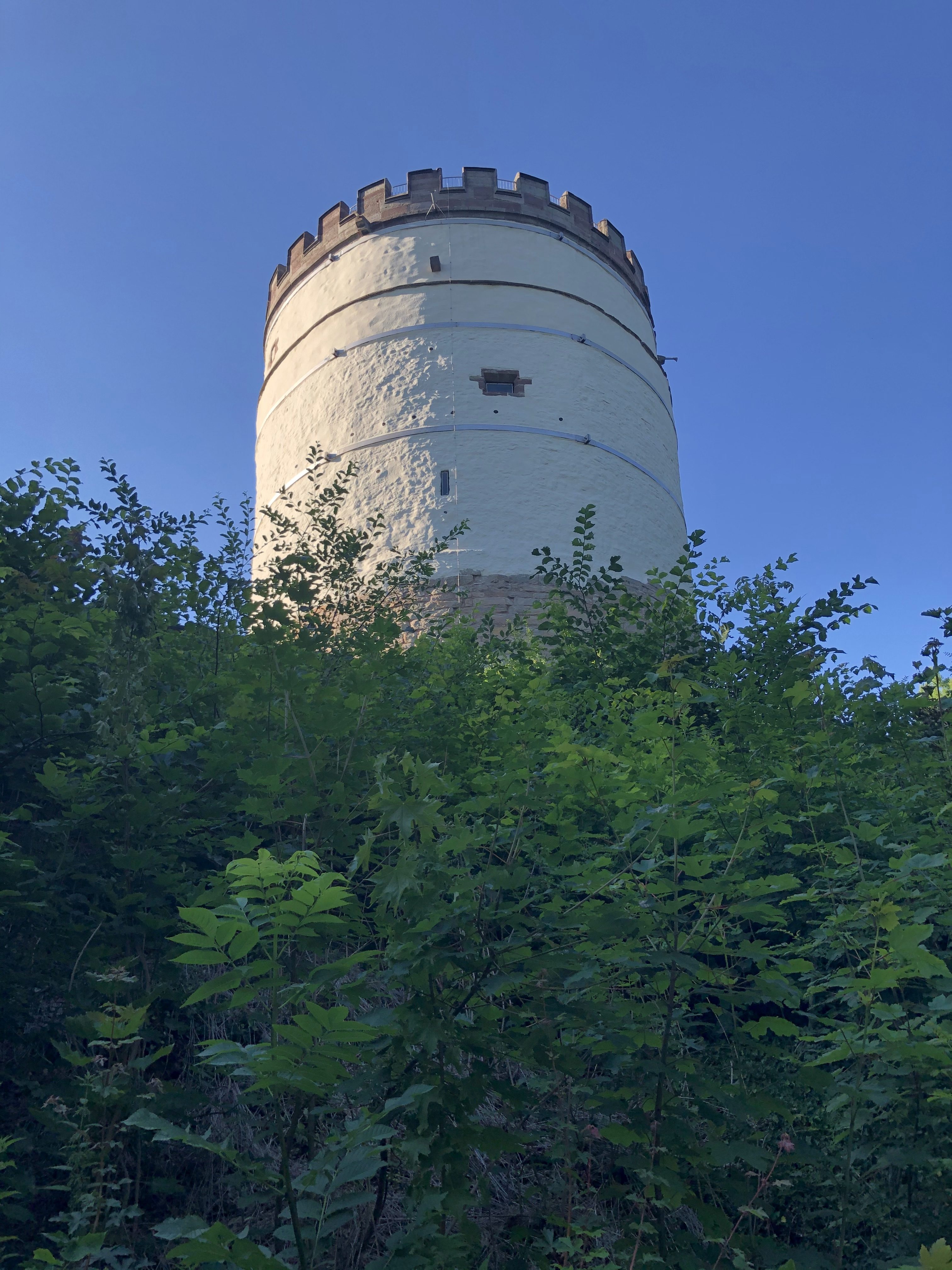 Eindrucksvoll: der Bergfried // Impressive: the Bergfried (castle tower)

Fühlt ihr euch schon wie ein echtes Burgfräulein? // Feeling like a real damsel yet?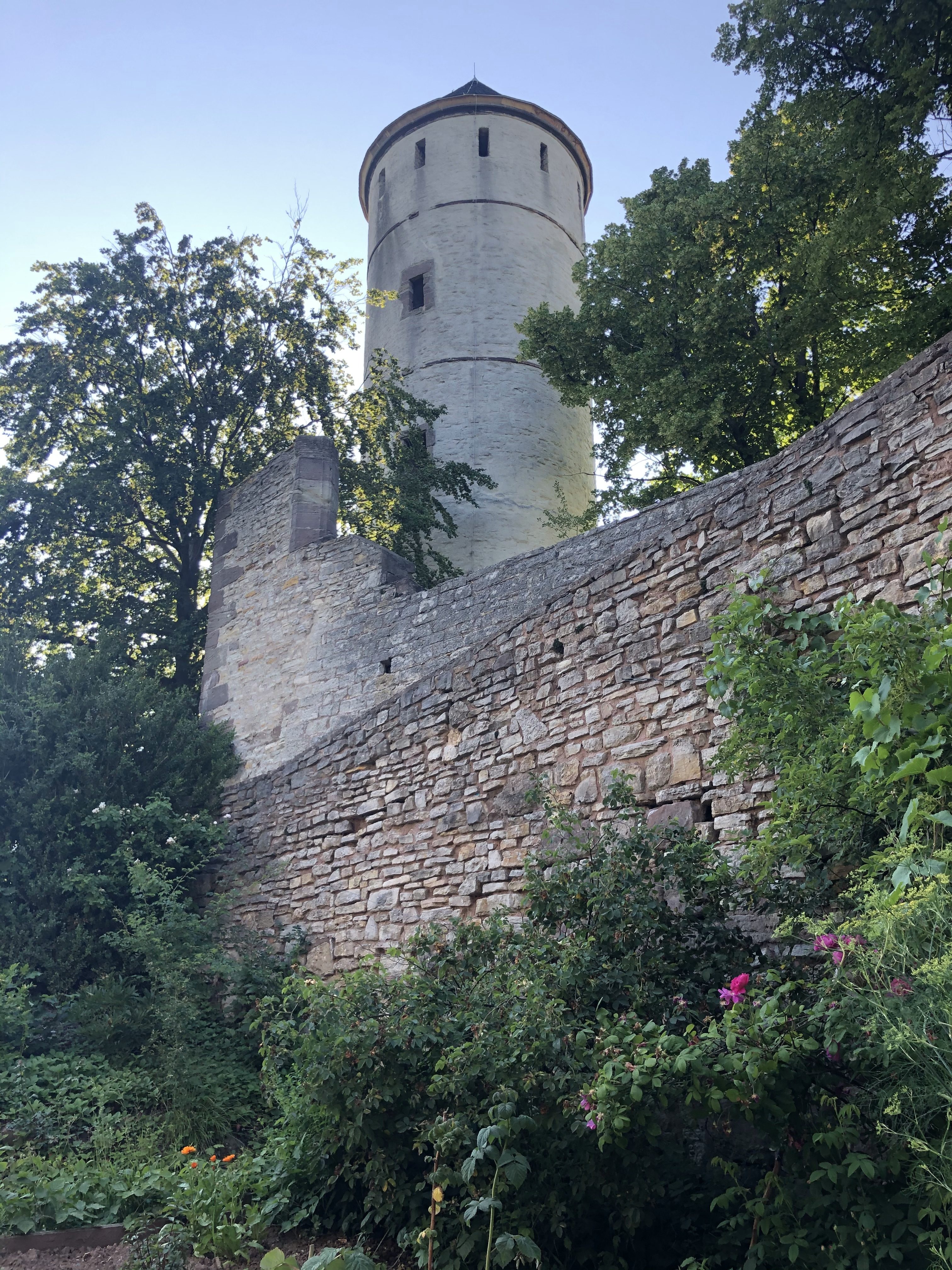 Ihr braucht neuen Content für euren Feed? Da habt ihr ihn! // You need new content for your feed? Here you go!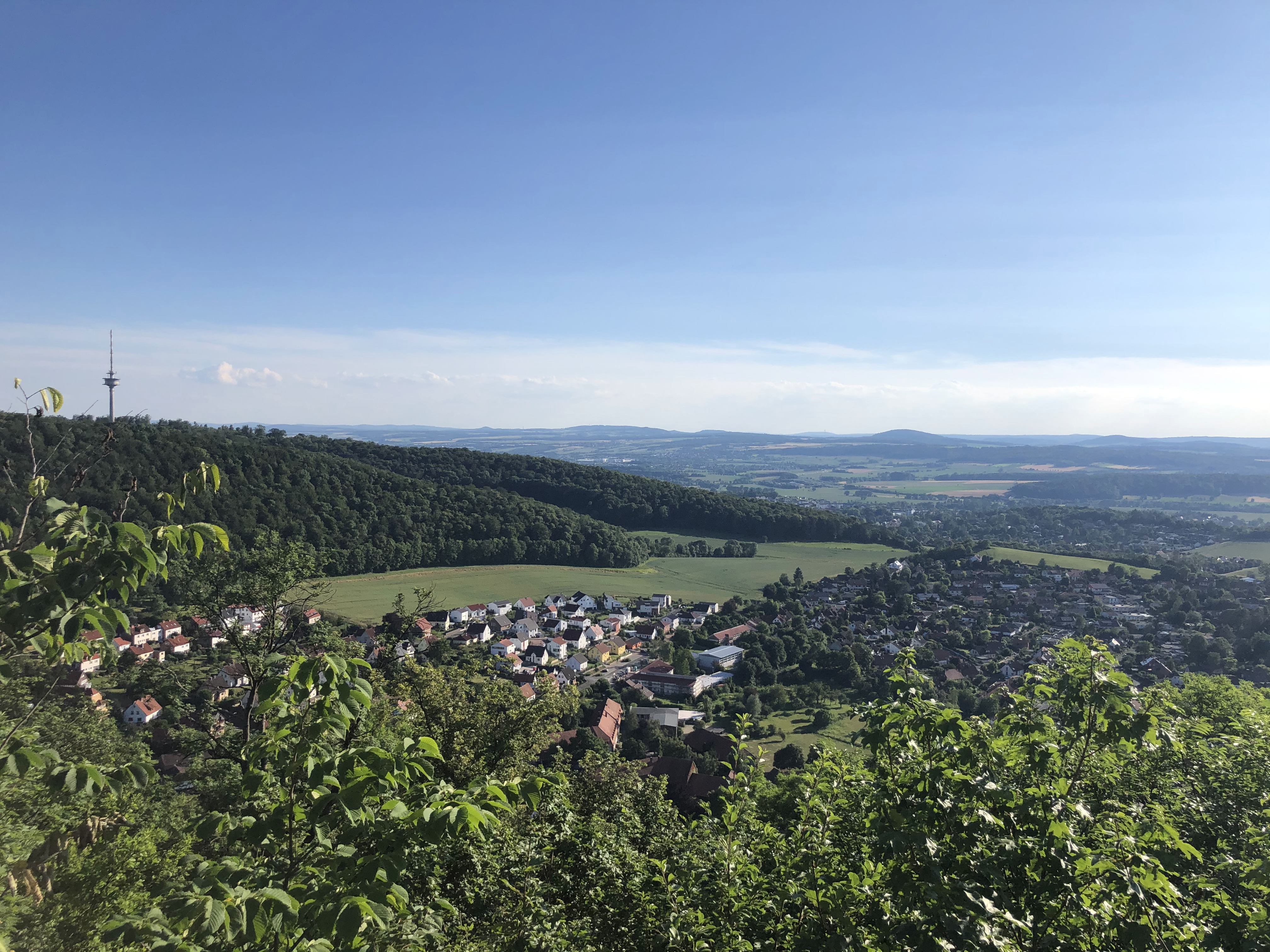 Atemberaubend schön: der Blick in die Landschaft // Stunningly beautiful: the view across the landscape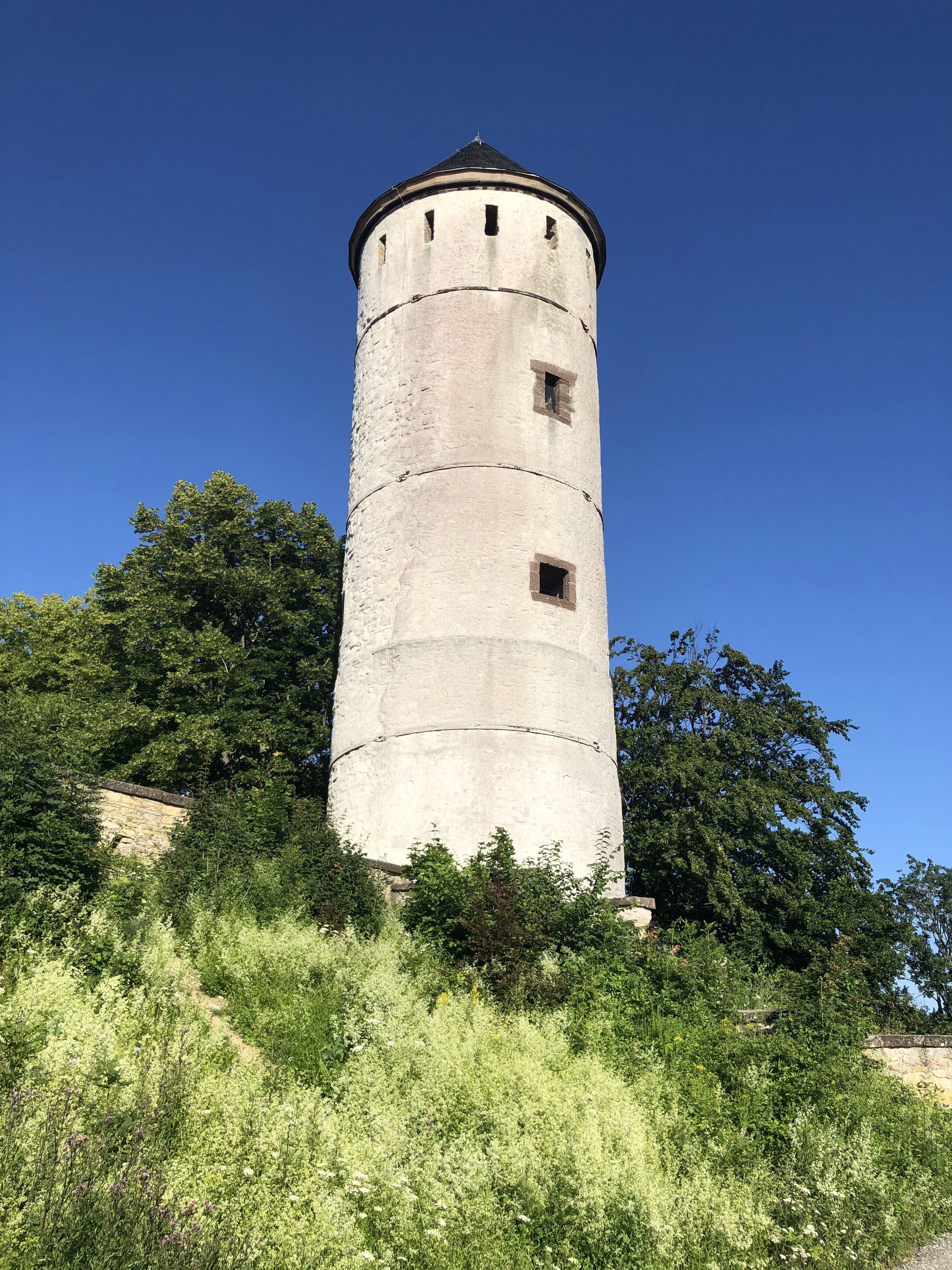 Noch ein Turm // Yet another tower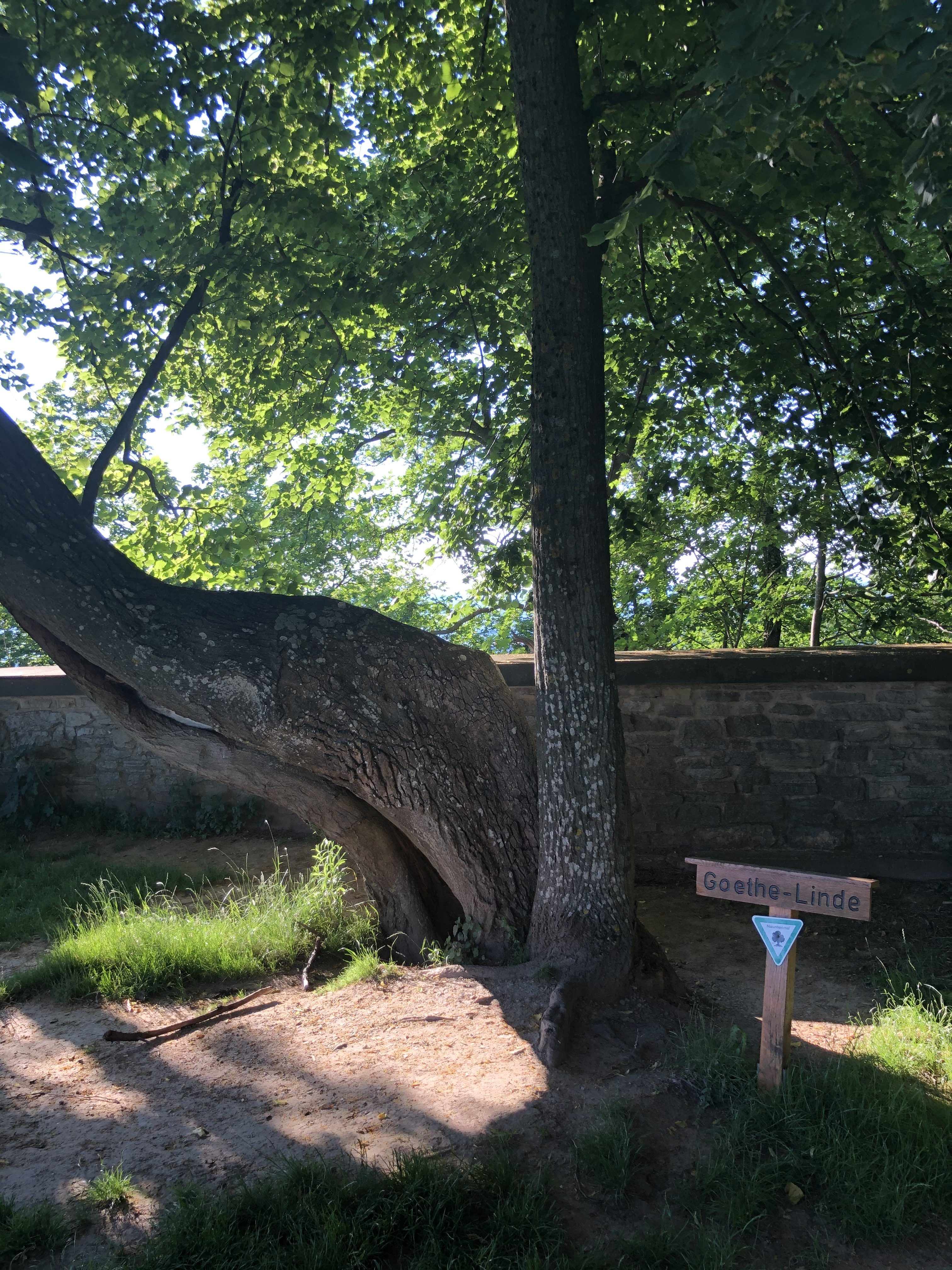 Pilgerstätte für Germanist*innen: Hier saß schon der Dichterfürst höchstpersönlich // Pilgrimage site for students of German literature: The prince of poets himself sat here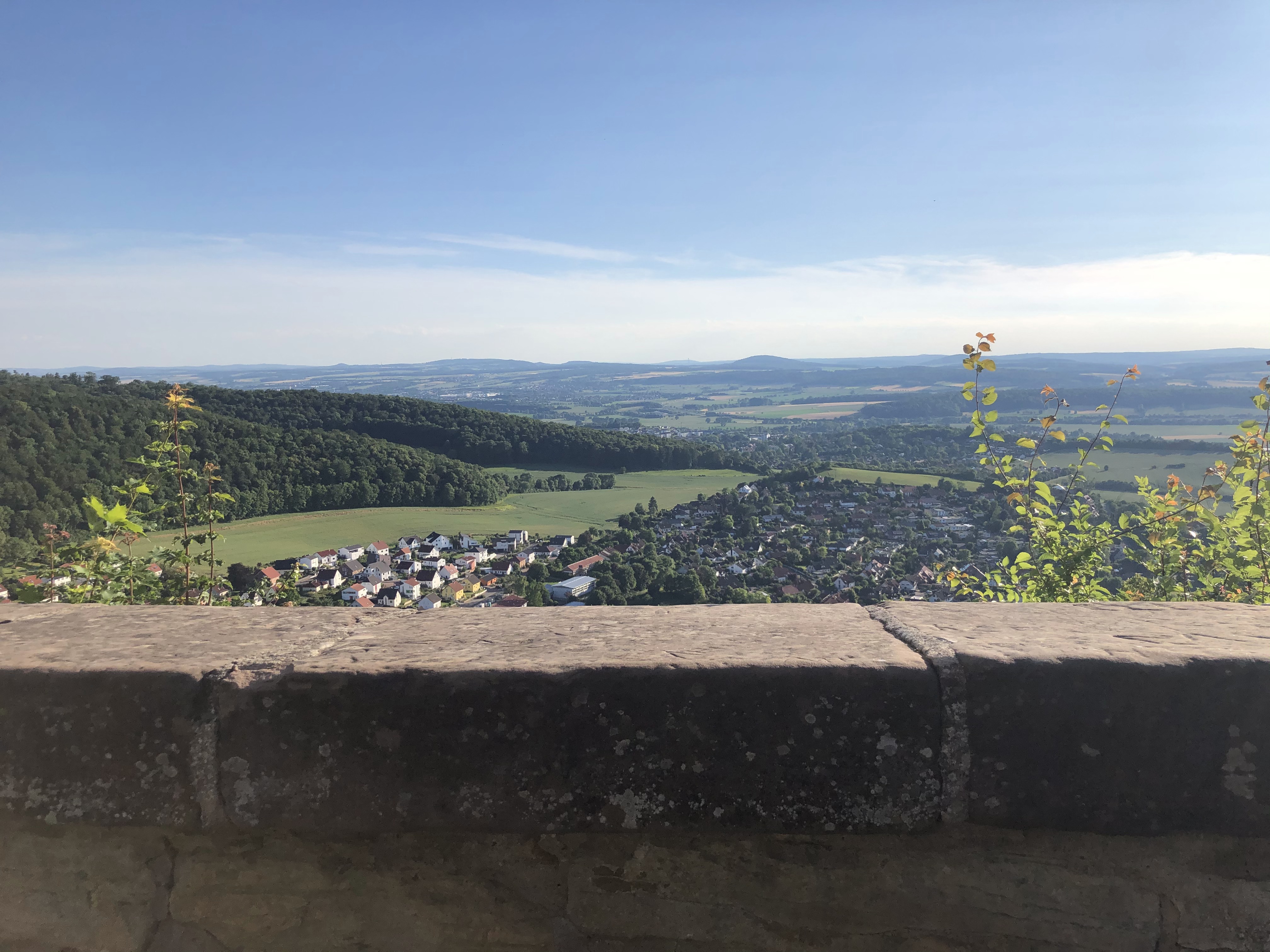 Auf der Mauer lässt es sich gut jausen // The wall is the perfect spot for snacking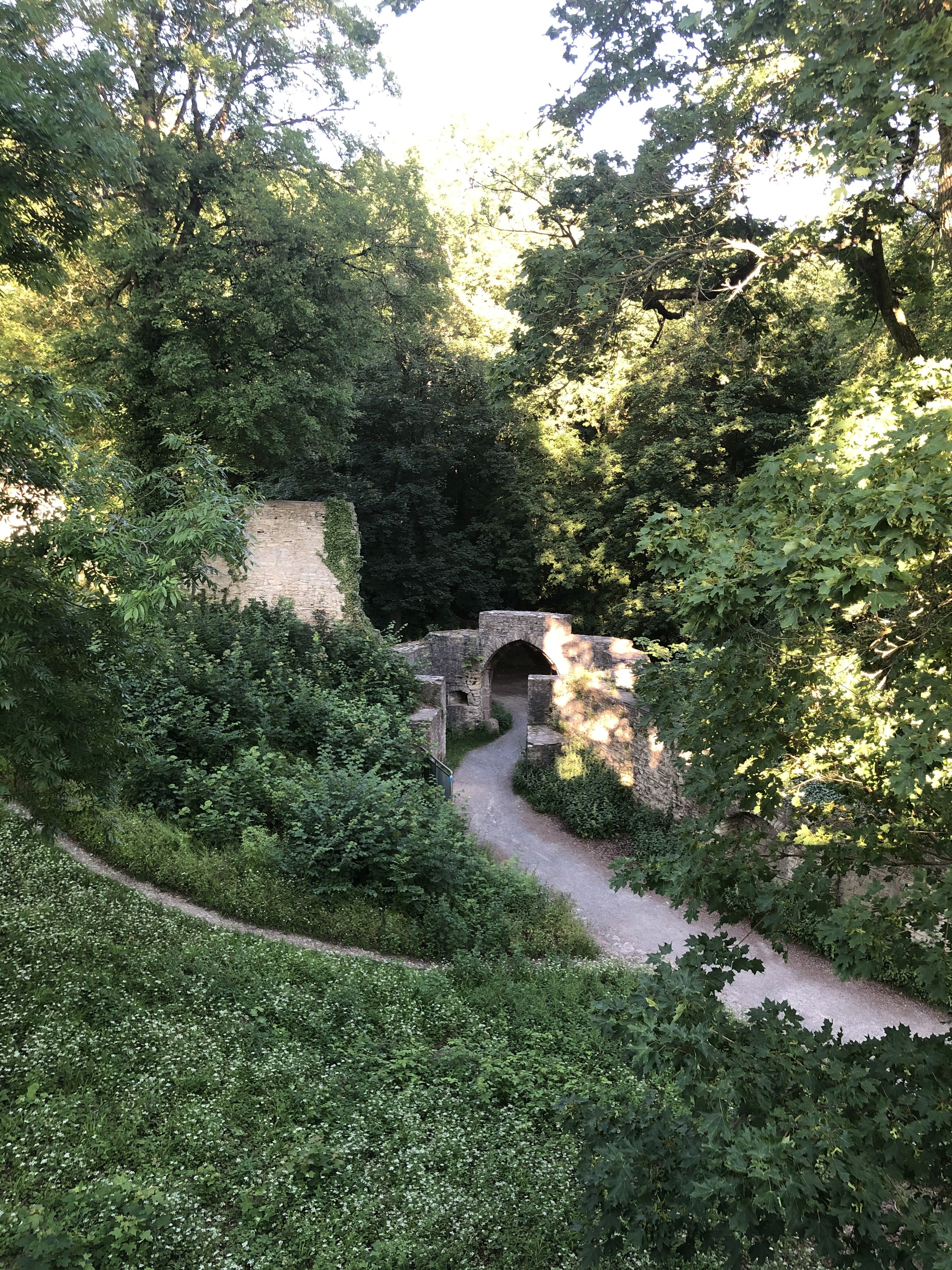 Zugewachsen: die Burgruine // Grown over: the castle remains
You start out at the intersection between Kreuzbergring and Robert-Koch-Straße which you follow in the direction of Weende. For now, the street leads you straight ahead with just a little bit of inclination. After you've passed the Nordcampus and a small school garden, the street turns into a dirt road. Here, you already find the first view worth seeing on both sides. To your right, there's fields and woods, to your left, you see houses and the landscape of Lower Saxony all the way up to the horizon. The road goes on with little ups and downs, you pass some houses and (if you're there during the right season) poppies, until you reach a right turn. You follow it and already now you can see from afar where you are aiming to go: Burg Plesse. This might discourage you shortly because it still seems so far away, towering on top of the mountain between trees. But don't worry, the longest (although not the most strenuous) part of the tour is already behind you. At the next crossing, you stay left and enter Eddigehausen. Here you have to find your way through the alleys and I would recommend to watch out for a place to park your bike so you can hike the rest of the way up to the castle – because it is going to be steep! There is also a street that leads up there but it is worth taking the small track through the woods in order to truly feel like you're in a Grimm fairy tale. Via Ritterstieg and Eselsstieg you make your way up the hill. You will not regret having chosen solid footwear for this part of the tour as the wood floor is soft and you have a guarantee for dirty feet when wearing sandals (you might notice I am speaking from experience).
When you stumble out of the woods onto a clearing, you already see the castle gate on your left. Through the ruin you walk towards the plateau from where you have stunning view of the surrounding landscape. The broad wall is perfect to sit down and take in the sight. It is especially beautiful here in the evening sun or during sunset (also during sunrise, I suppose, but I assume y'all are reasonable people for whom mountain climbing at 5 am is not an option to begin with). This spot is perfect for a picnic so make sure to bring some snacks and drinks along. With picnicking on Burg Plesse, you step into famous footprints: Just a few meters away, you'll find the Goethe linden which is called that because the famous poet himself had lunch under it in 1801. He even wrote a little poem about that experience – which, admittedly, might not be his best work. Once you've had enough of the view, it's time to explore the rest of the castle remains which have a special kind of allure. And not least they deliver top content for the 'gram as well! The castle tower is closed at the moment but in better times it's possible to visit it. When you feel ready, you can get on your way back – and look forward to it because it will seem ridiculously short compared to the way there since you will be hiking and biking downhill. Of course it's possible to hike all the way from Göttingen in case you are longing for a longer walk. You can also reach Burg Plesse by car. But that doesn't count.
You can also find the tour here.
2. Park Tour for Jogging
Route in a nutshell: Hochschulsport – Ostviertel – Schillerwiesen – Cheltenham-Park
Area: Ostviertel
Length: 5.6 km
Duration: ca. 40 minutes (depending on your endurance, you can take short-cuts or detours)
Mode of transport: walking or jogging
Strenuousness: 5/5
Inclination: 3/5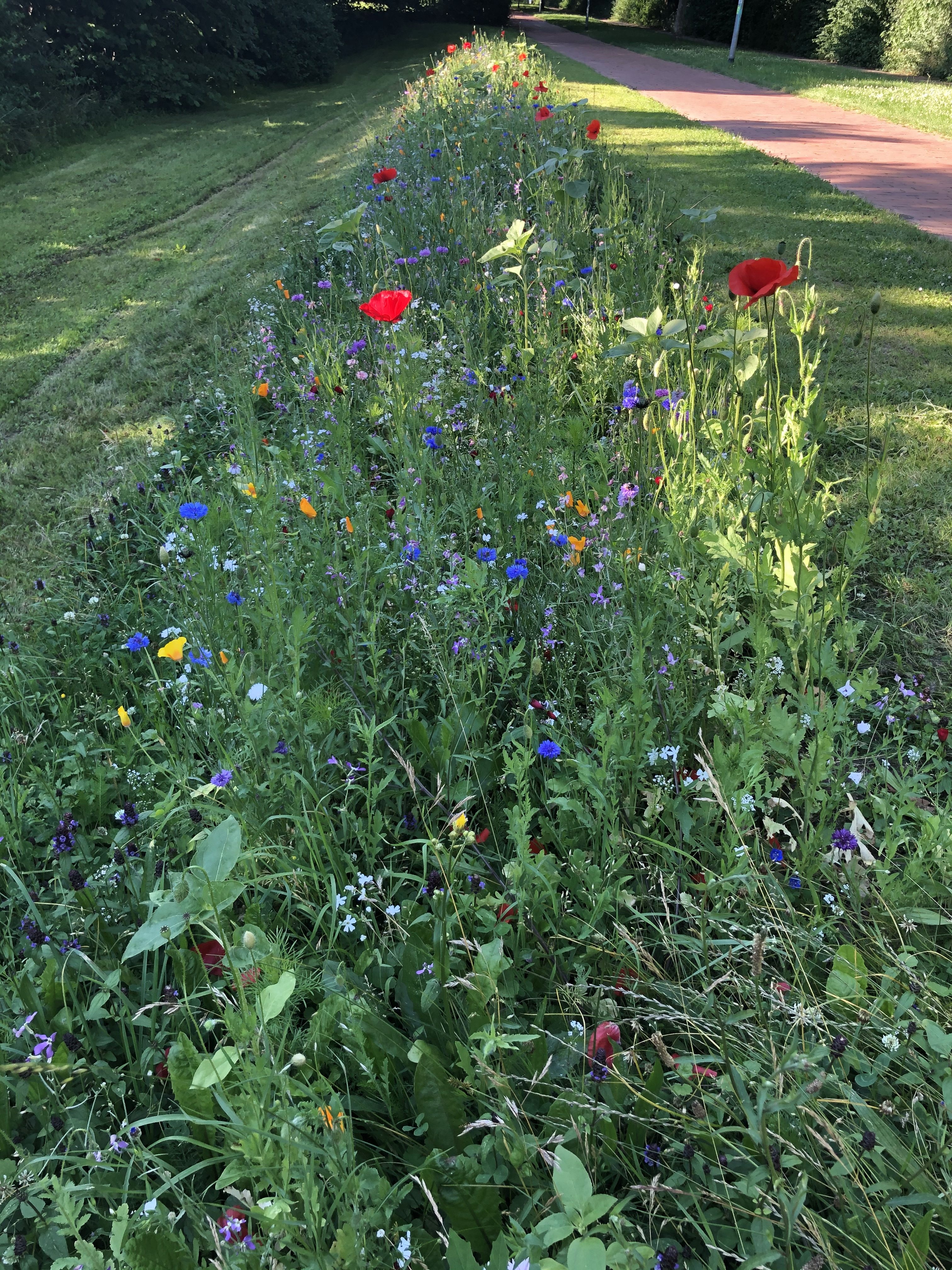 Sehenswert am Startpunkt der Tour: der Blühstreifen // Worth seeing at the start of the tour: the widlflower strip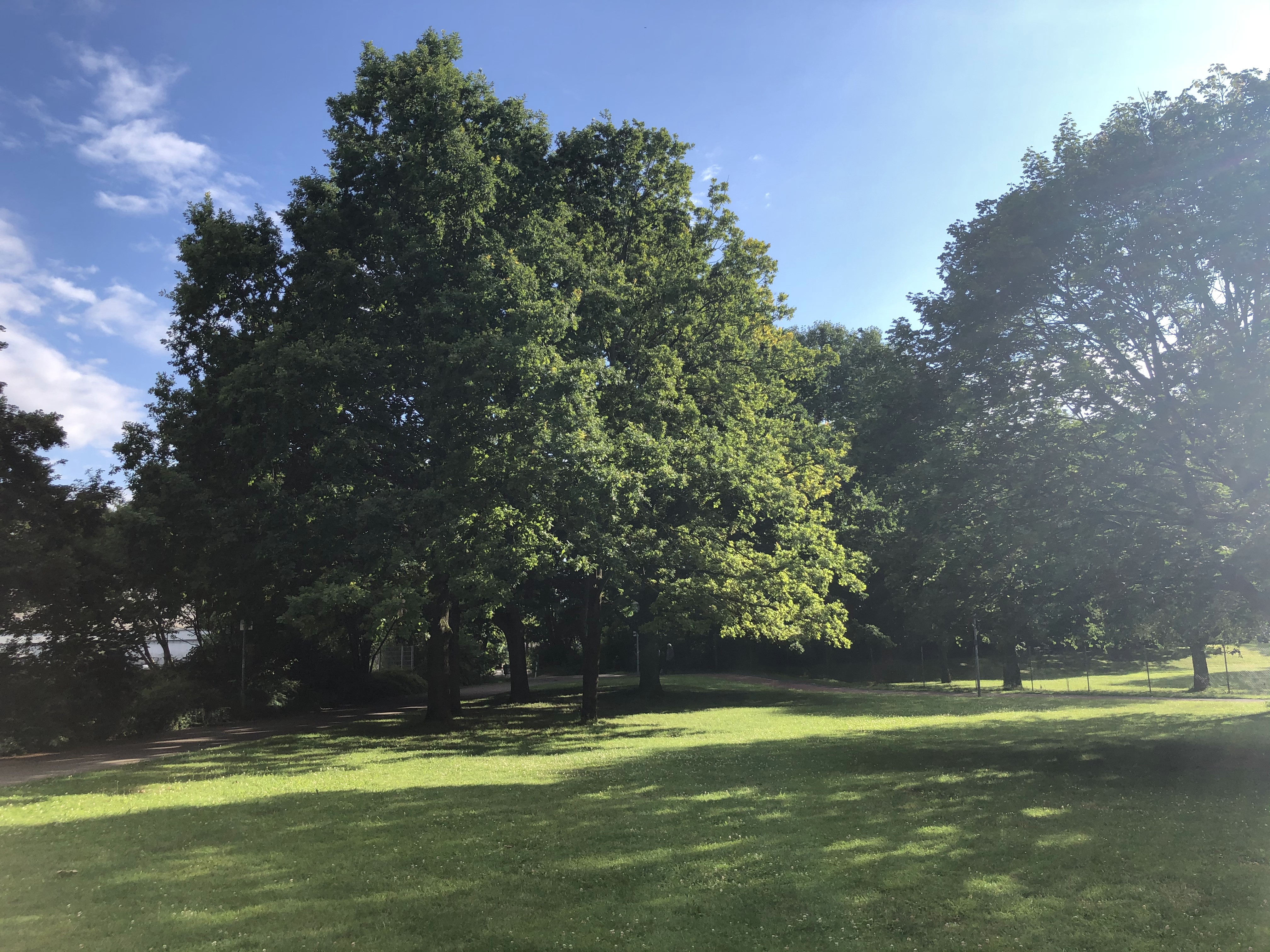 Park Nr.1, direkt beim Hochschulsport // Park no. 1, just around the corner from the Hochschulsport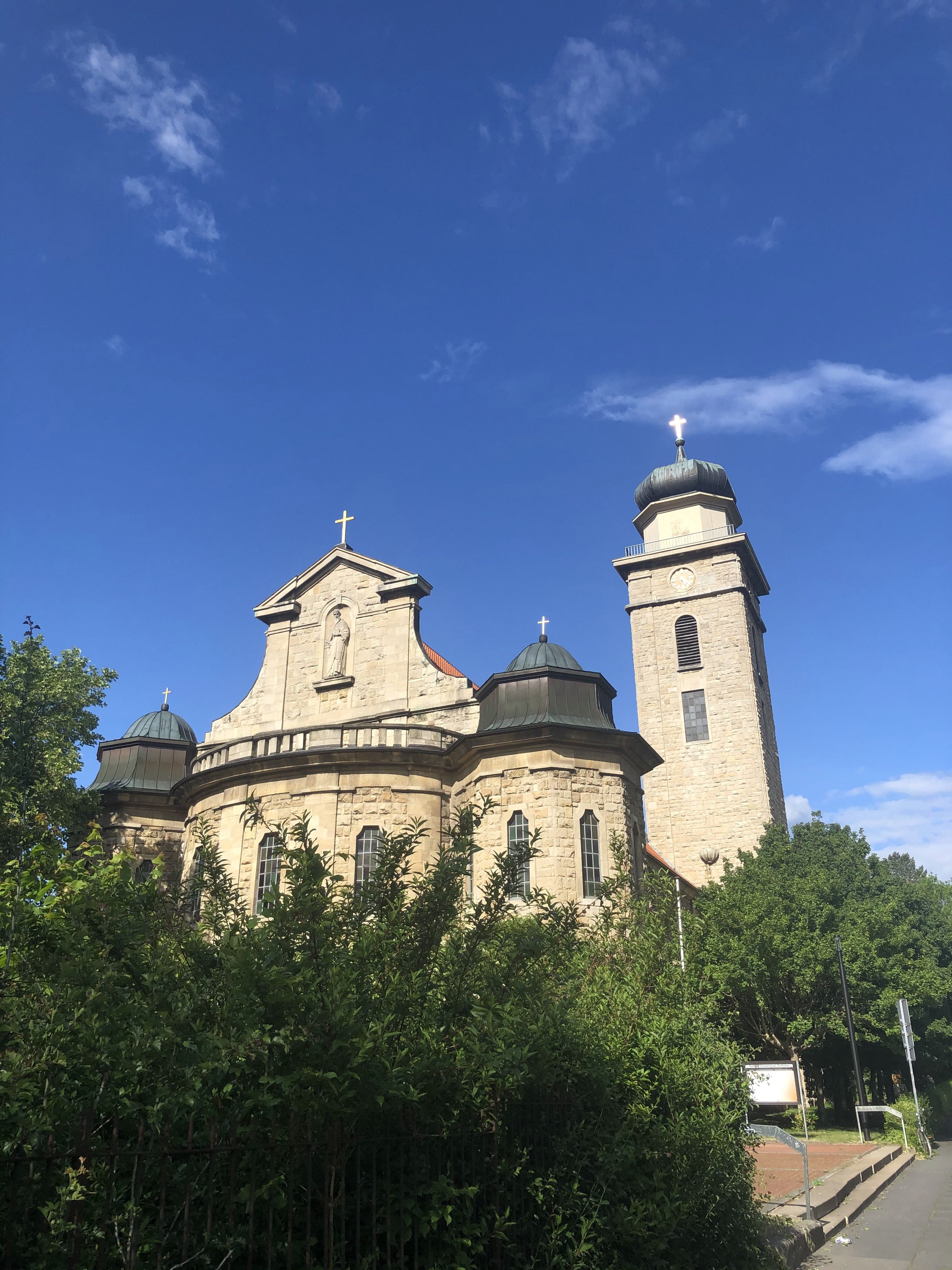 Die Kirche St. Paulus in der Wilhelm-Weber-Straße // Church St. Paulus in Wilhelm-Weber-Straße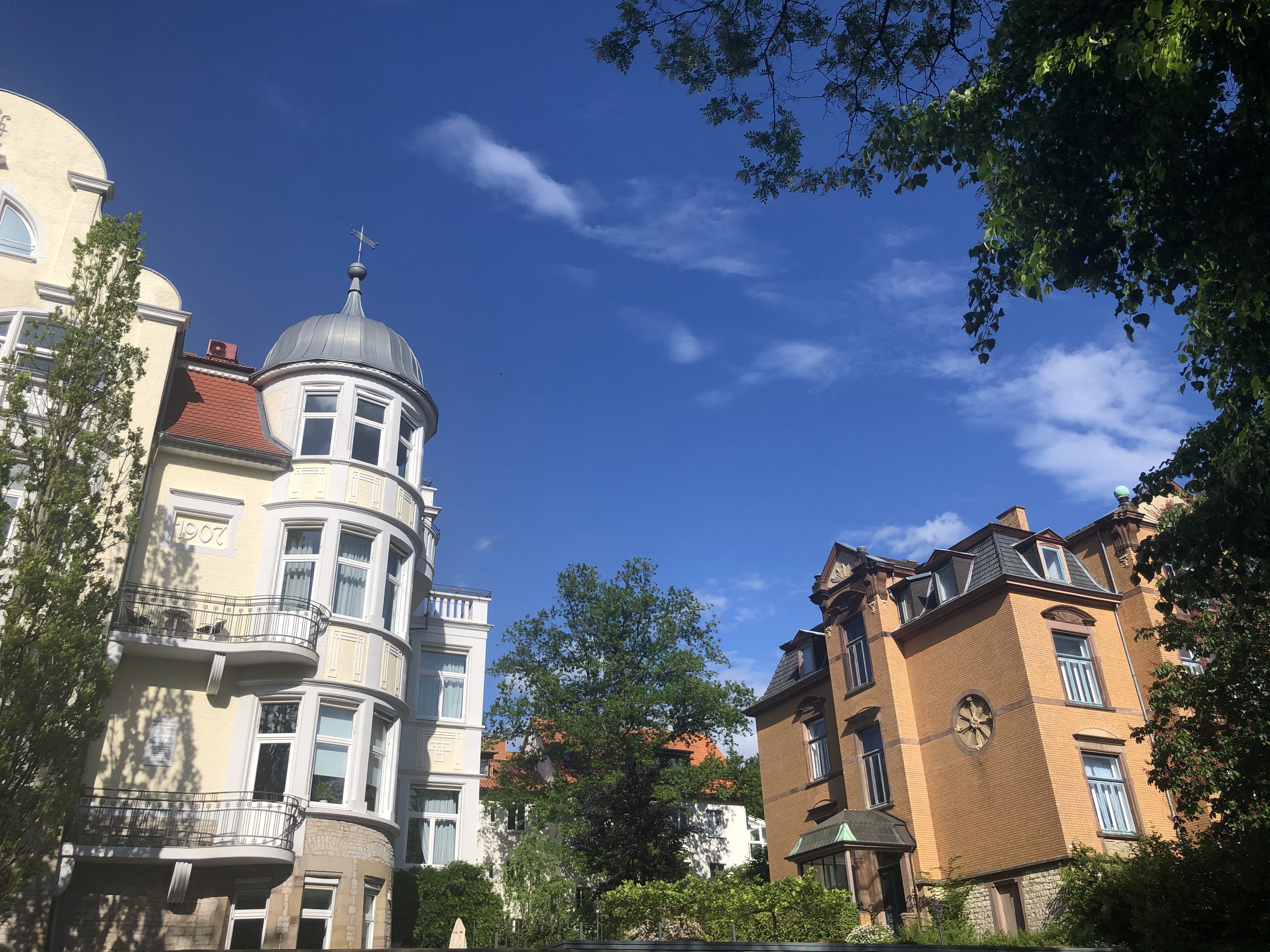 Wohl nirgends in Göttingen stehen so schöne Villen wie im Ostviertel // Göttingen's Ostviertel has the most beautiful villas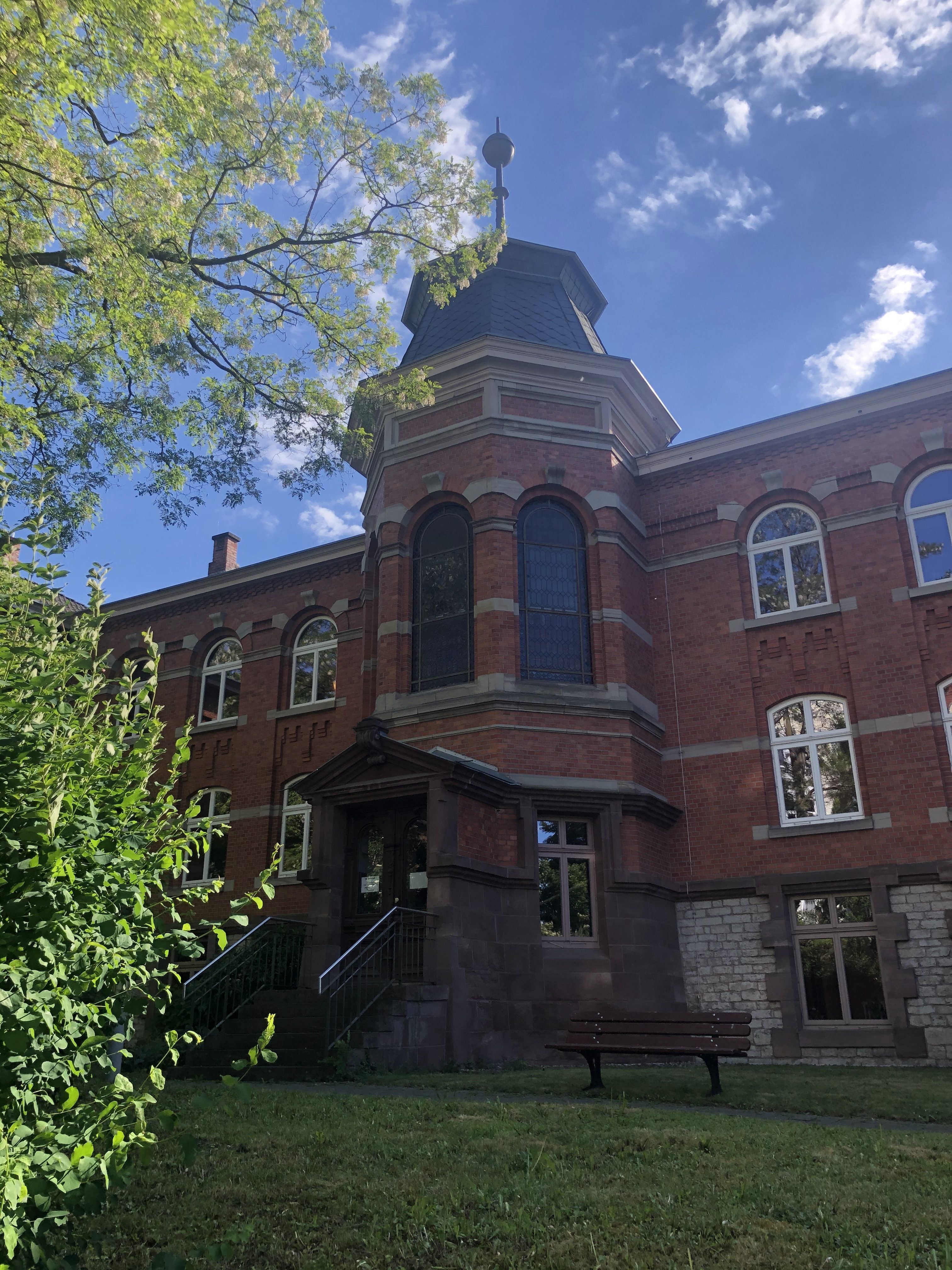 Auf der anderen Straßenseite lebt es sich auch schick // Living on the other side of the road isn't too shabby either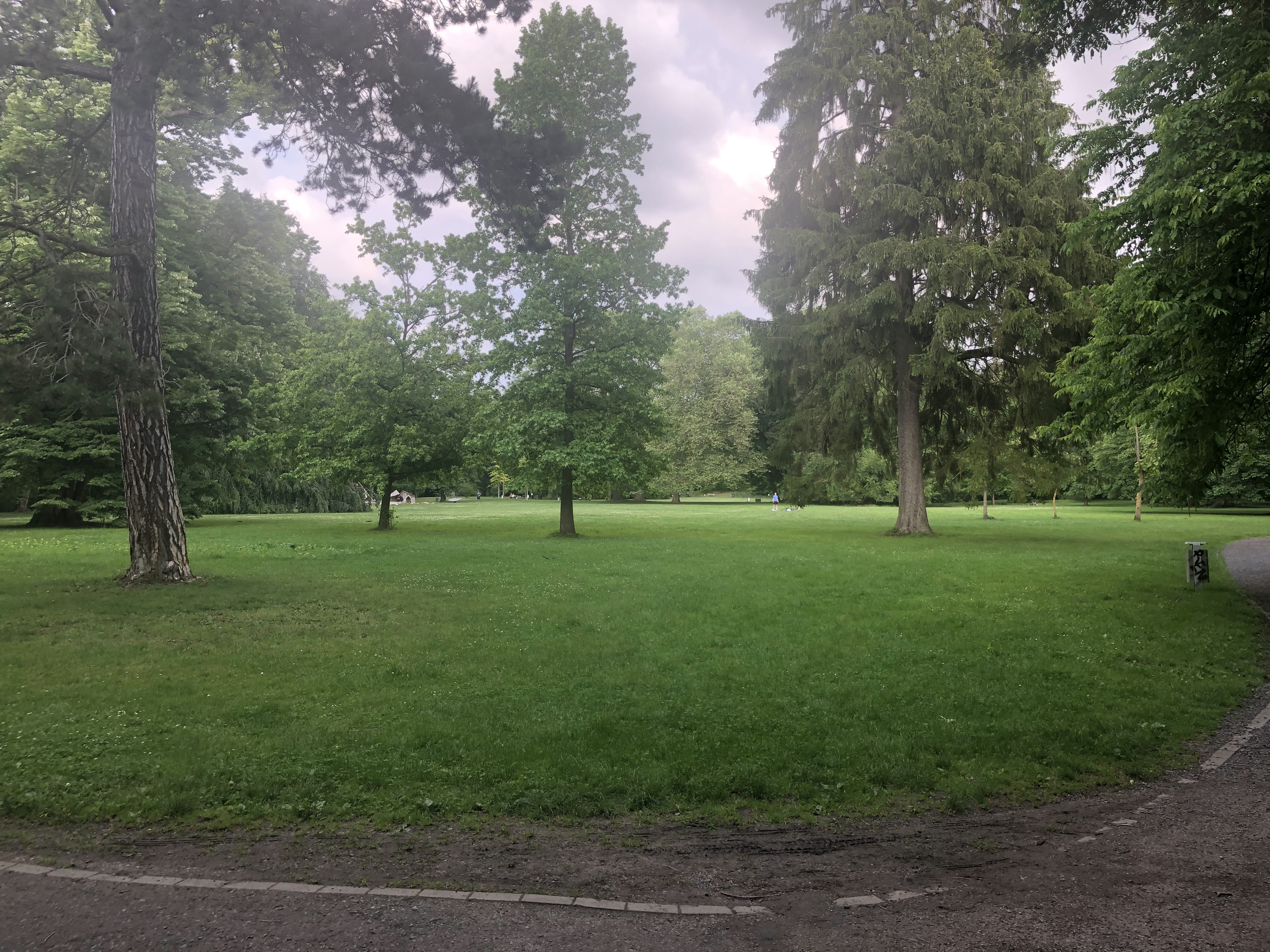 Der zweite Park: die Schillerwiesen / Second Park: the Schillerwiesen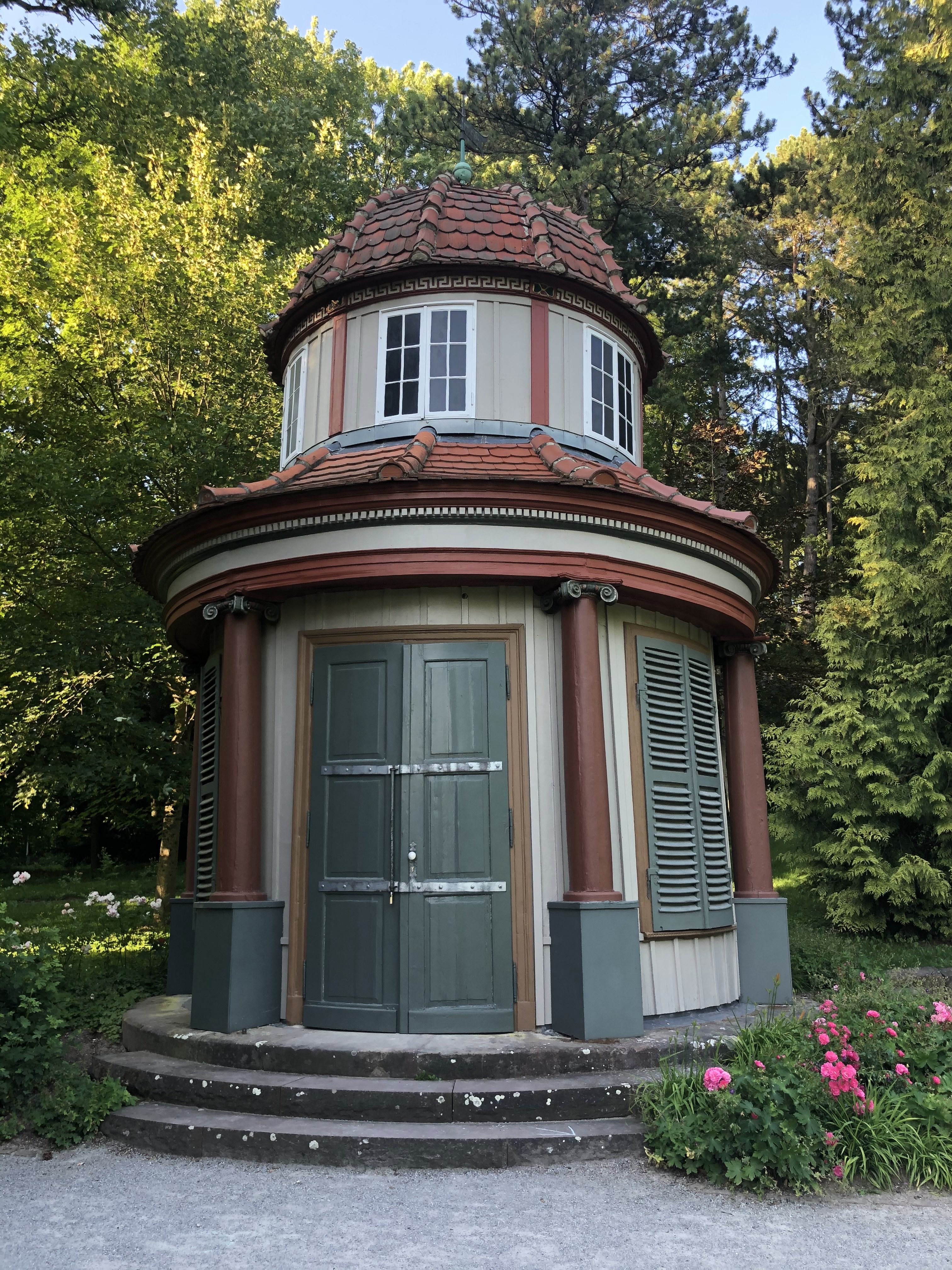 Süß: der Jérôme-Pavillon // Cute: the Jérôme pavillion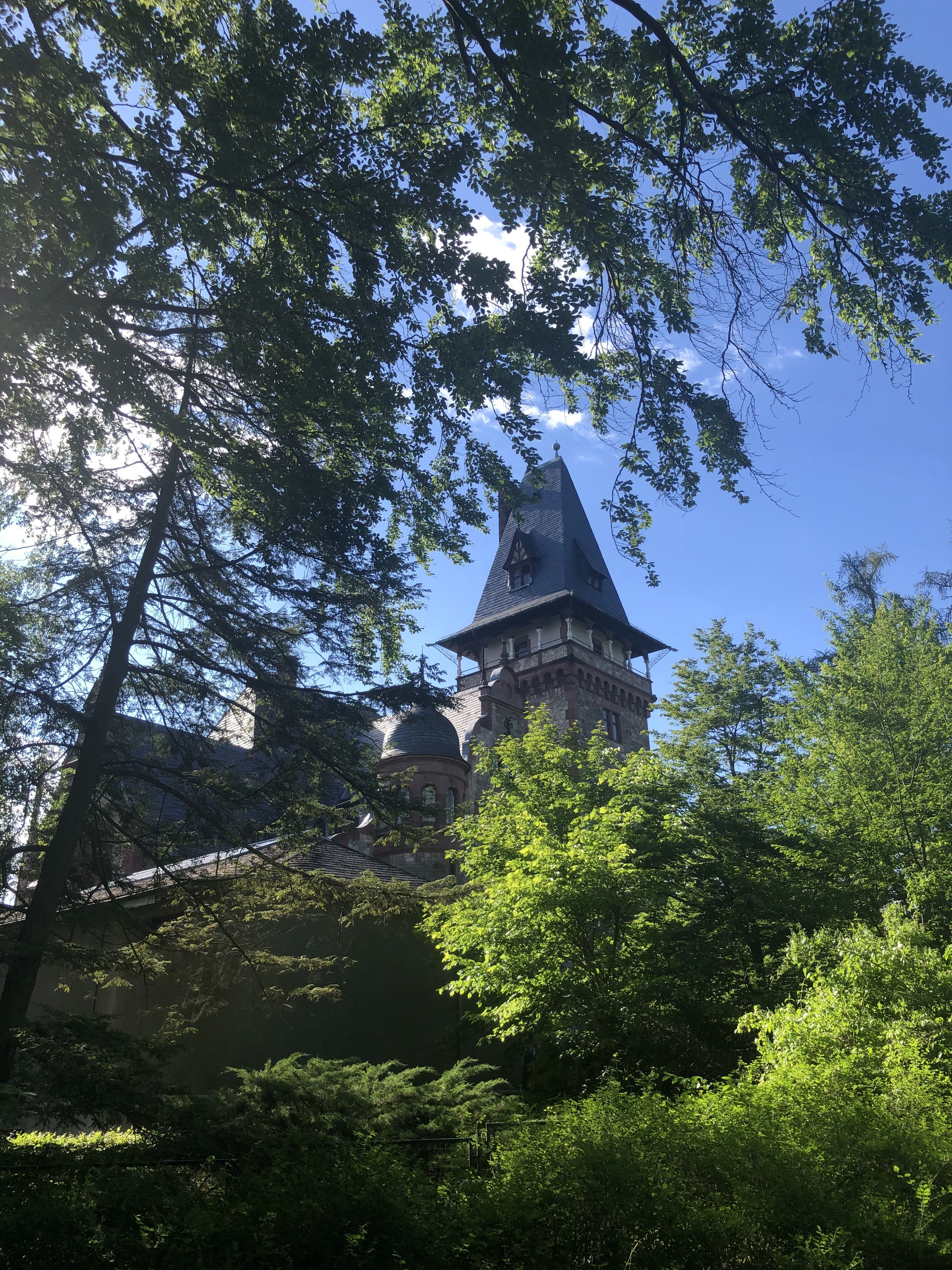 Dieses schmucke Haus ist benannt nach dem norwegischen Forscher Fridtjof Nansen // This neat house is named after Norwegian researcher Fridtjof Nansen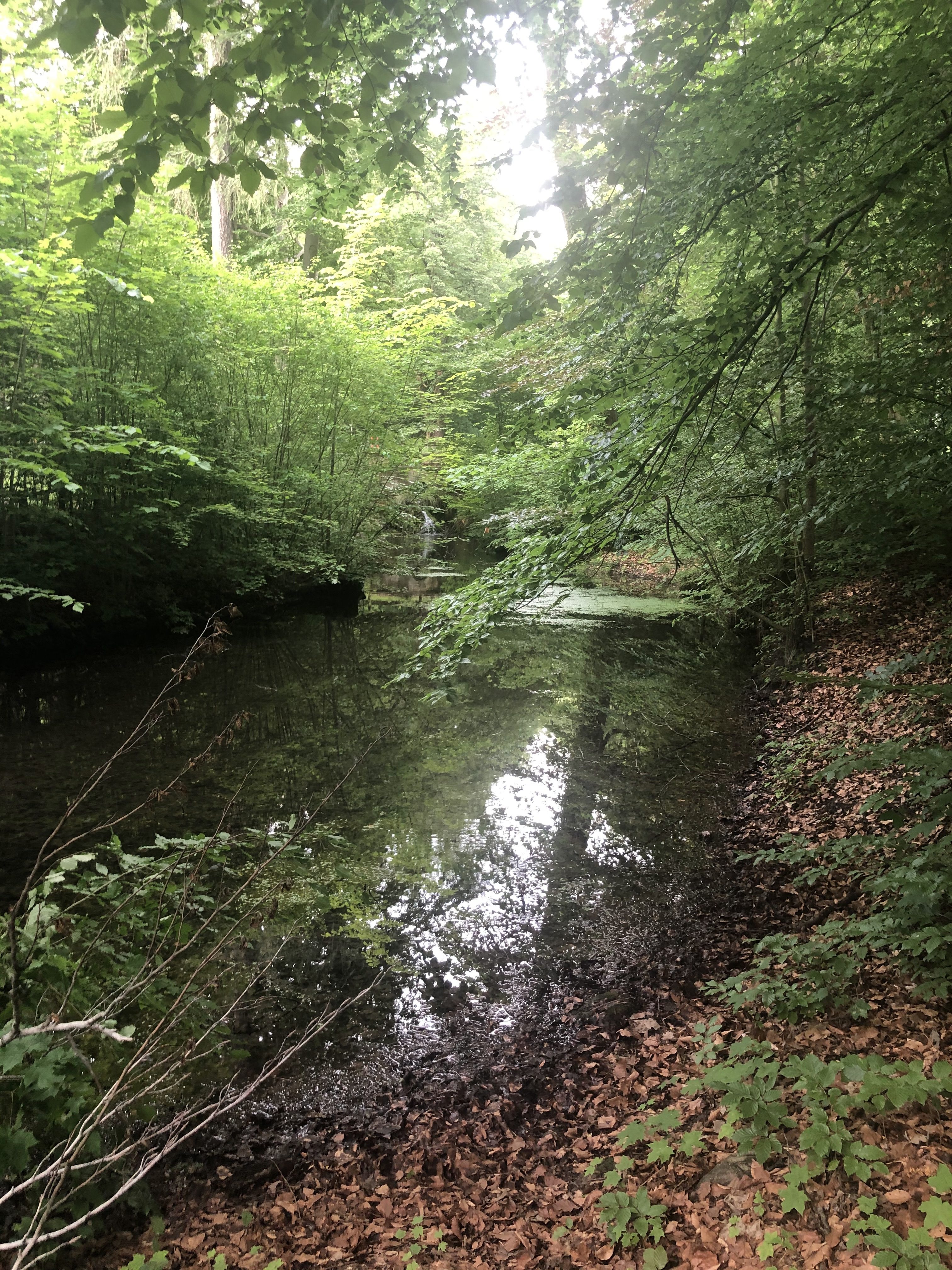 Am Reinsbach entlang geht es weiter // Continue along the Reinsbach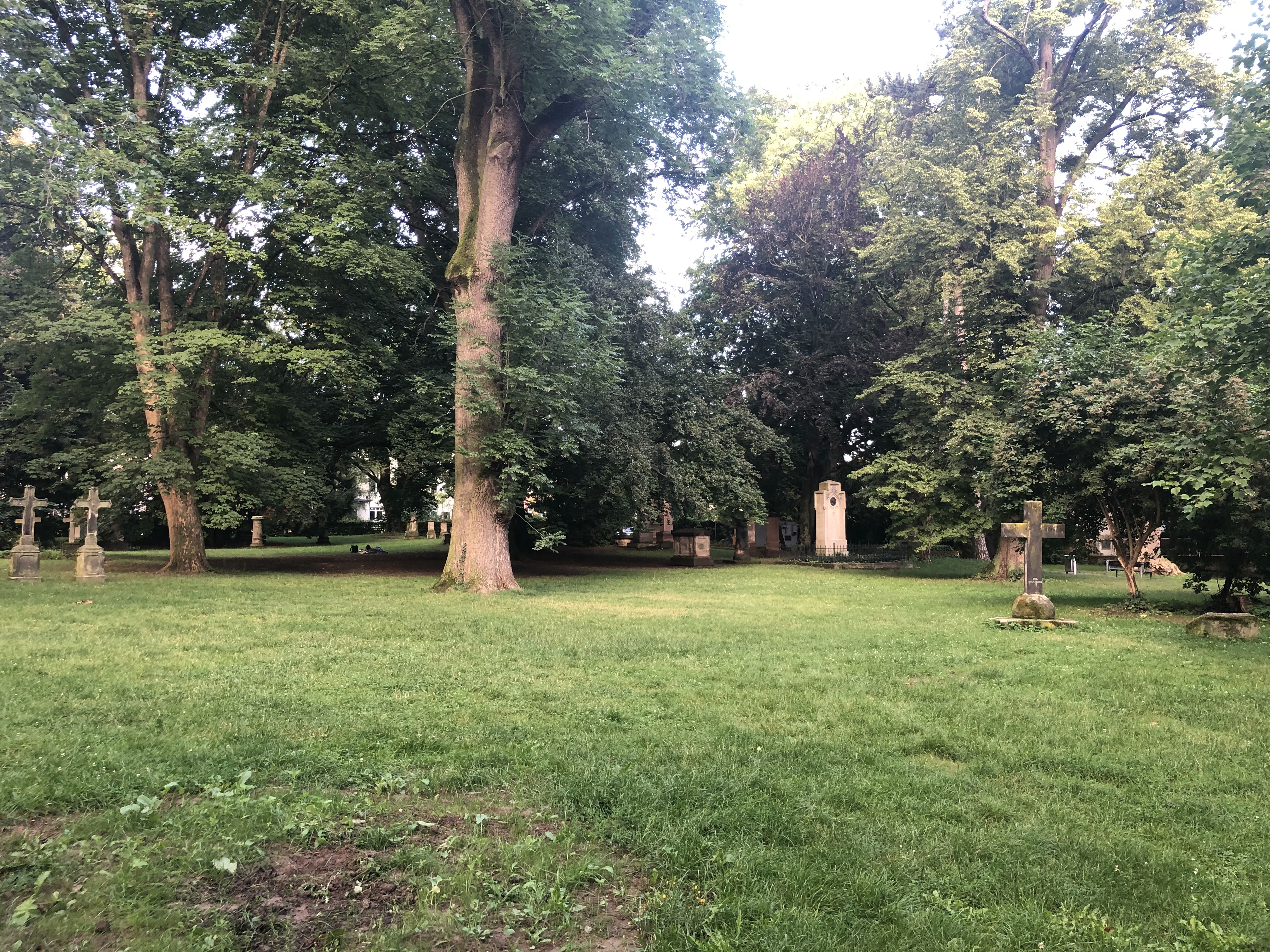 Der Cheltenham-Park ist die letzte Station auf der Tour // Cheltenham park is the last destination of the tour
Your starting point is at the entrance gate to the Hochschulsport premises. From there, you turn right and then left into Erwin-Baur-Weg. And already you find yourself in the first small but pretty park of your route. Here, you follow the road until you reach Von-Siebold-Straße where you turn left and continue until the intersection. On Kreuzbergring, you take a right and then another left onto Goßlerstrase where you stay until the next crossing. This part of the tour is also a great opportunity to get to know campus since you pass numerous university buildings. You cross Nikolausberger Weg which turns left into Wilhelm-Weber-Straße at the Botanical Gardens. Now it's straight ahead for a while. This is the most strenuous part of the route because you run increasingly steeply uphill. But you will be rewarded with views of some pretty Ostviertel villas. Stay on the street until you reach Dahlmannstraße where you turn right. Keep going, across Herzberger Landstraße – here you have to be somewhat careful when crossing because it's hard to fully see the road in both directions. So better stop your music for a bit before sprinting onto the street!
On Merkelstraße you have to give it all, because it fells like running up a proper mountain here. But don't give up because on top, you'll be expected not only by an aggregation of extremely beautiful houses but also the Schillerwiesen. Run through the park to your left, the path takes you all the way around but you can also take short-cuts or run around a few more times if you feel like it. When you're back on the road, you continue through the small Thornerpark on the other side, alongside Rheinsbach which burbles peacefully along the way. Keep going on Hainholzweg (good news: we're going downhill again!), using the creek for orientation, until you find Cheltenham-Park. Now you've reached the final destination of your route and can jog another round through the park where you'll find the Schwänchen-Teich and the picturesque Albani cemetery where you'll also see the grave of Carl Friedrich Gauß. After this, you're done with your workout for the day! If you haven't got enough, add another round on the Wall – or just run the whole route back. It's also possible to run the other way to begin with, but then the inclination is higher overall.
You can also find the tour here.
3. Towers and Wells
Route in a nutshell: Schillerwiesen – Schäferbrunnen – Bismarckturm – Eulenturm – Kleiner Reinsbrunnen
Area: Stadtwald
Length: 3 km
Duration: ca. 30 minutes
Mode of transport: sporty walking
Strenuousness: 3/5
Inclination: 2/5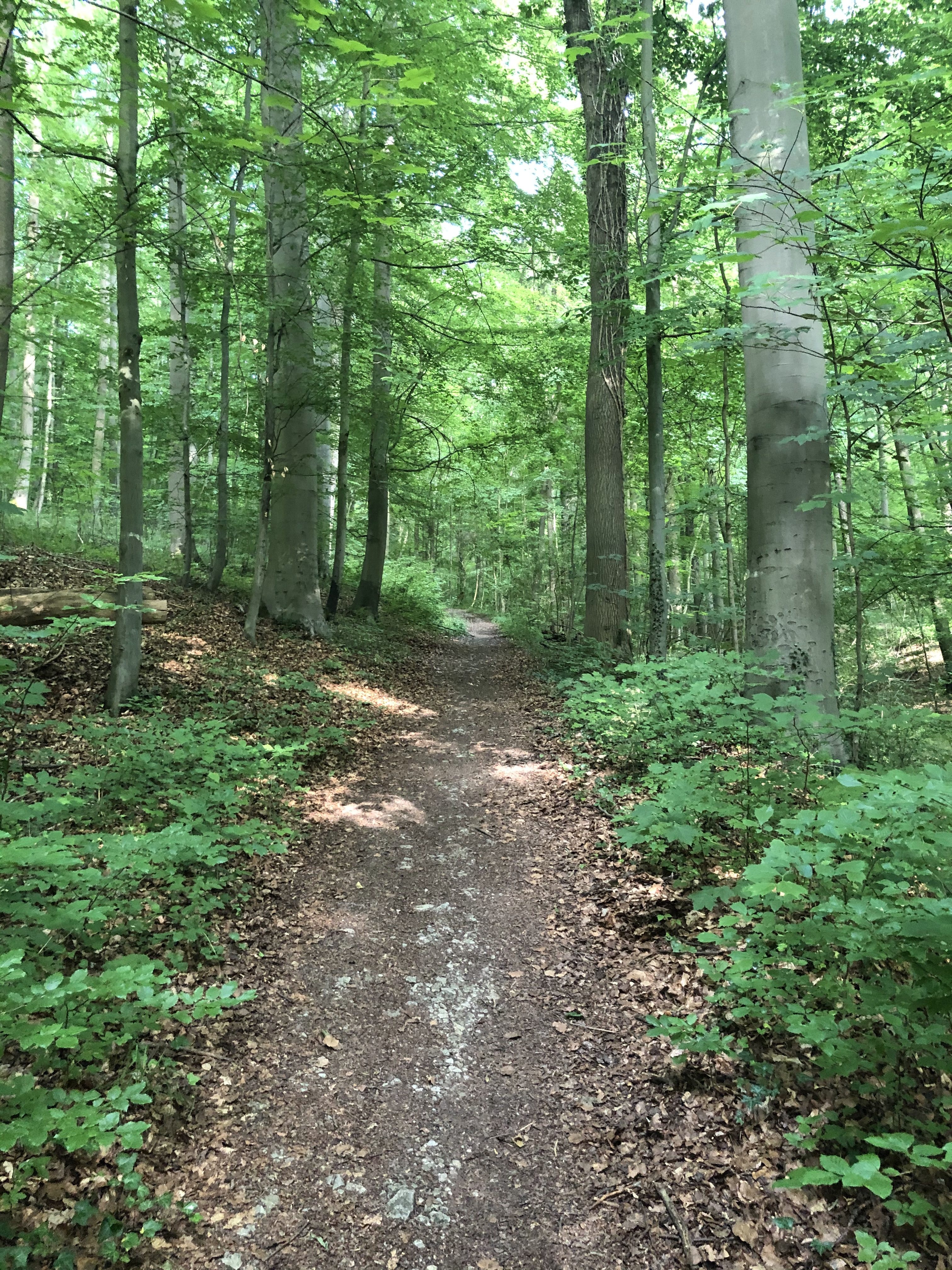 Ab in den Wald! // Into the woods!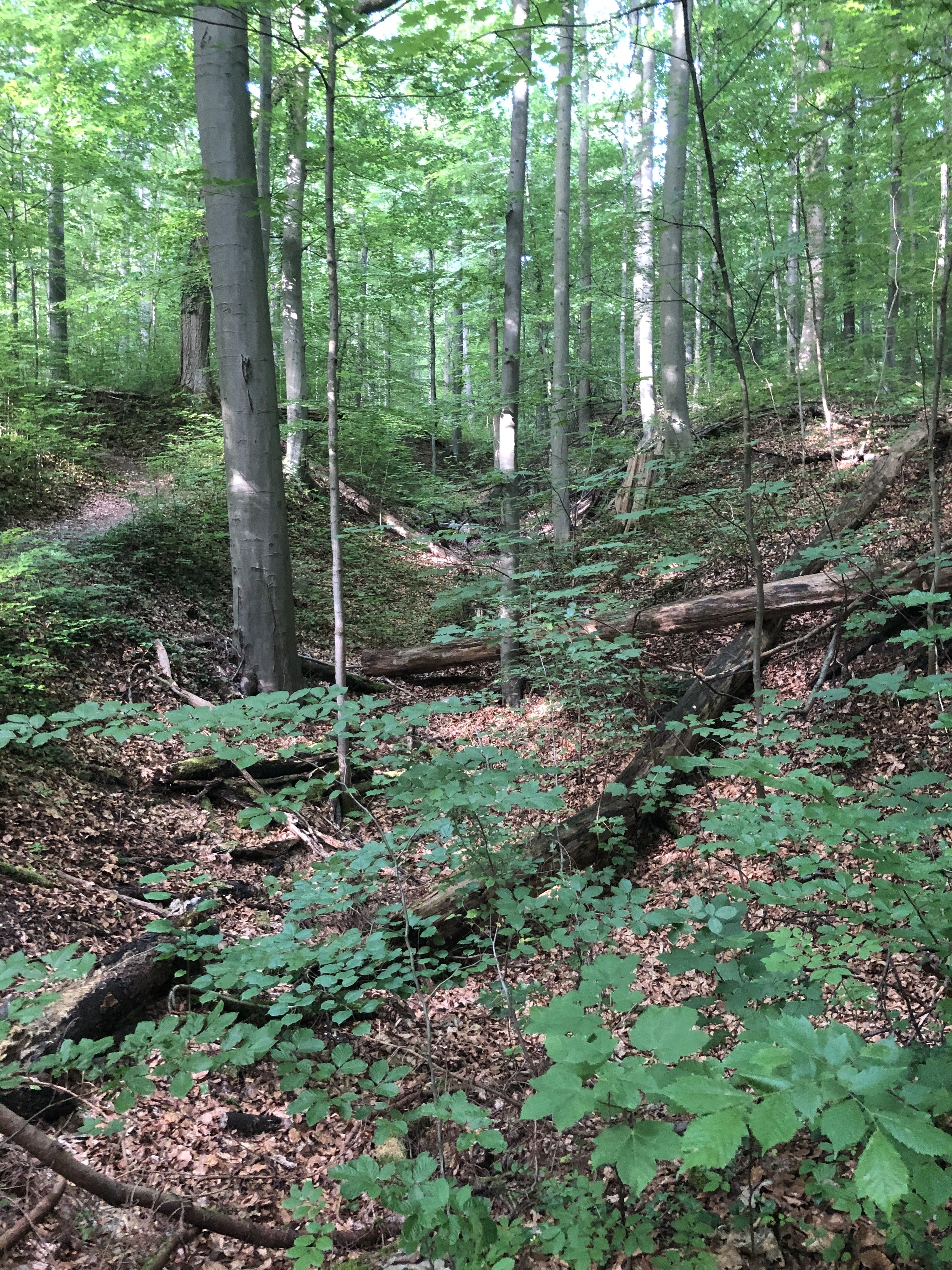 Das ehemalige Flussbett des Hainholzgraben // The former river bed of the Hainholzgraben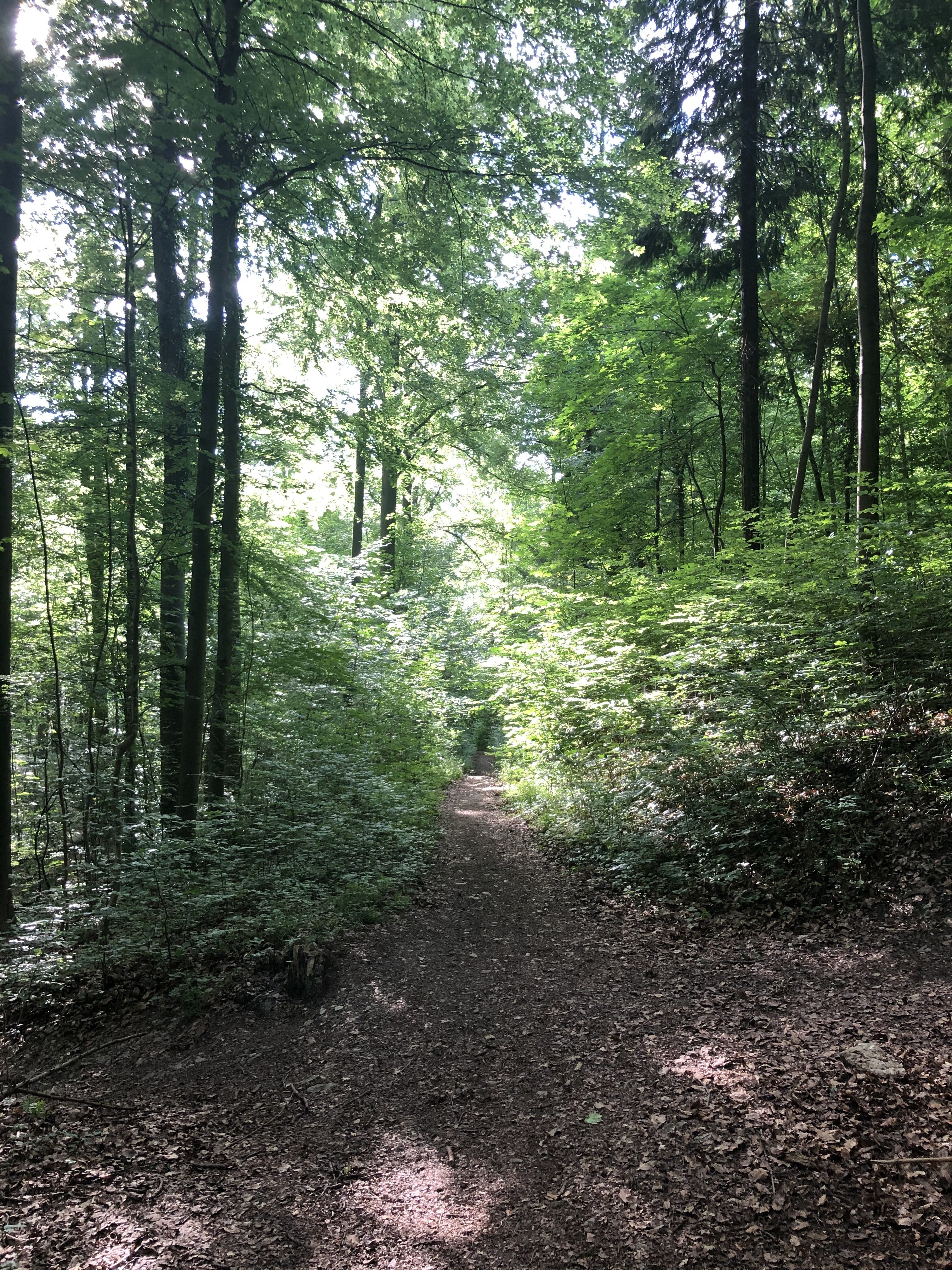 Wildnis pur // Pure wilderness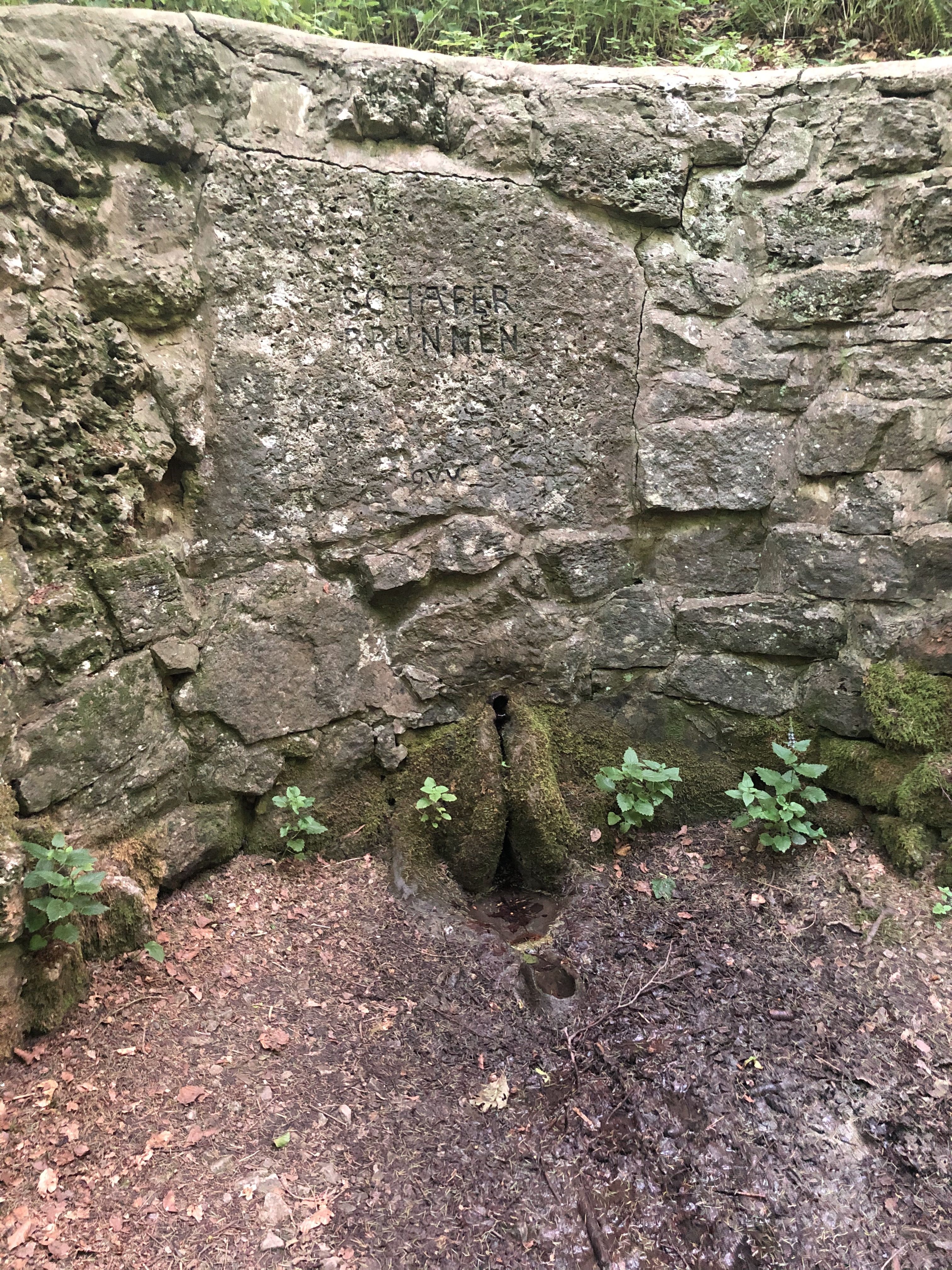 Der Schäferbrunnen - seht ihr, was ich sehe? // The Schäferbrunnen (sheperd's well) - do you see what I see?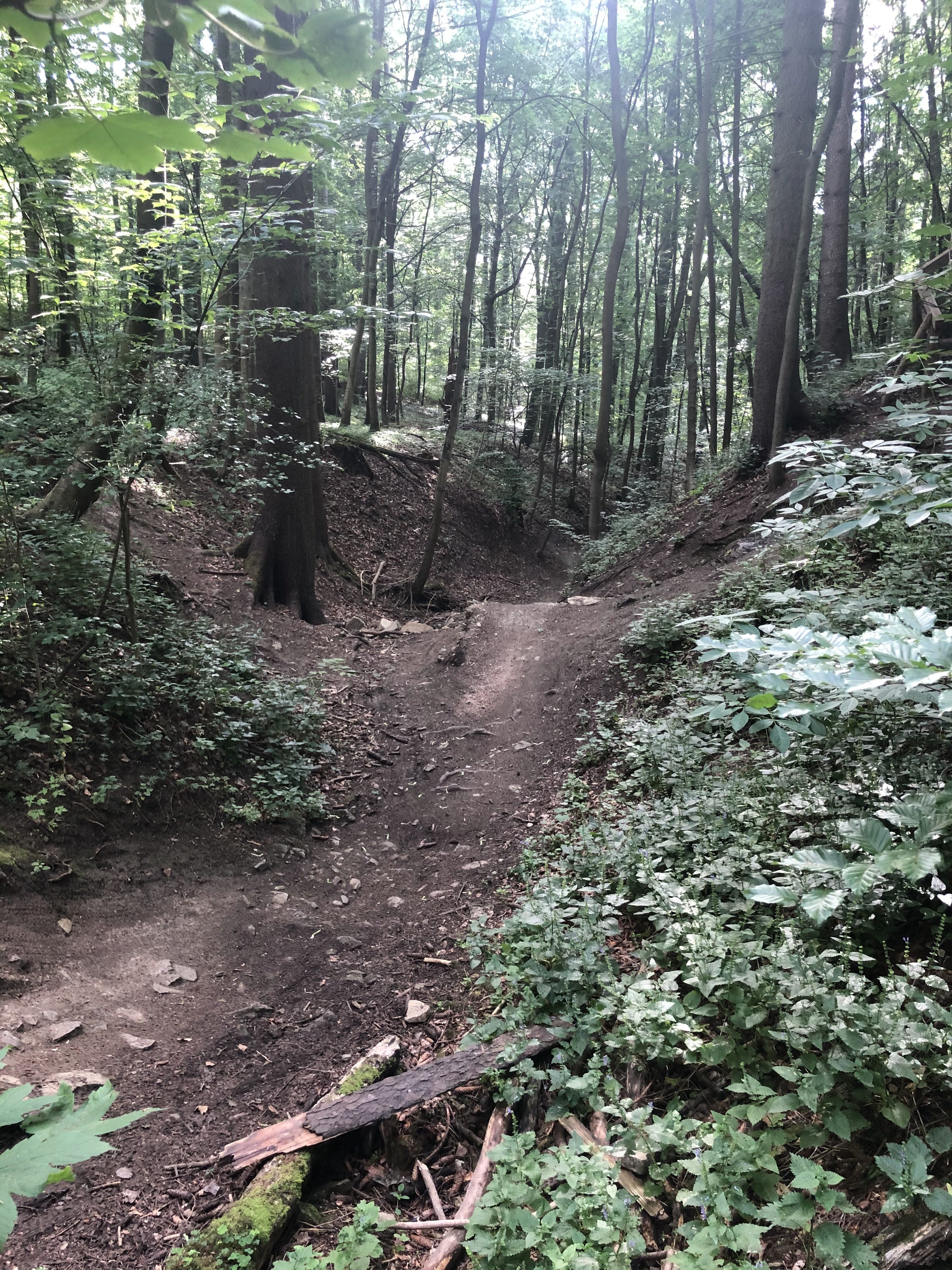 Heute rasen hier gerne Mountainbiker*innen entlang // Mountain bikers love to speed down here nowadays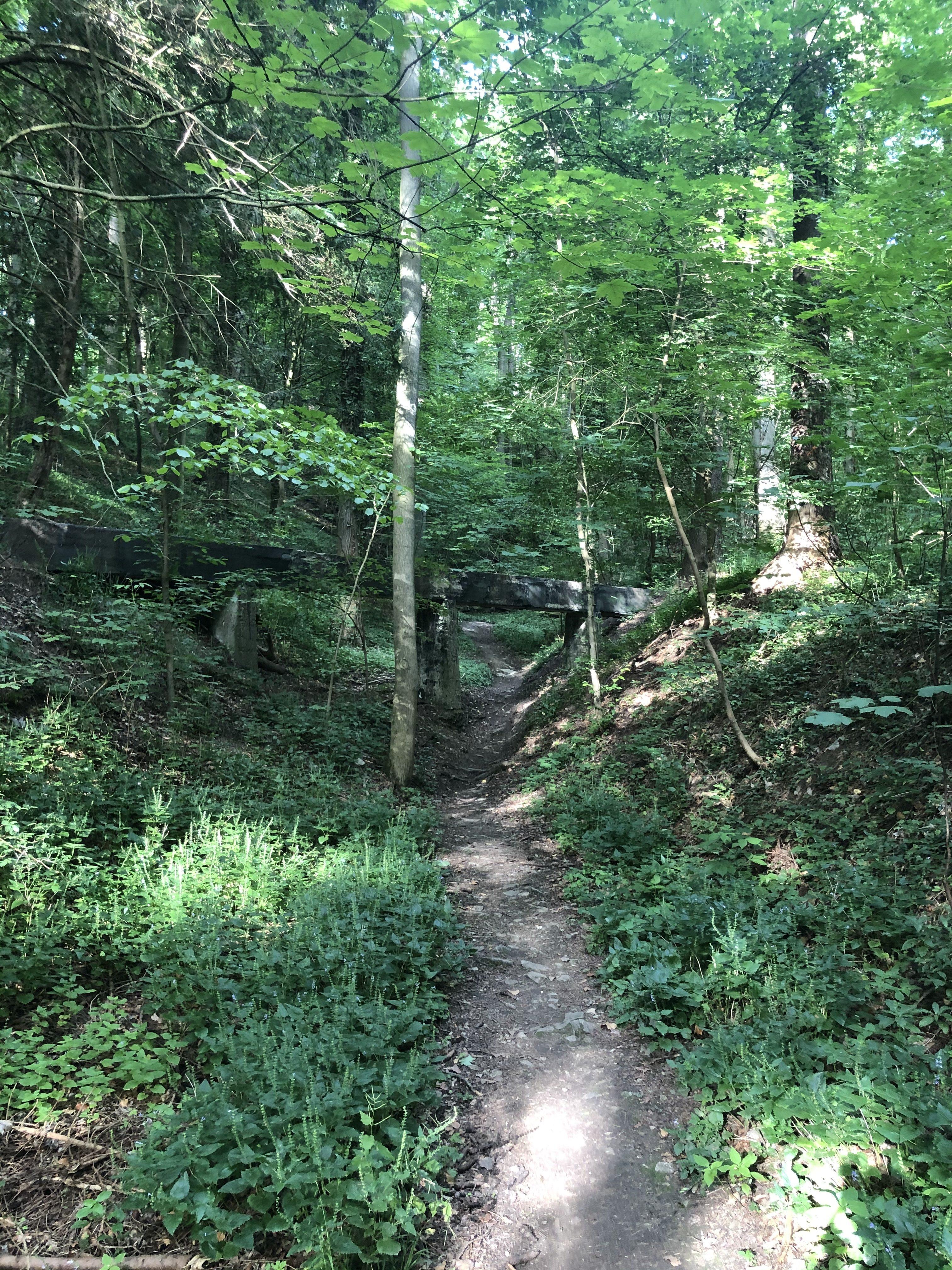 Die Überbleibsel einer Brücke? // The remains of a bridge?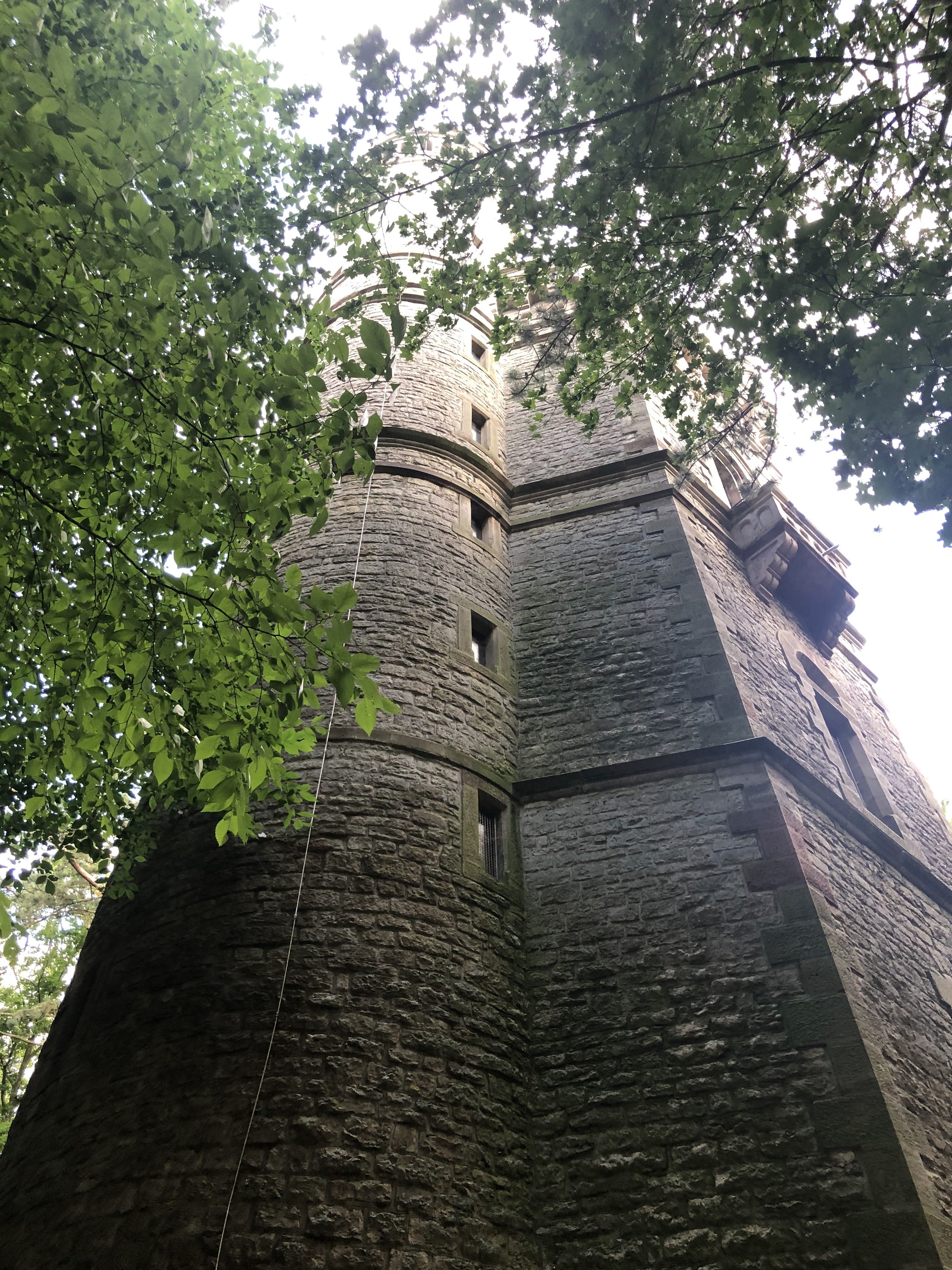 Der Bismarckturm in all seiner Pracht // The Bismarck tower in all its glory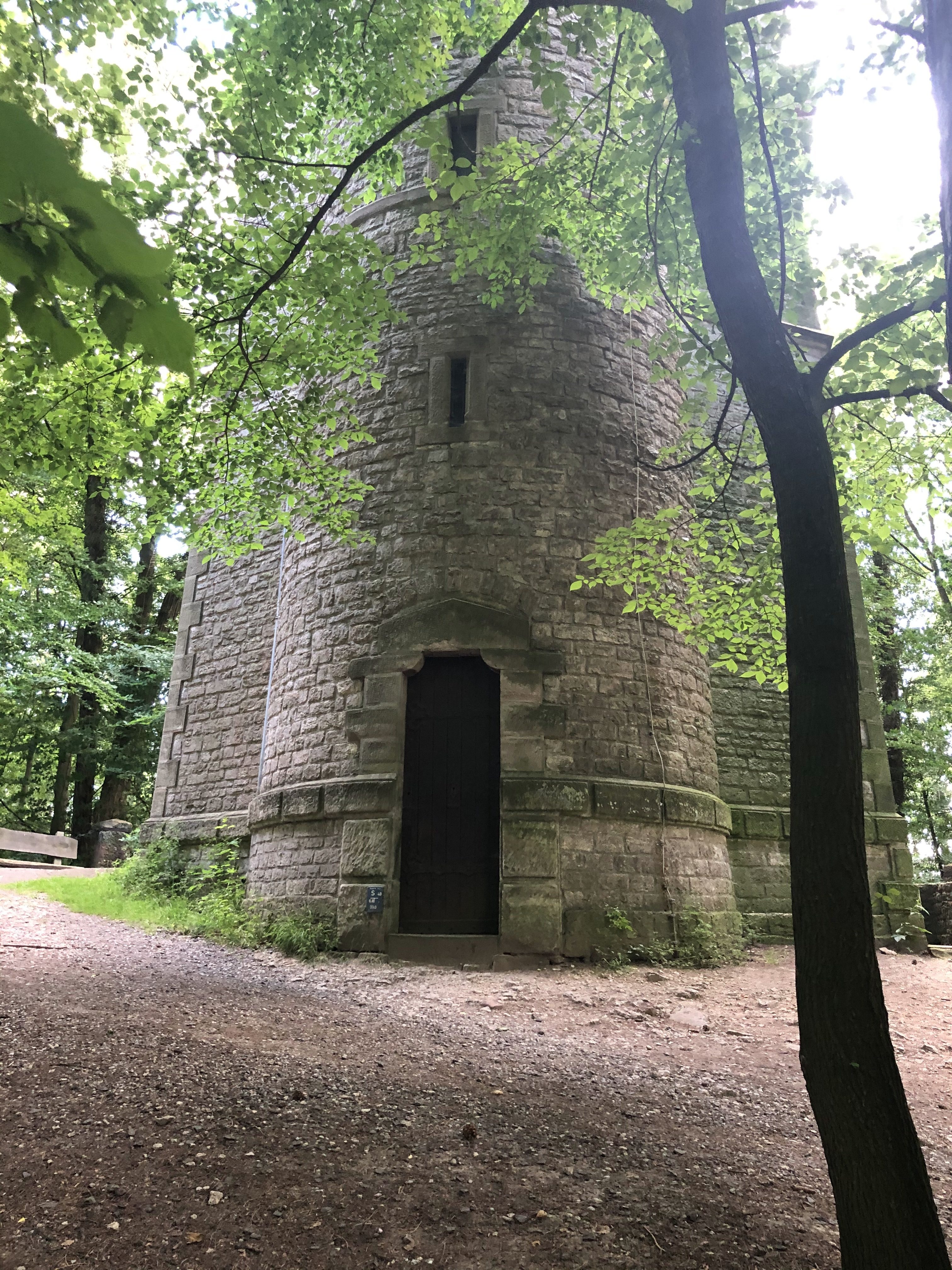 Hier geht's zu Besuchzeiten hinein // Enter here during visiting hours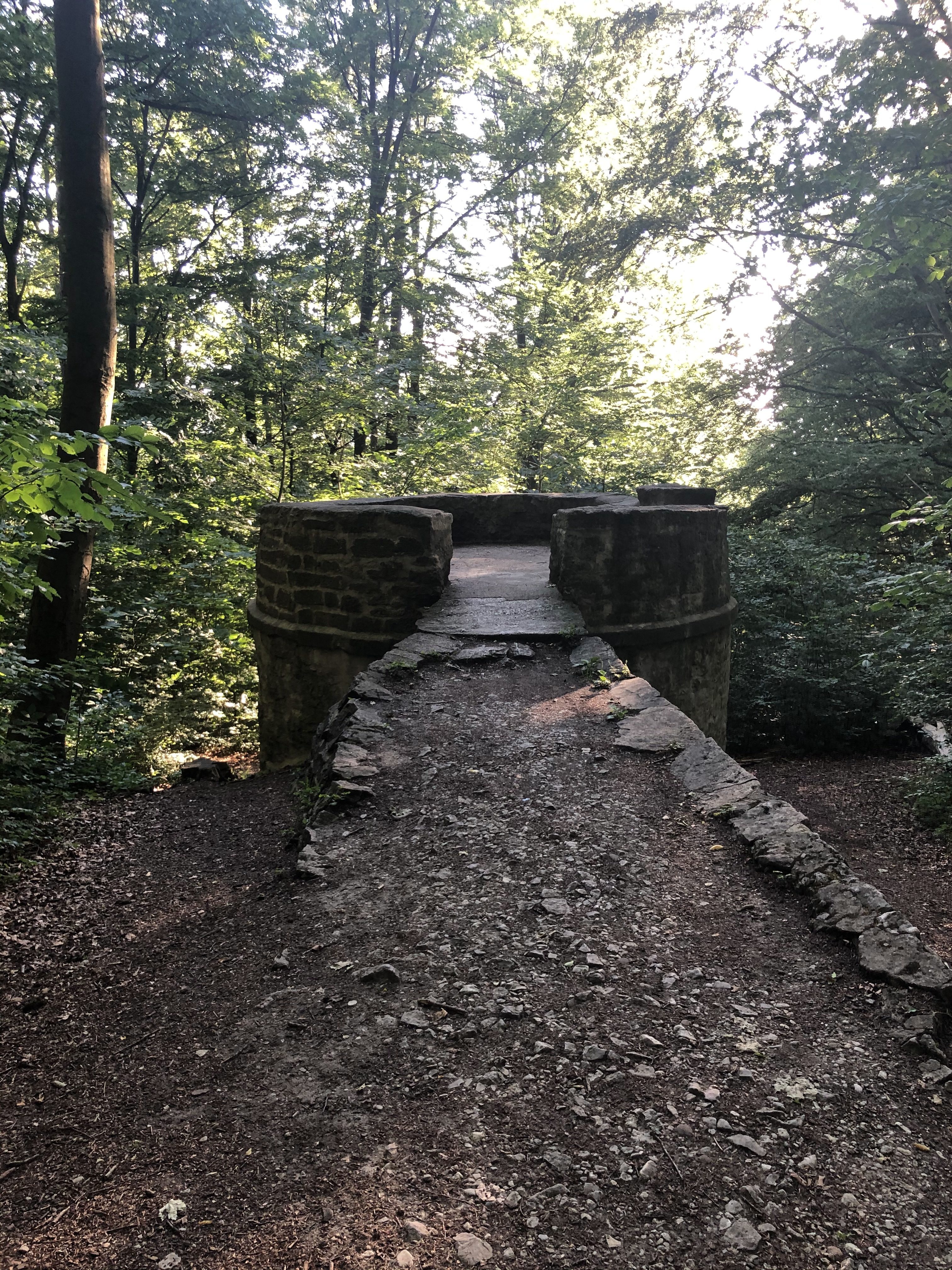 Der Eulenturm ist ein bisschen bescheidener // The Eulenturm (owl tower) is a bit more humble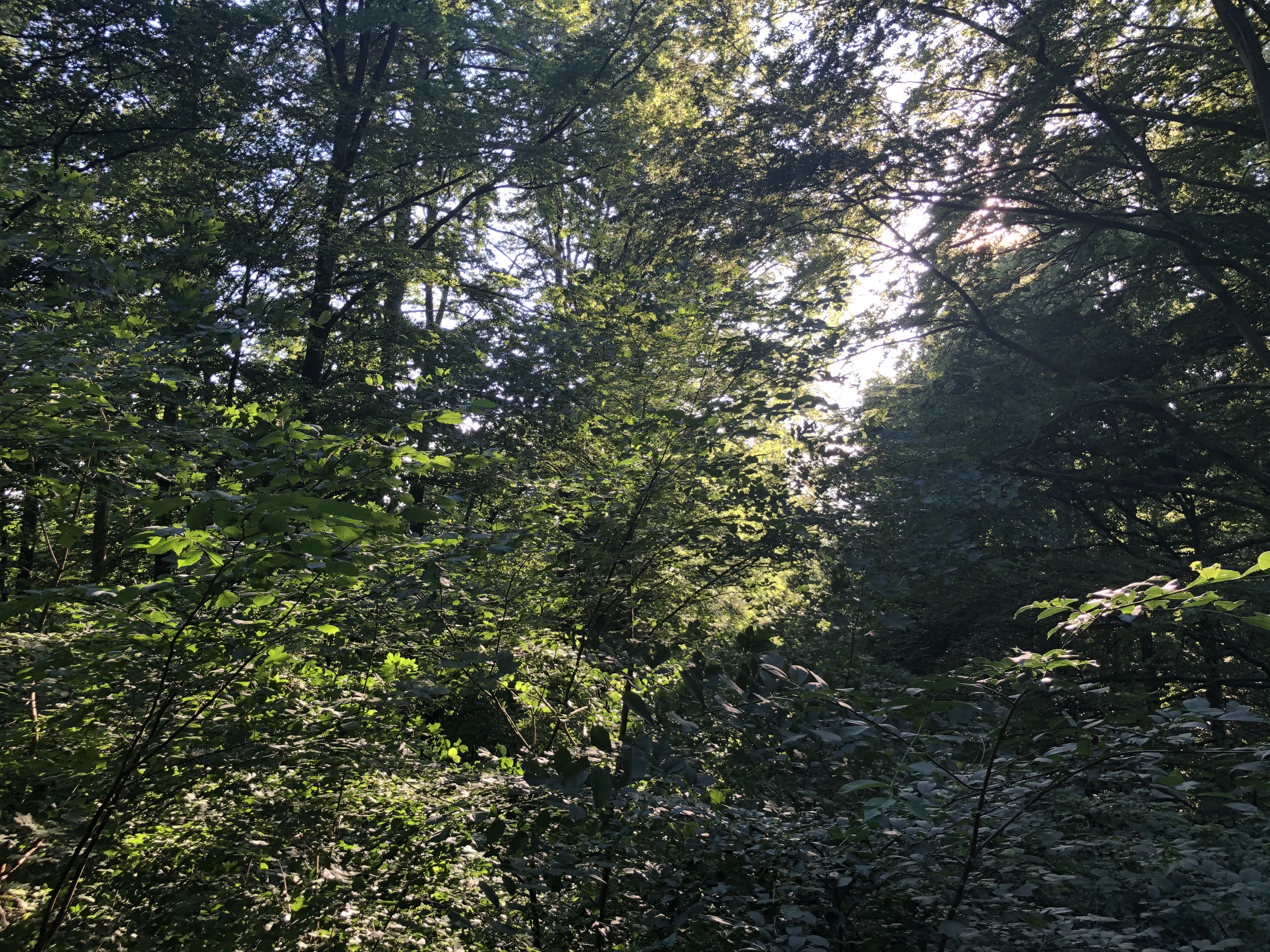 Der Blick vom Turm: Blätter über Blätter // The view from the tower: leaves over leaves

Auf der Rückseite findet ihr die kleine Eule // On the back you'll find the little owl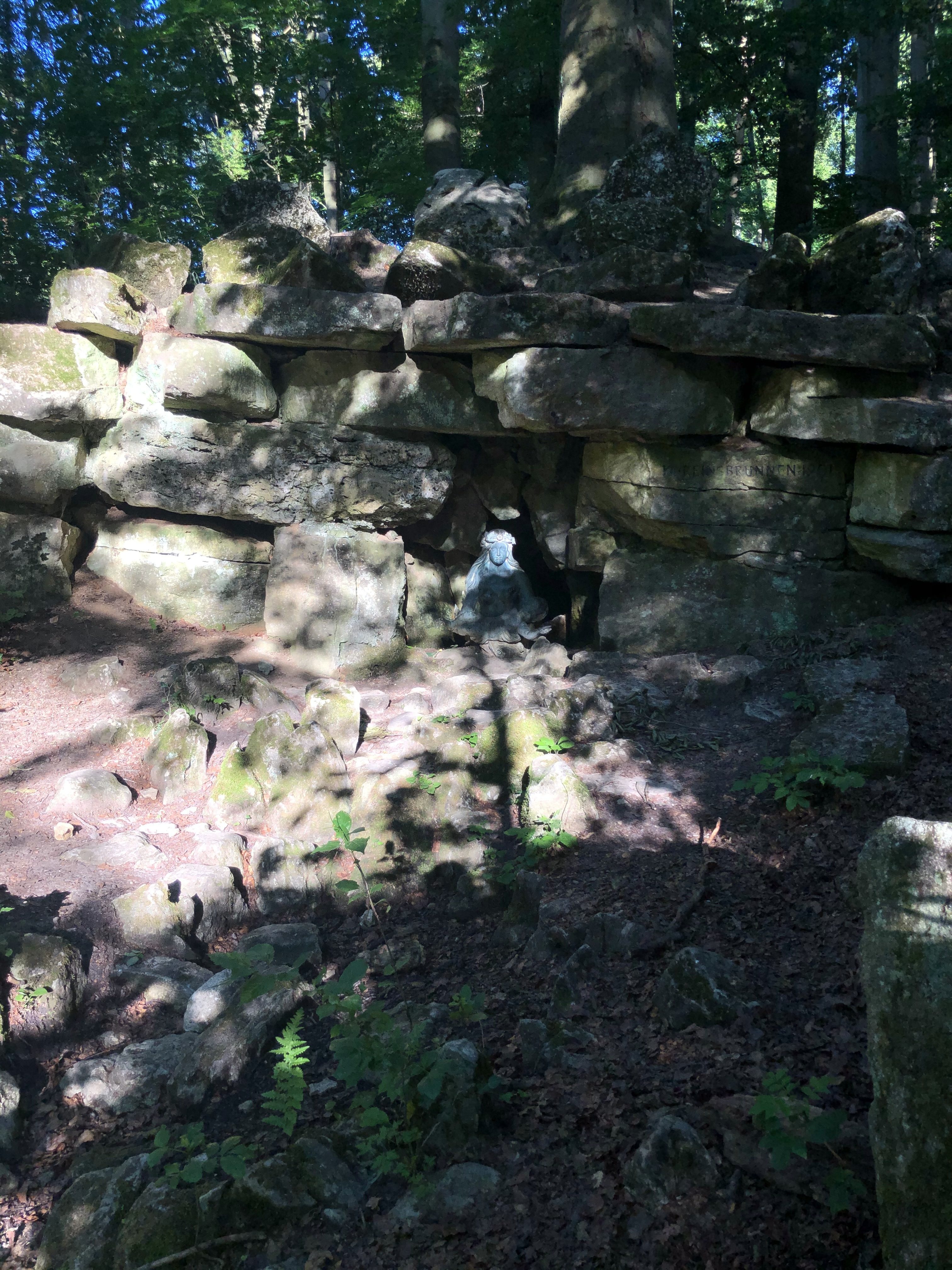 Nixenhöhle: der Kleine Reinsbrunnen // Mermaid's cave: the Kleiner Reinsbrunnen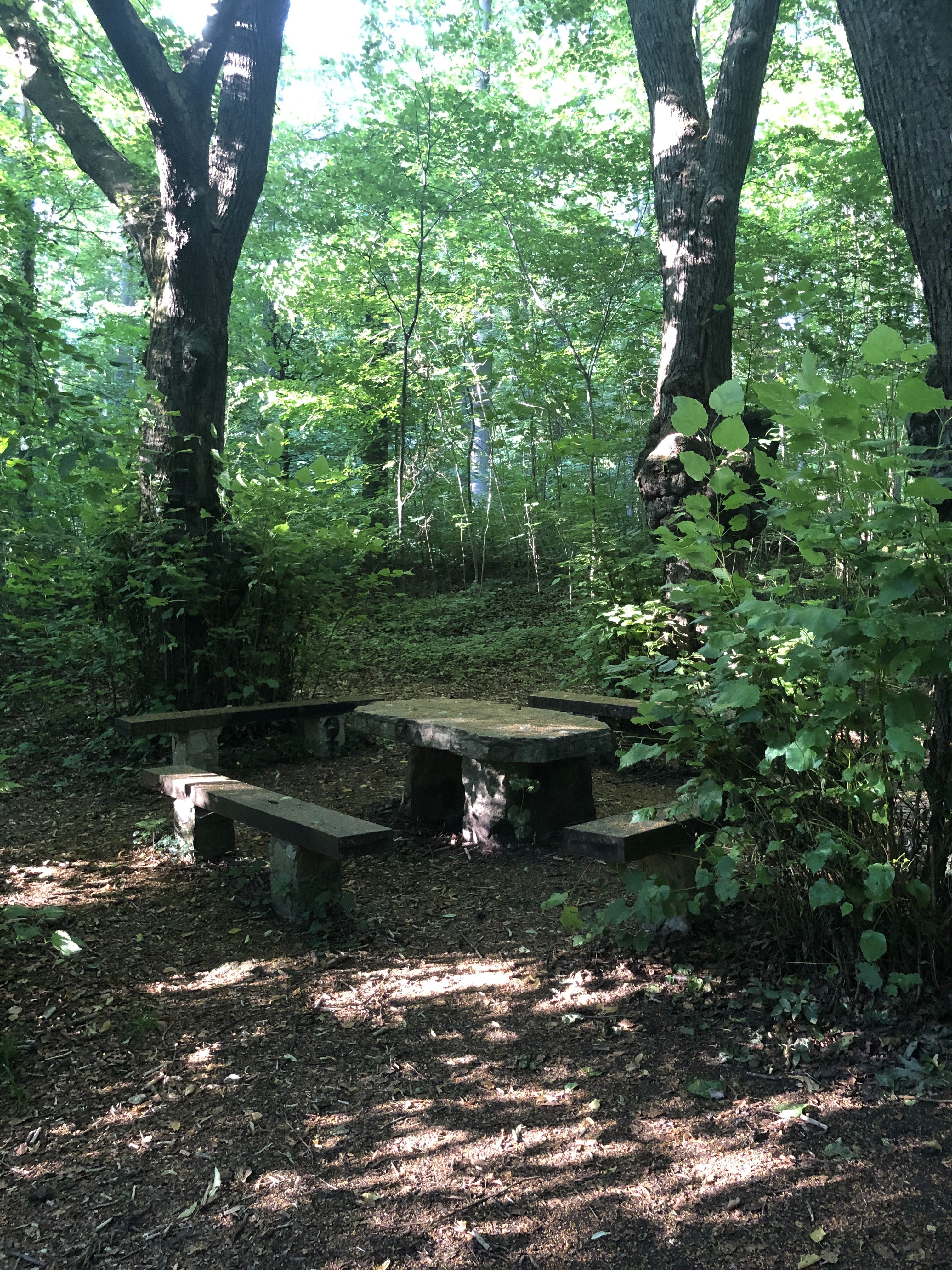 Picknicken geht! // Picnicking is possible!
This route starts right behind the Schillerwiesen, so you can combine it with the jogging tour – however, I wouldn't recommend to run this way as the paths are very narrow and uphill throughout the tour. You walk up Ruprechtweg, which you follow for a while. After a few steps, you're already in the middle of the woods. On your right, there's the Hainholzgraben – which apparently used to be a river bed and is now used by mountain cyclist as skid marks tell. At some point you reach a passage where you'll find the first well on your route: the Schäferbrunnen. You'll easily recognize it by its name that is engraved above it. From here you walk right-ish until you reach the most spectacular tower of this tour, the Bismarckturm. In the middle of the woods, it looms up into the sky and is an architectural sight by itself. If you turn up there on weekday between 10 am and 7 pm, you can even climb it and enjoy a view of the surroundings.
From here you walk back through the forest, staying slightly to the right to get to the Eulenturm. I'll admit, after the Bismarckturm, this one's a bit of a disappointment but still a cute little sight between all the trees. Make sure not to miss the small owl on the tower wall which you can see when you walk around it. Now it's unto the tour's last point of destination: the Kleiner Reinsbrunnen. It's a little hidden but a sign will tell you where to find it. Afterwards, you can just walk straight out of the forest back to the Schillerweisen or keep strolling through the Stadtwald – there's plenty to explore for sure. On the whole trail, you'll find several cozy spots for a picnic so consider bringing a basket full of snacks along!
You can also find the tour here.
4. Celebrity Tour
Route in a nutshell: Südstadt – Innenstadt – Wall
Area: Innenstadt
Length: 3 km
Duration: ca. 45 minutes
Mode of transport: strolling
Strenuousness: 1/5
Inclination: 1/1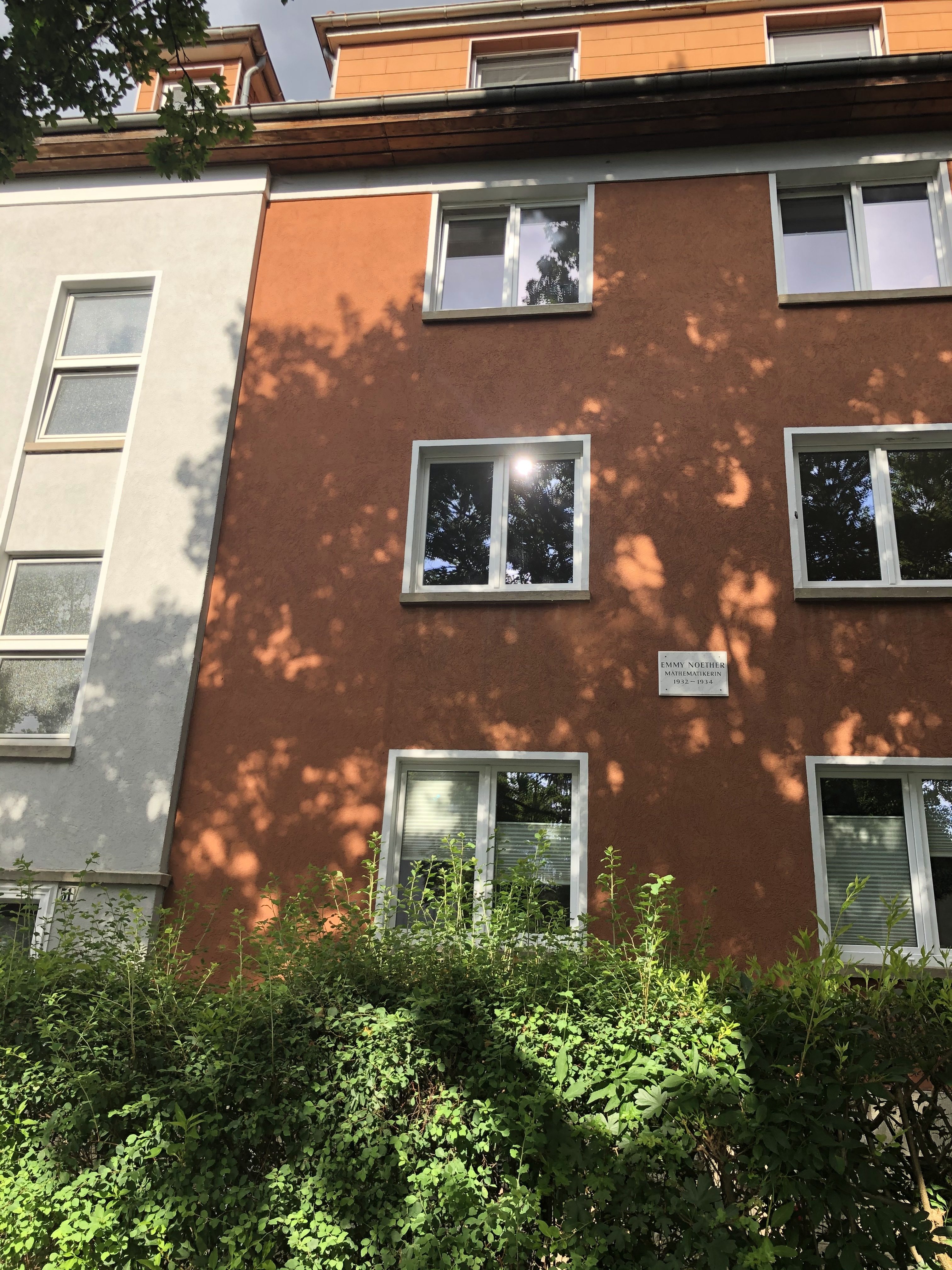 Emmy Noethers Haus in der Südstadt // Emmy Noether's house in the Südstadt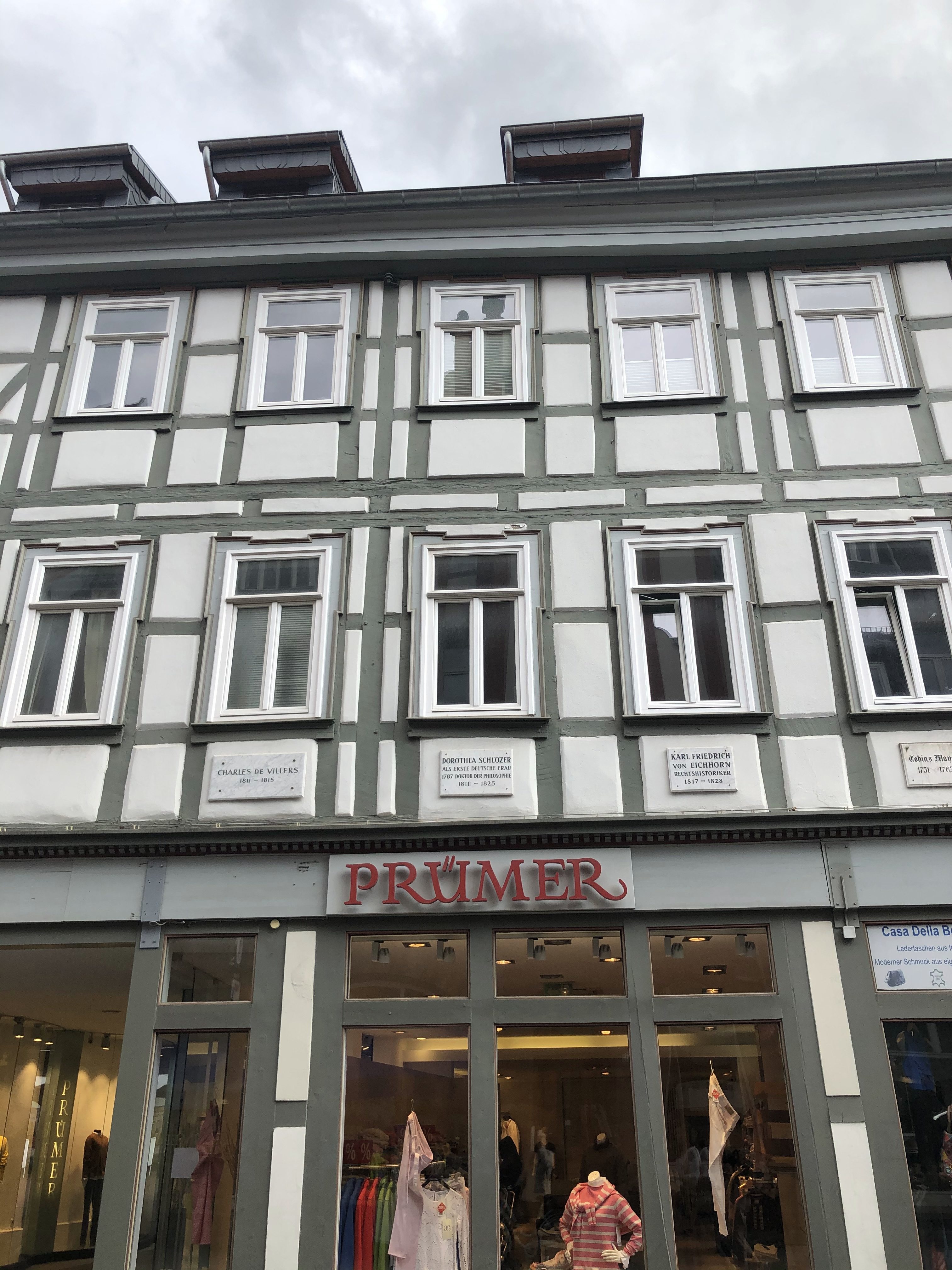 Das Haus der ersten weiblichen Dr. phil in Göttingen, Dorothea Schlözer // The house of the first female Dr. phil in Göttingen, Dorothea Schlözer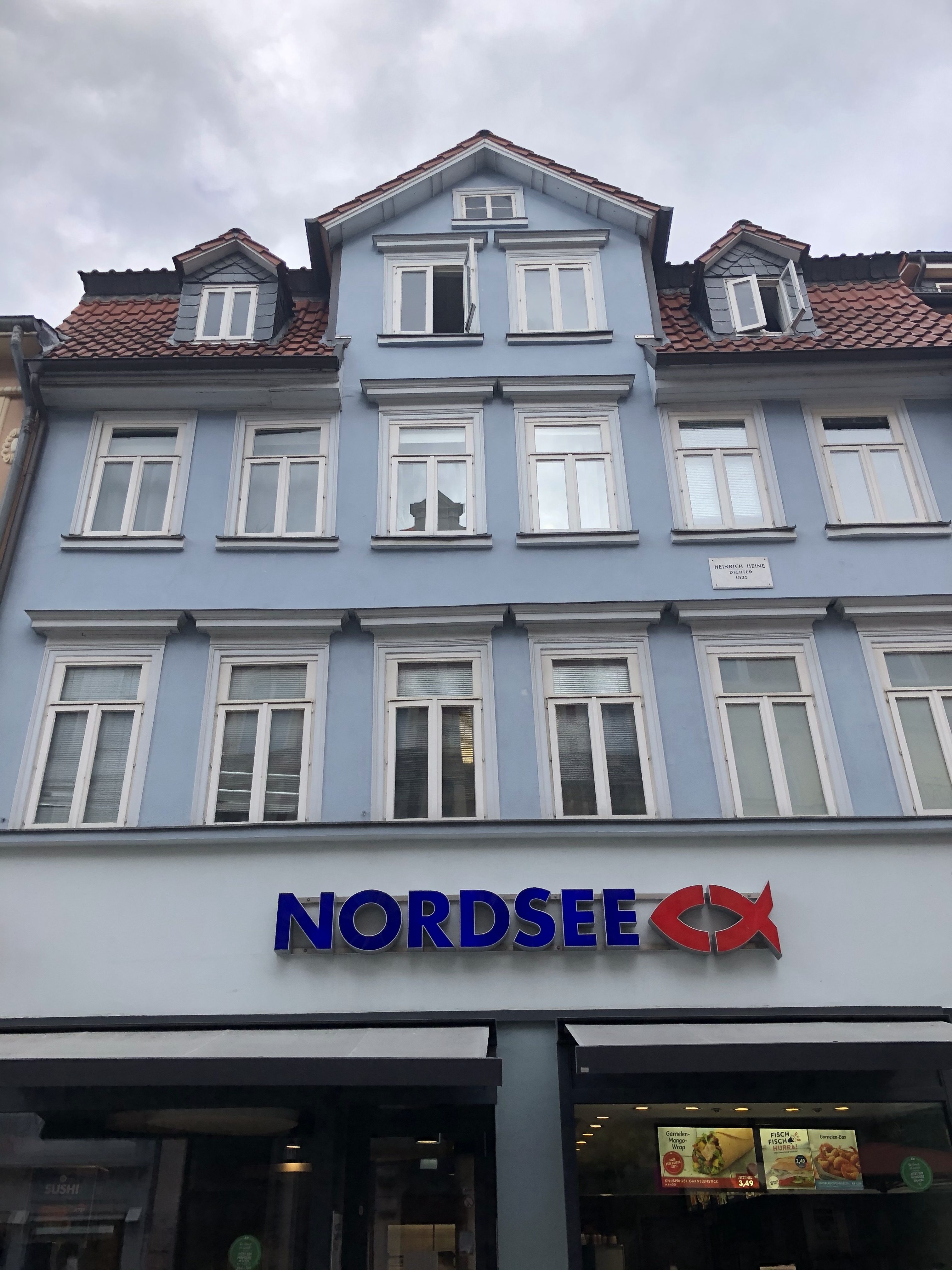 Hier hauste Heine // This is where Heine lived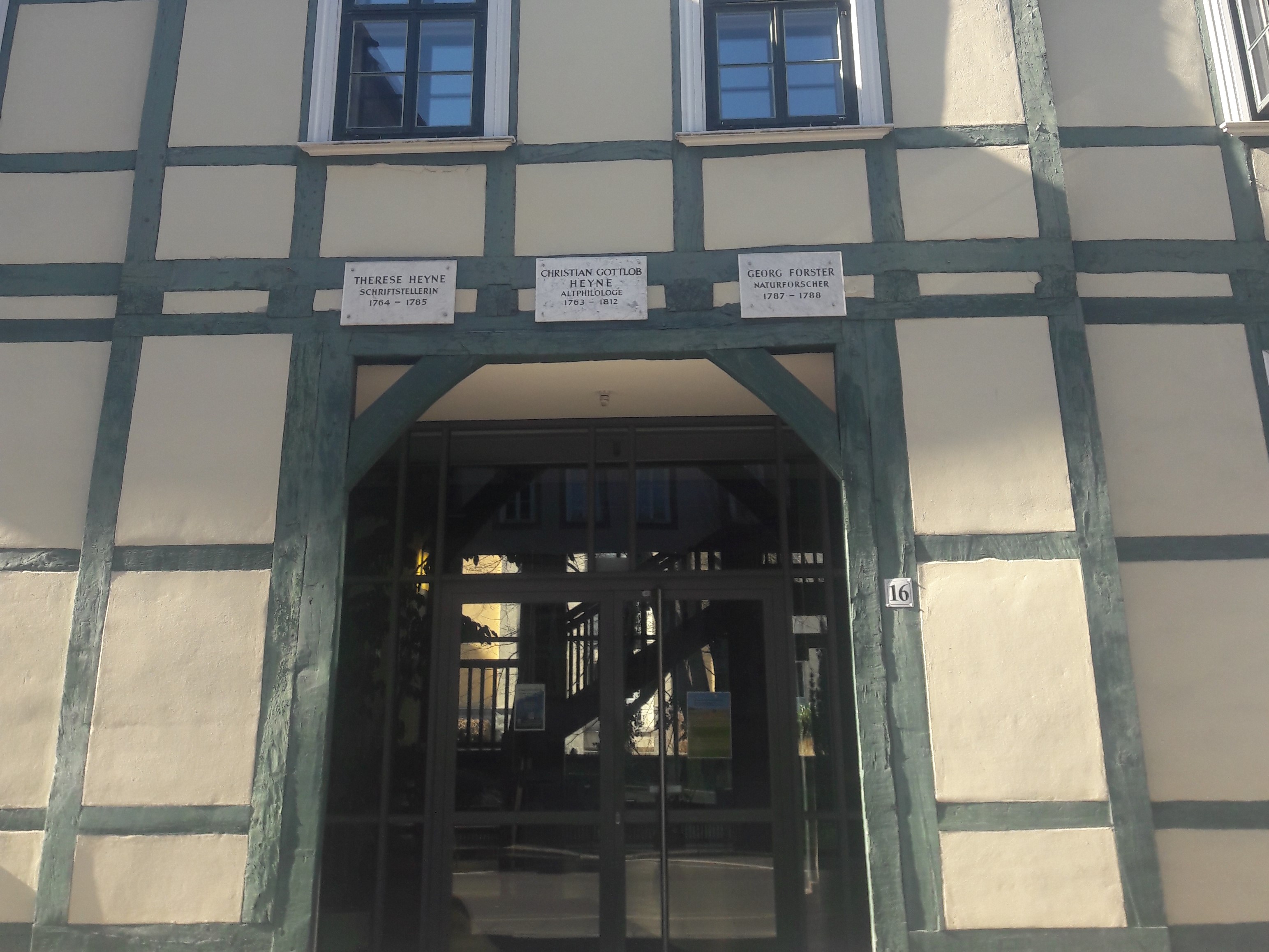 Der Heyne-Haushalt im Papendieck // The Heyne household at Papendieck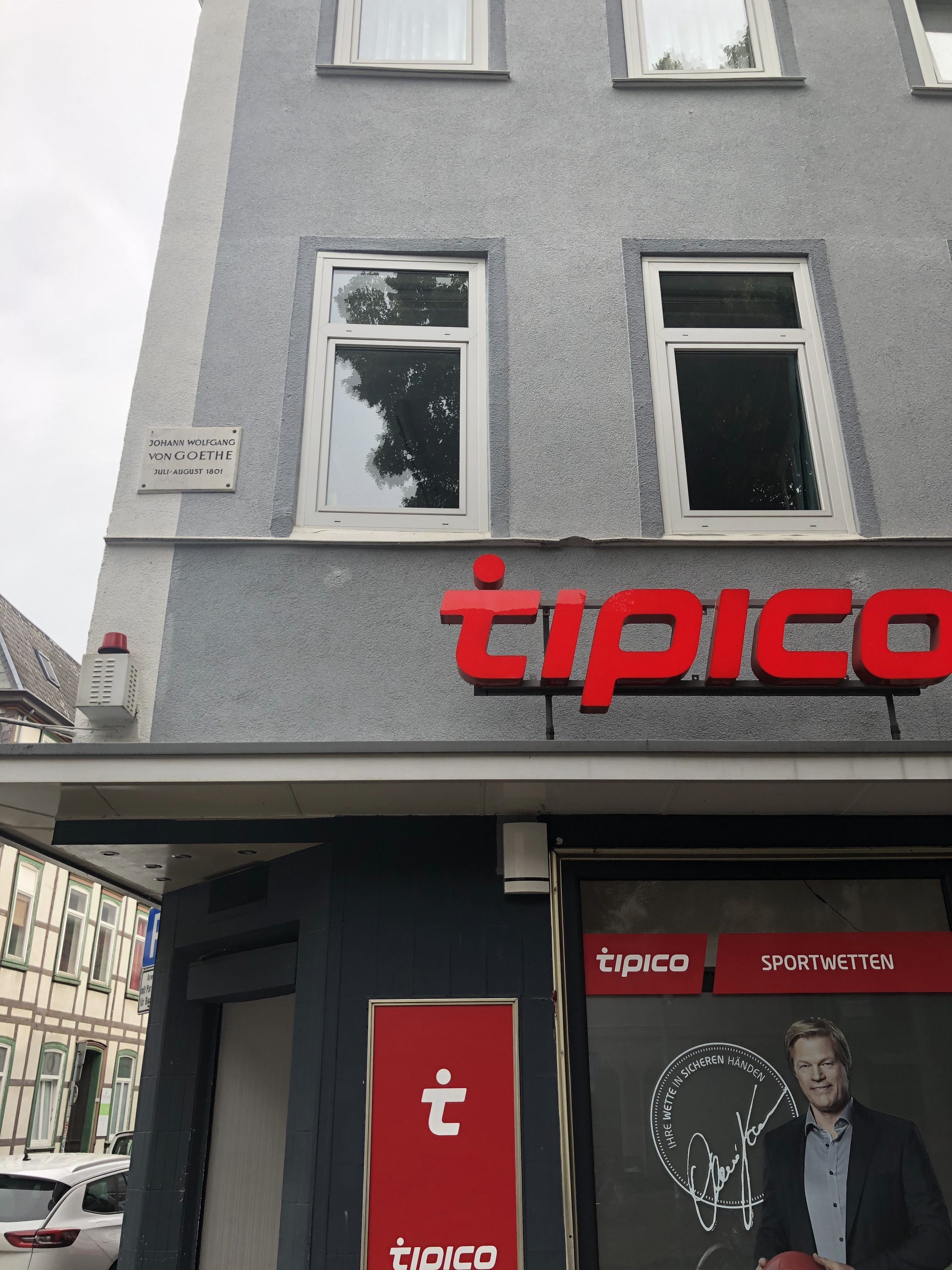 Heute Wettbüro, früher kurz Heim von Goethe // Today a betting office, former home of Goethe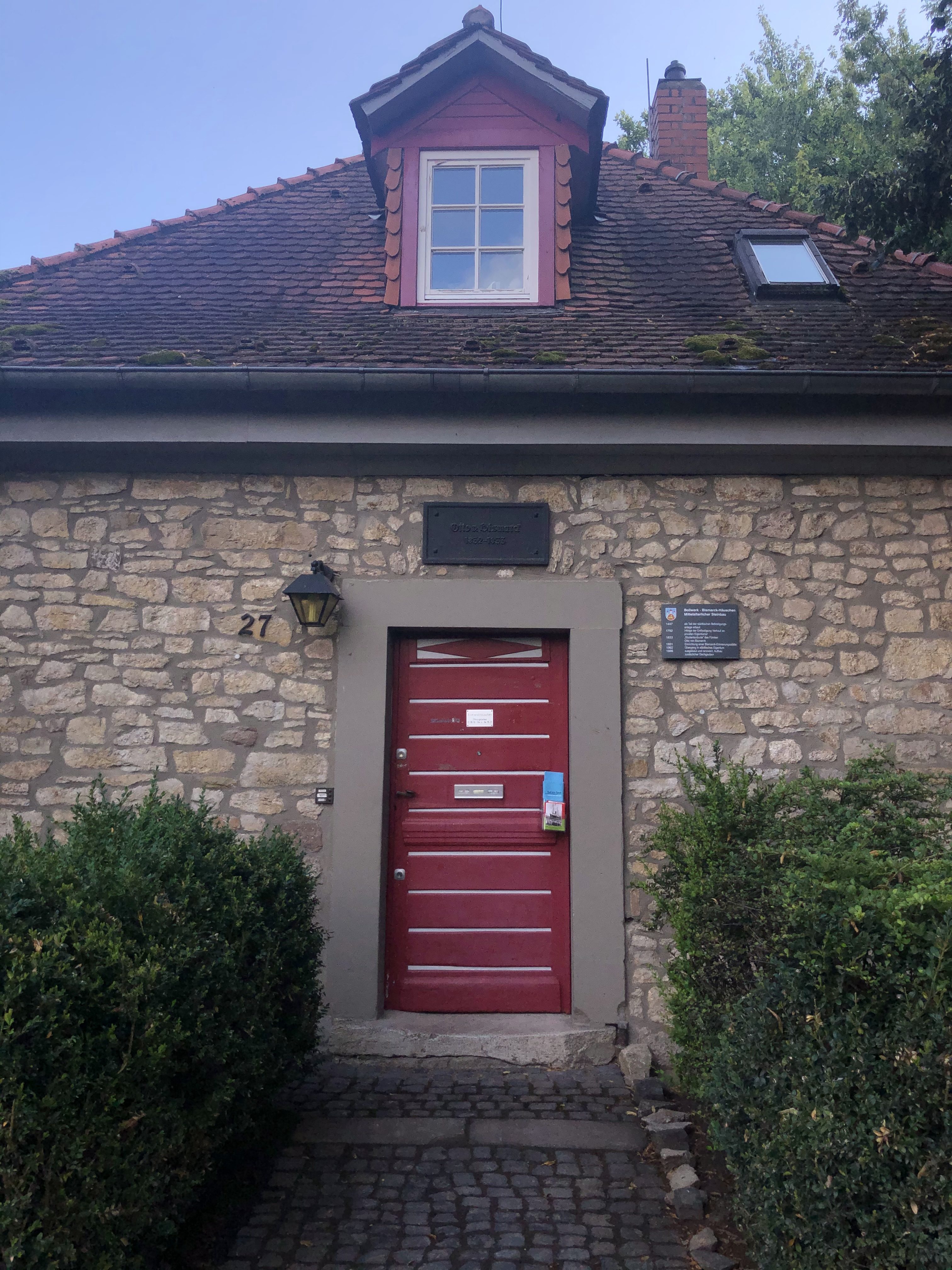 Das Bismarck-Häuschen ist heute ein Museum // The Bismarck-Häuschen is a museum nowadays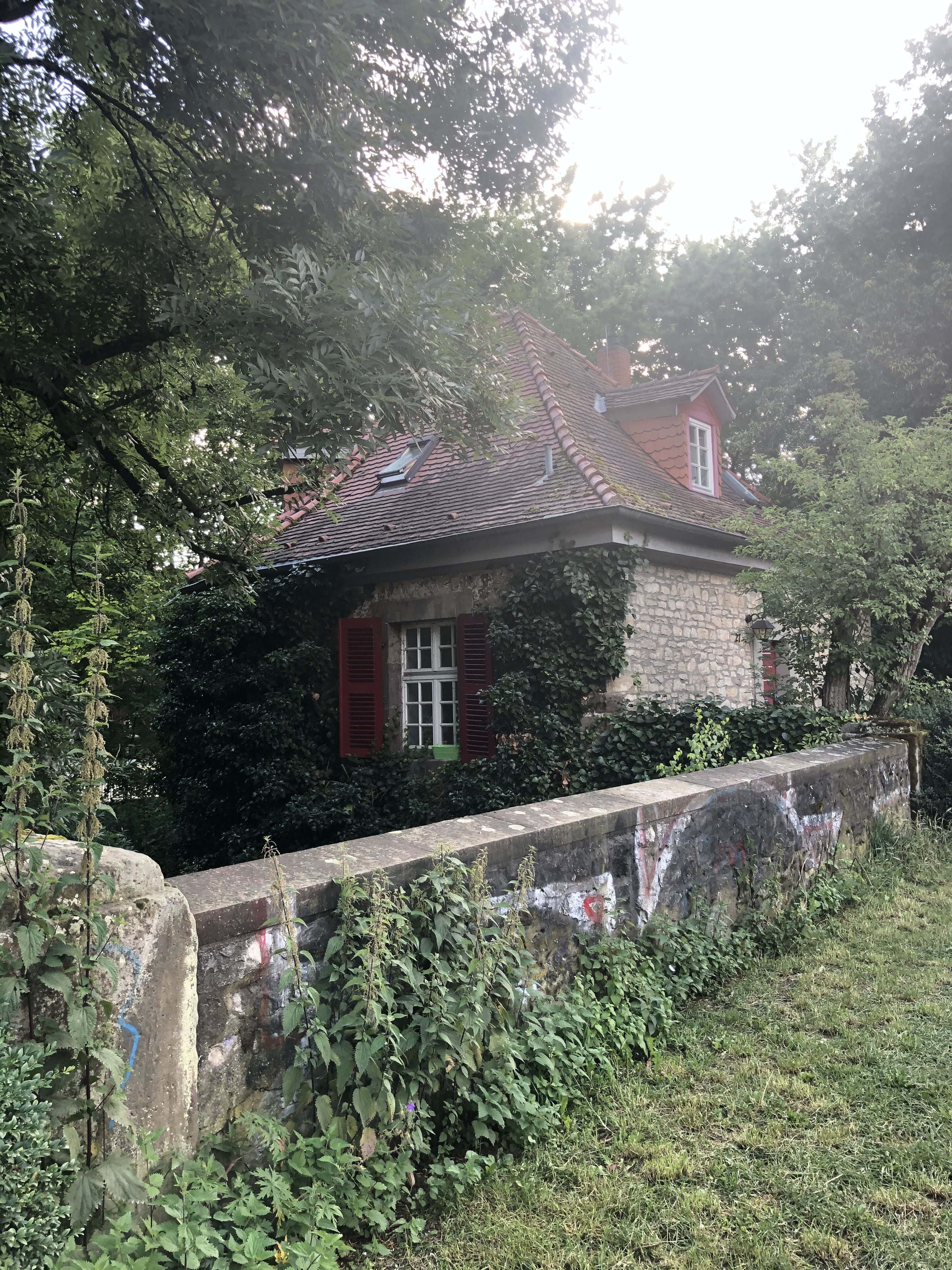 Auch von der Seite ein Hingucker: Bismarcks altes Haus // An eye-catcher from the side as well: Bismarck's old house
To marvel at houses of famous people, there's no need to travel all the way to L.A. – Göttingen has a lot to offer in this regard. On a stroll through the city center alone you pass numerous buildings that were once inhabited by stars and starlets. In this way, not only you get to know some of the most beautiful houses in town but also learn something about the history of Göttingen – a perfect opportunity if you have just freshly moved to our university town!
Stegemühlenweg 51: Emmy Noether
Mathematician Emmy Noether came to Göttingen in 1915 and lived in the rather unspectacular house in the Südstadt. In 1919 she was the first woman to habilitate at the university after she had earned her doctorate in Erlangen. After that, she was allowed to teach by herself for the first time. But her university career sadly wouldn't last for long: In 1933, the Nazis took away her teaching permission because she was a member in the SPD and once made positive remarks about the Soviet Union. This caused Noether to leave Göttingen and emigrate to the US.
From here, you walk straight ahead facing North towards the city center where you turn right into Lange Geismarstraße.
Lange Geismarstraße 49: Dorothea Schlözer
Dorothea Schlözer, one of the "Universitätsmamsellen", lived in this house with her husband. Her father, a professor for constitutional law and history, set high value on her education. In 1787 she was the second women in Germany to earn a PhD – already at 17 years old. Her exam tested her knowledge in topics of classical literature, mining, architecture and mathematics. Schlözer merely passed it with the worst possible grade (which might tell you less about her capabilities and more about contemporary academic misogyny) and later became hostess of a salon in Lübeck.
You walk back down the street and then turn right into the pedestrian zone. In the house that accommodates a well-known fish restaurant chain nowadays, once lived a famous poet.
Weender Straße 50: Heinrich Heine
Born in Düsseldorf, Heinrich Heine was sent to Göttingen for his studies by his father. The plan was that the university, known for its high standards, would steer him away from all the mischief he was getting himself into. Heine, however, was opposed to that idea from the start: He hated Göttingen right away, the strict professors, the pressure to perform, the fraternities. His father's plan was doomed to fail: the university kicked out Heine after he challenged another student to a duel, in a brothel he contracted an STD and his fraternity expelled him for antisemitic reasons. In his book Harzreise he wrote the famous sentence: "Göttingen is a nice town and it's especially nice when you look at it with your back."
You walk just a few more steps towards the Nabel, turn left and left again at the next crossing. On your right, you'll find the Heyne house.
Papendieck 16: Therese Heyne
In the small lattice house across the Historical SUB lived Therese Heyne, daughter of the library director Christian Gottlob Heyne. Having access to the library, she was able to attain an education that was way out of reach for most women of the 18th century. This allowed her to work as a writer and editor – but still which much more obstacles than the men of her time.
You walk back on Papendieck and then left onto Goethe-Allee. Who else could have lived here than the rockstar of German literature himself?
Goethe-Allee 12: Johann Wolfgang von Goethe
Goethe himself once said, he would have loved to become a professor in Göttingen, but according to his father's preferences, he had to study in Leipzig. But in the summer of 1801, he spent a month in the university town and lived here with a instrument maker. To honor this short stay, the town later renamed the whole street after him.
Keep going on Goethe-Allee until you reach the Wall and turn left. Now you can have a laid-back walk on the Wall until you find the Bismarck-Häuschen on your right side.
Wall: Otto von Bismarck
The unimpressive house on the Wall is a remain of the former city wall. Otto von Bismarck lived here during his time at the University of Göttingen for half a year. Similar to Heine, he was extremely bored in his tedious law studies but unlike Heine, he loved fraternity life. Later he transferred to Humboldt University in Berlin.
Of course, these spots are only a few highlights – on wanderings through Göttingen, you'll find badges on numerous houses that are reminiscent of the V.I.P.s who once lived there.
You can also find the tour here.
5. Lake Round
by Tanita
Route in a nutshell: Göttingen – Gartetal – Wendebachstausee – Kiessee
Area: Südstadt
Length: ca. 22 km
Duration: ca. 1.5 hours (without breaks)
Mode of transport: bike
Strenuousness: 3/5
Inclination: 3/5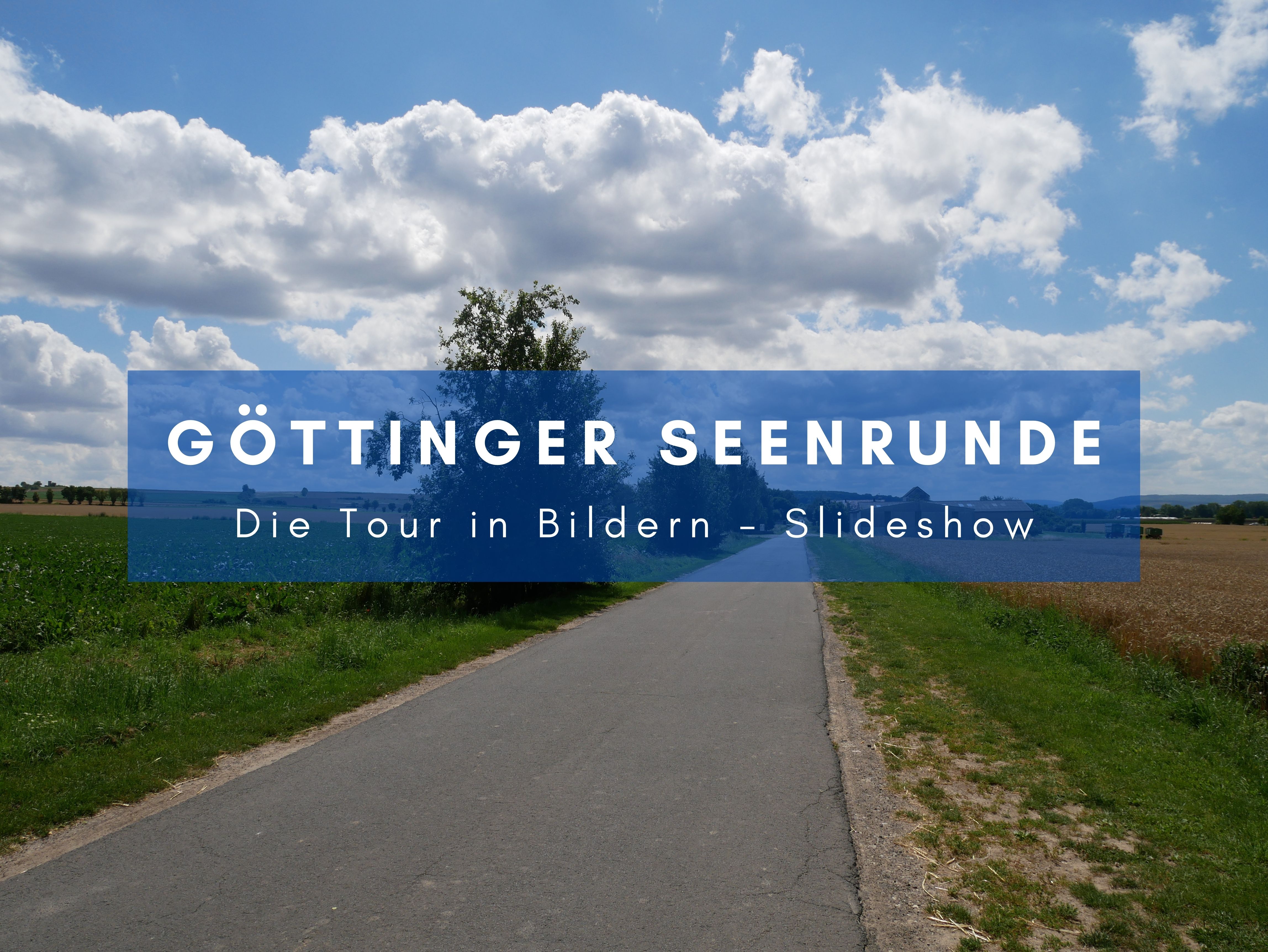 Los geht's "Im Bruche"... // Here we go! You start at "Im Bruche"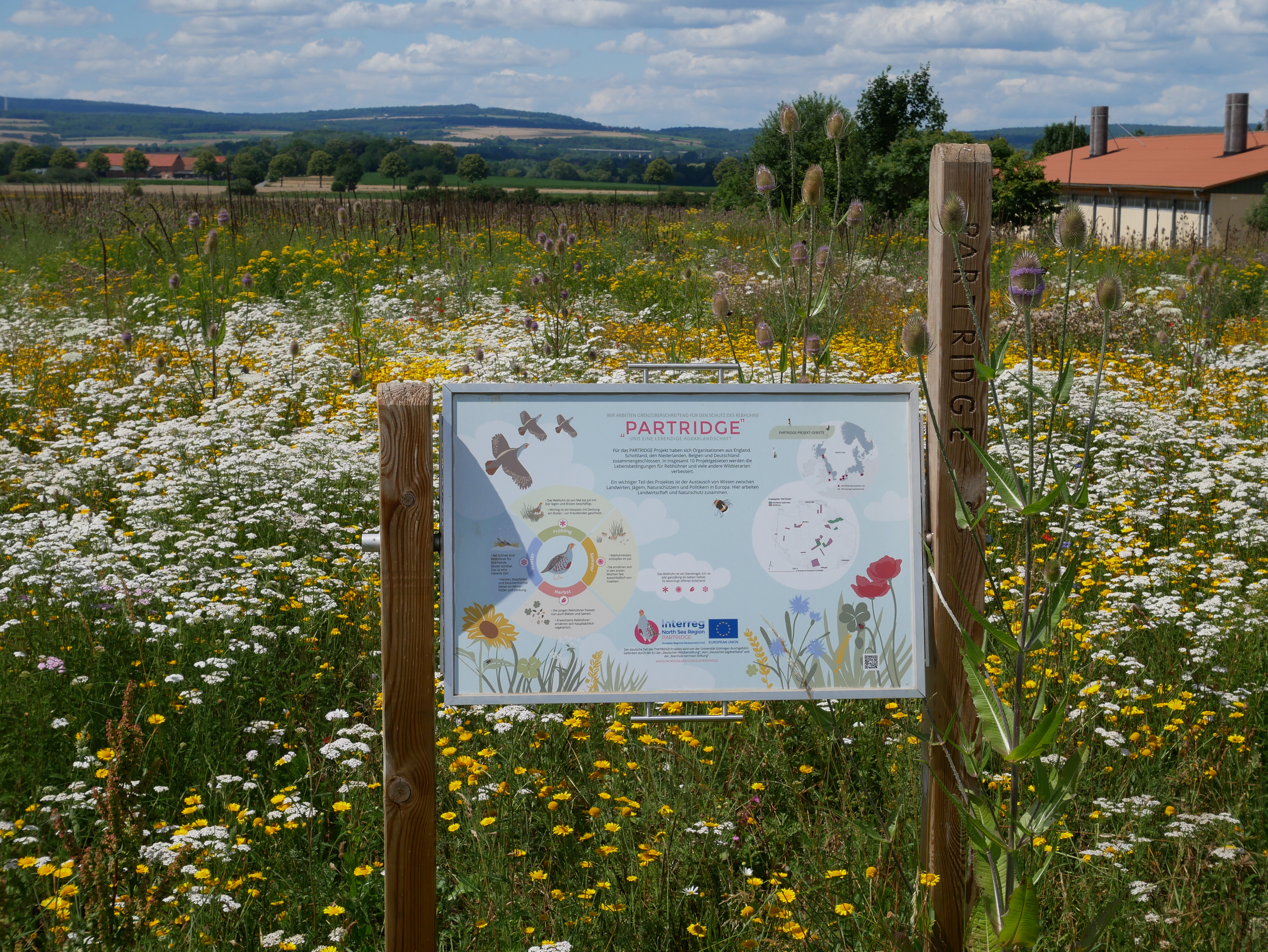 Vorbei an Blühwiesen... // Passing wildflowers...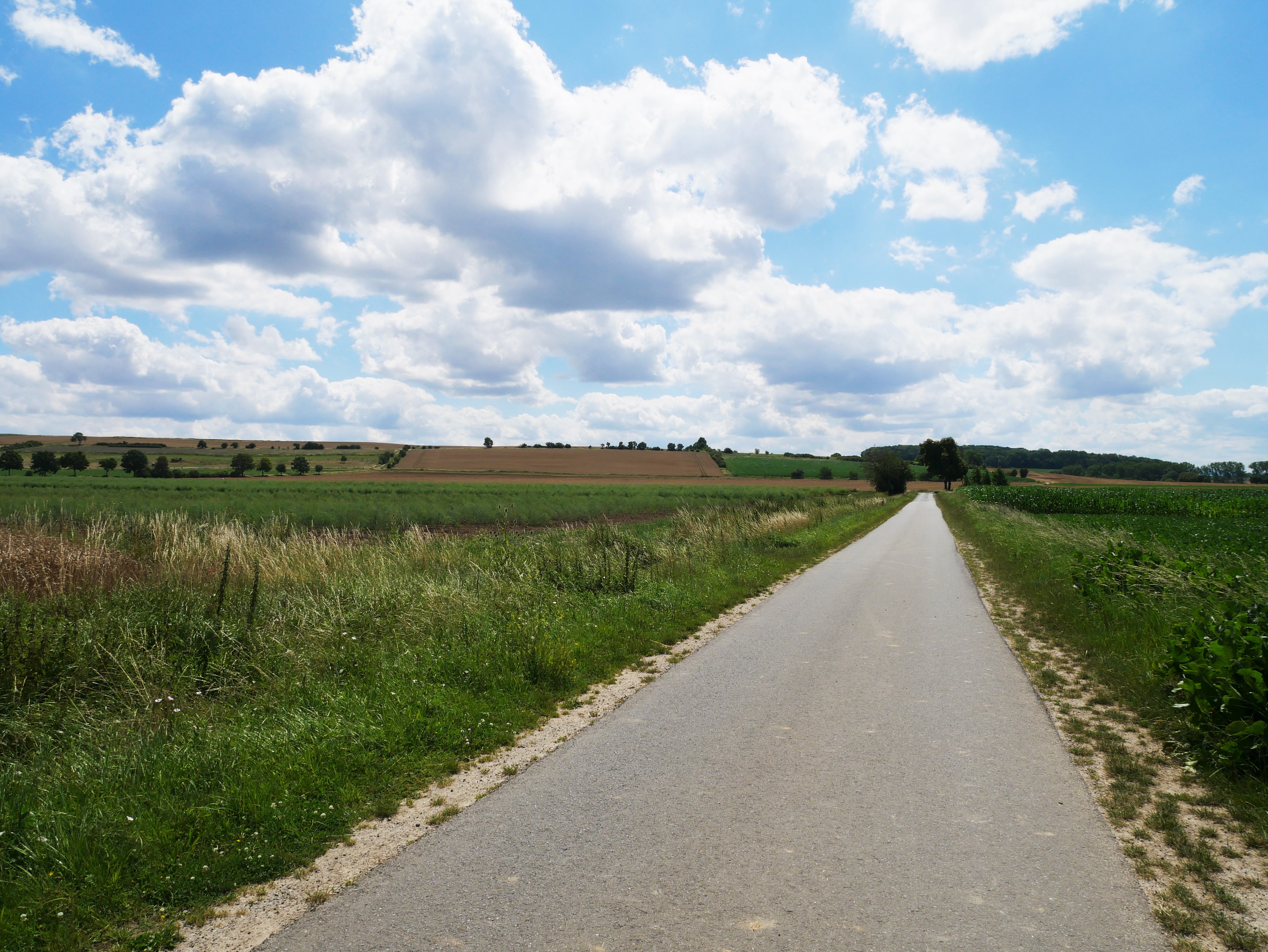 Entlang von Feldern... // Along fields...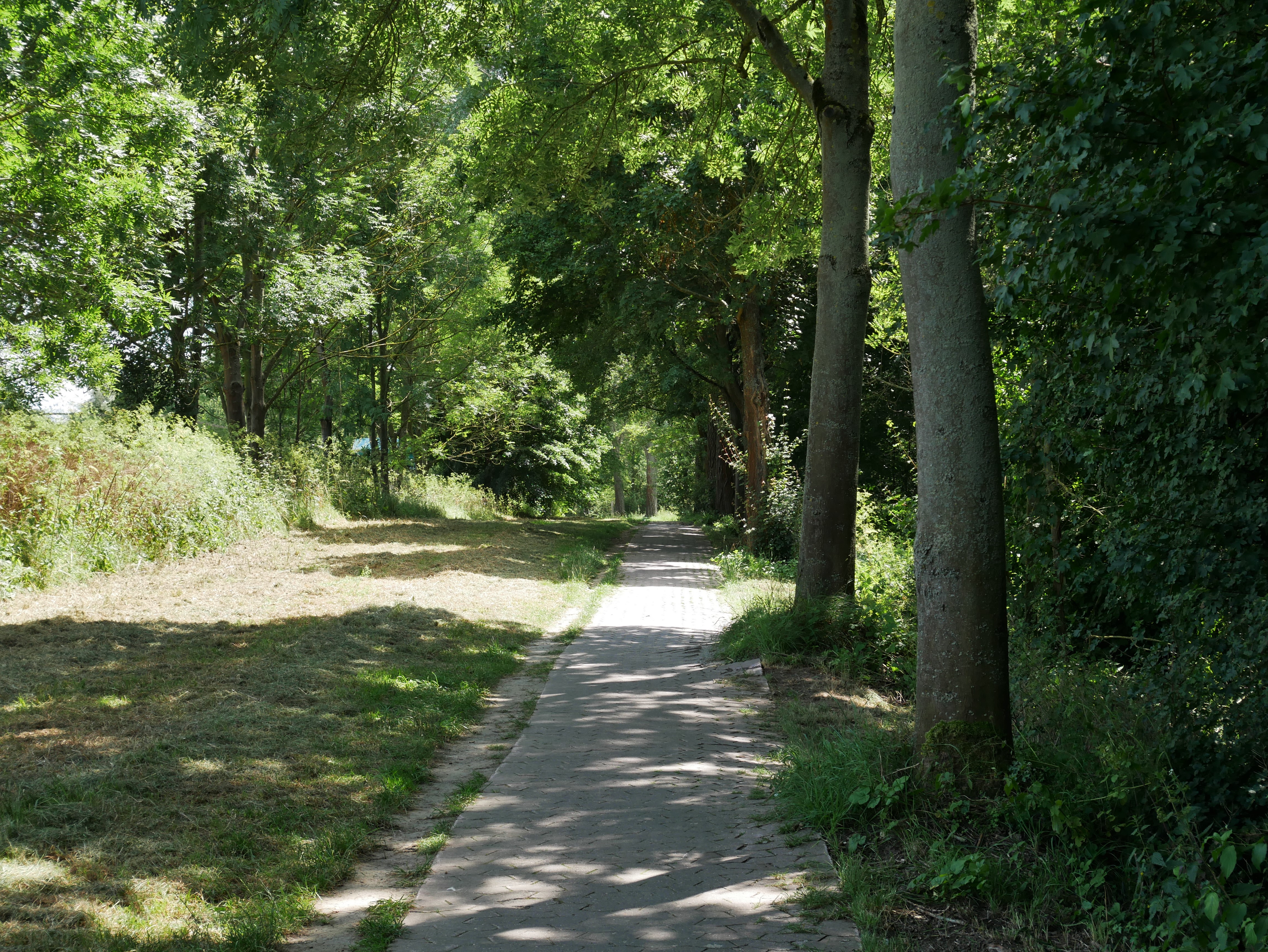 Bis zum Beginn des Gartetal-Radweges! // The Gartetal-Radweg starts here!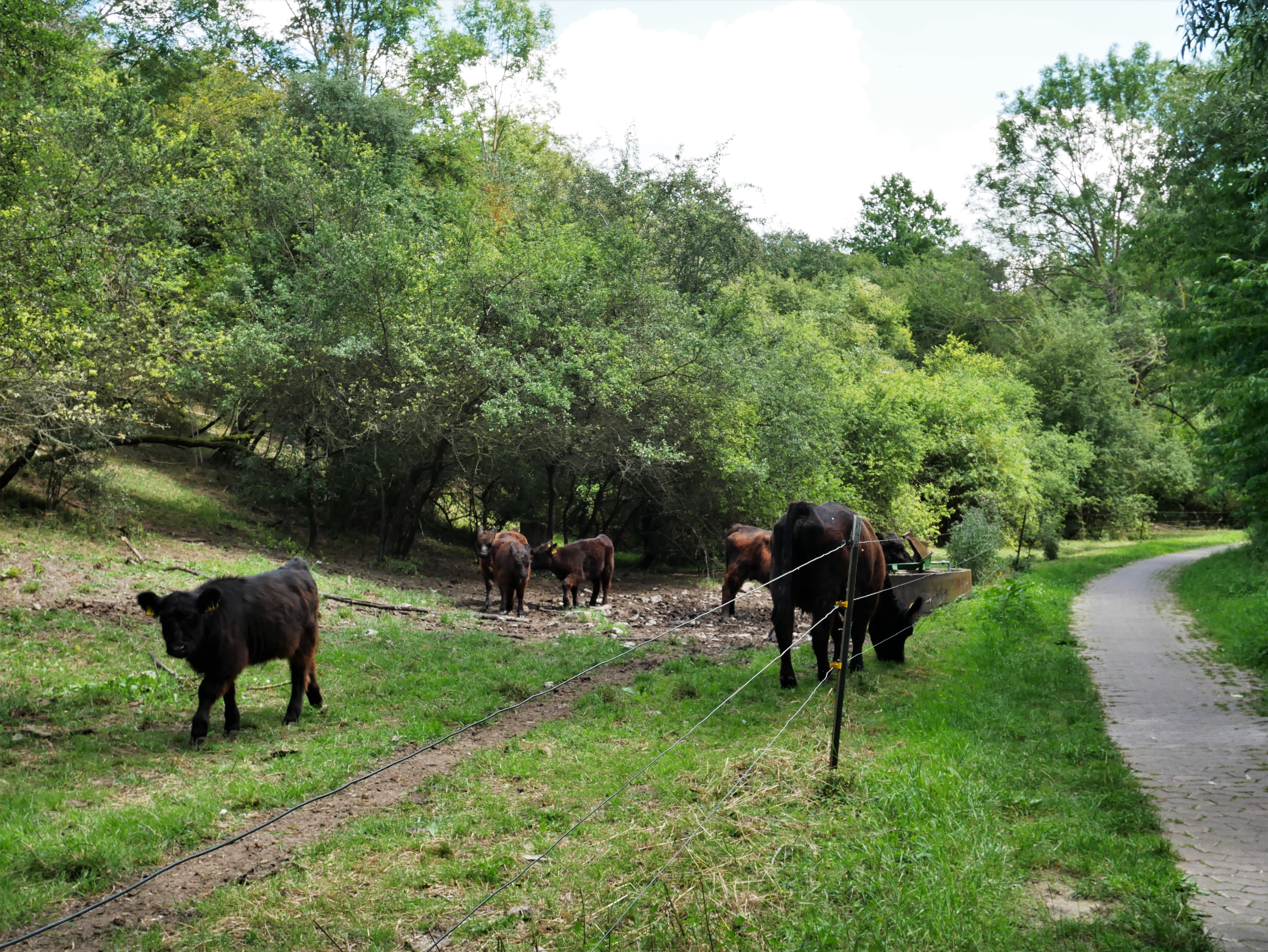 Manchmal trifft man dort Rinder am Wegesrand // Sometimes you make some cow friends along the way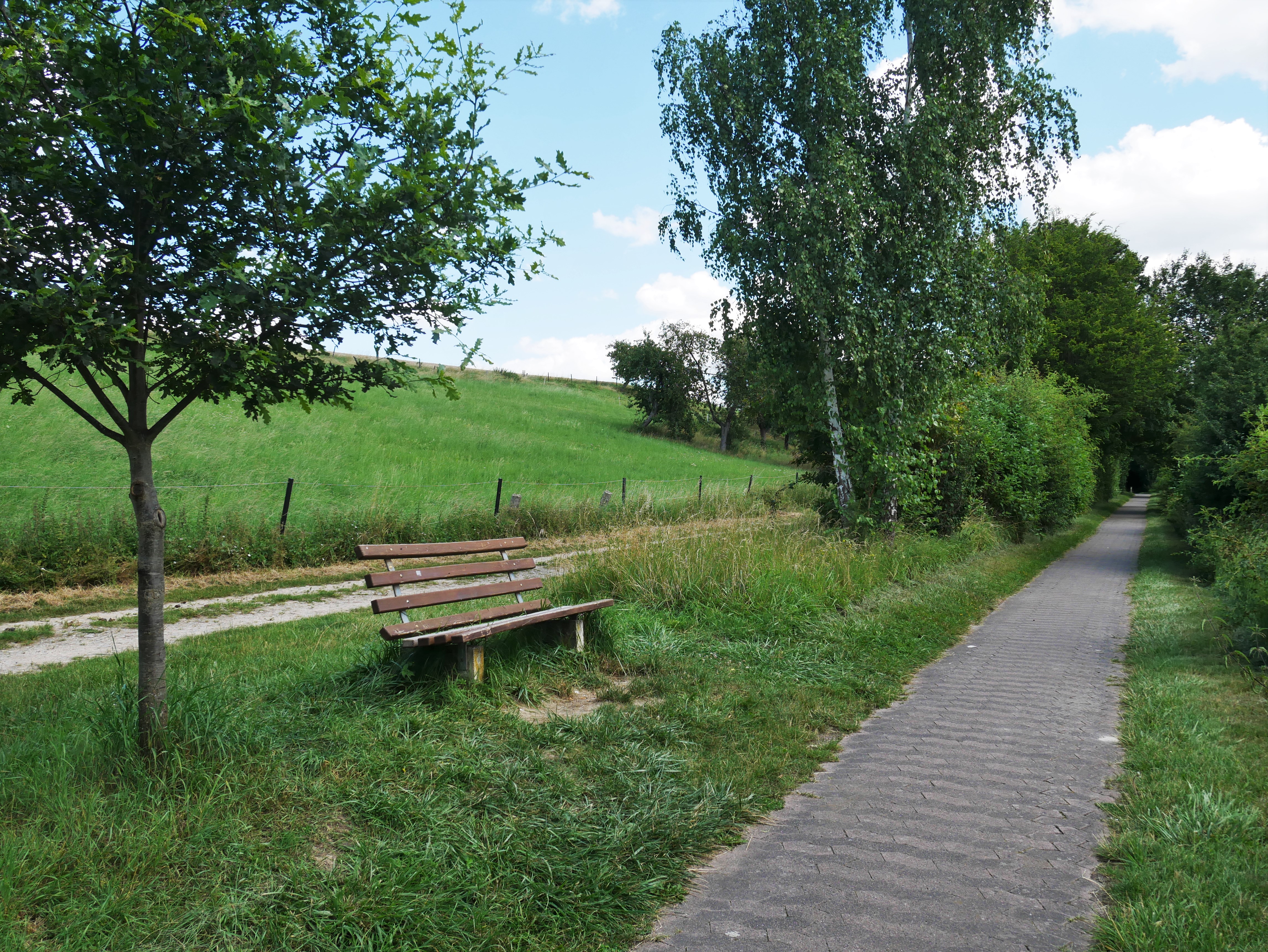 Eine Bank lädt zum Verweilen ein! // A perfect spot to get some rest!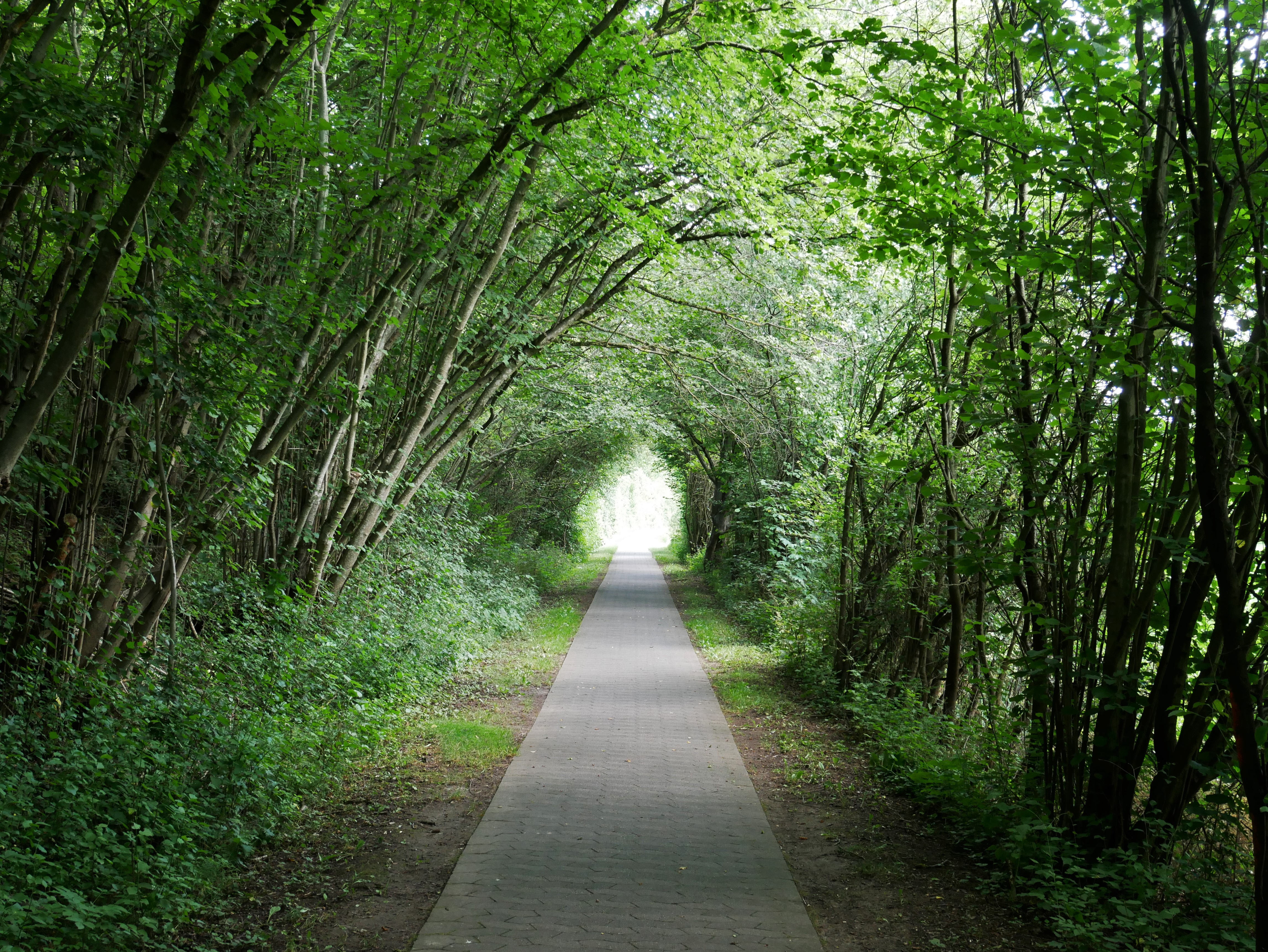 An manchen Stellen ist der Radweg märchenhaft zugewuchert // In some places the bike lane is grown over like in a fairy-tale

Ende des Gartetal-Radweges - Willkommen in Diemarden! // The end of the Gartetal-Radweg - welcome to Diemarden!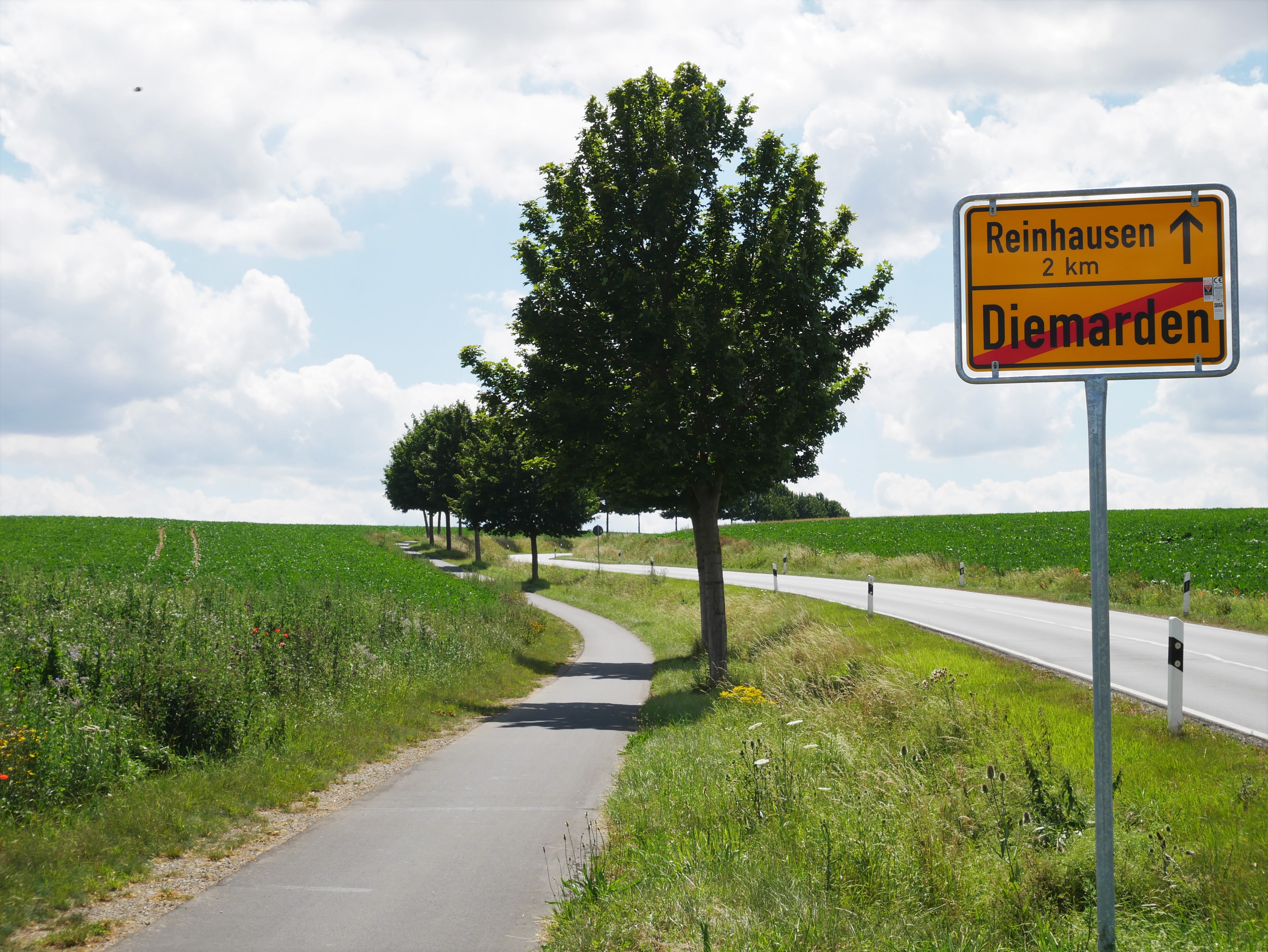 Und tschüss Diemarden - nach der Durchquerung des Dorfes geht's erstmal bergauf... // And goodbye again - after the village it's uphill for a while...

Oben angekommen bietet sich eine kleine Pause an. Mit tollem Ausblick! // On top it's time for a little break. With a view!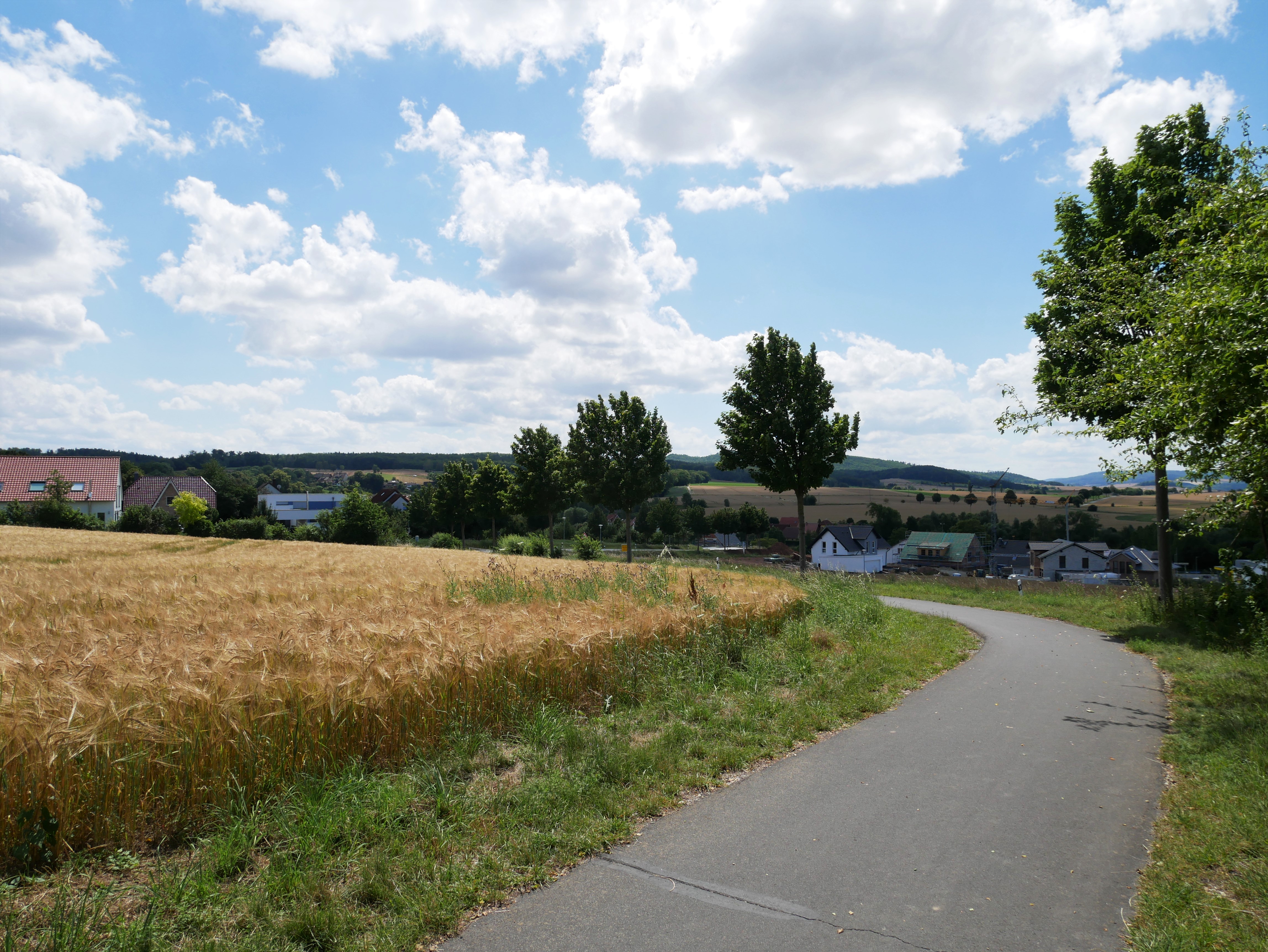 Jetzt gehts runter, einmal Richtung Reinhausen... // Down we go, direction: Reinhausen...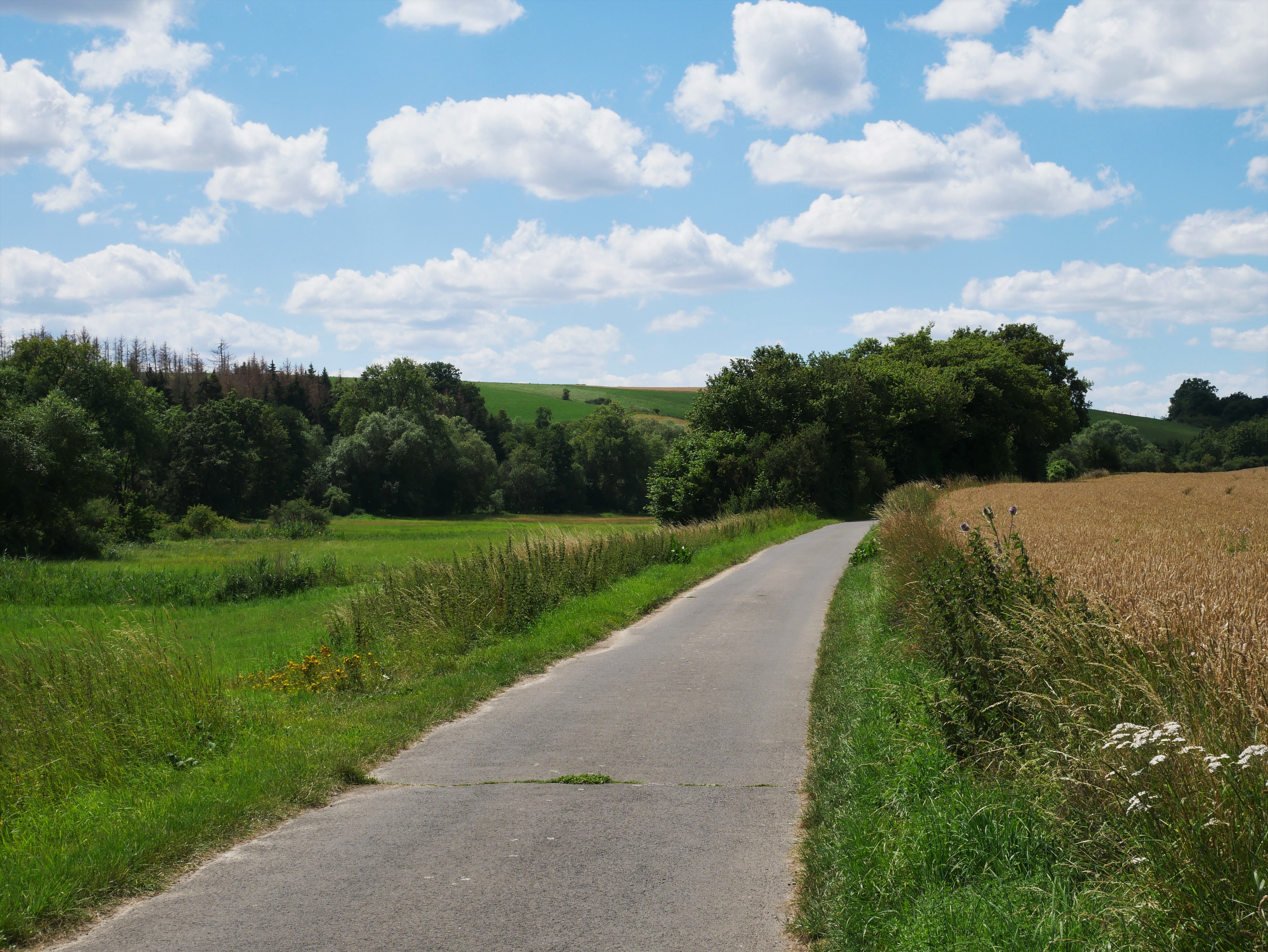 Und dann ab zum Wendebachstausee! // And then on to the Wendebachstausee!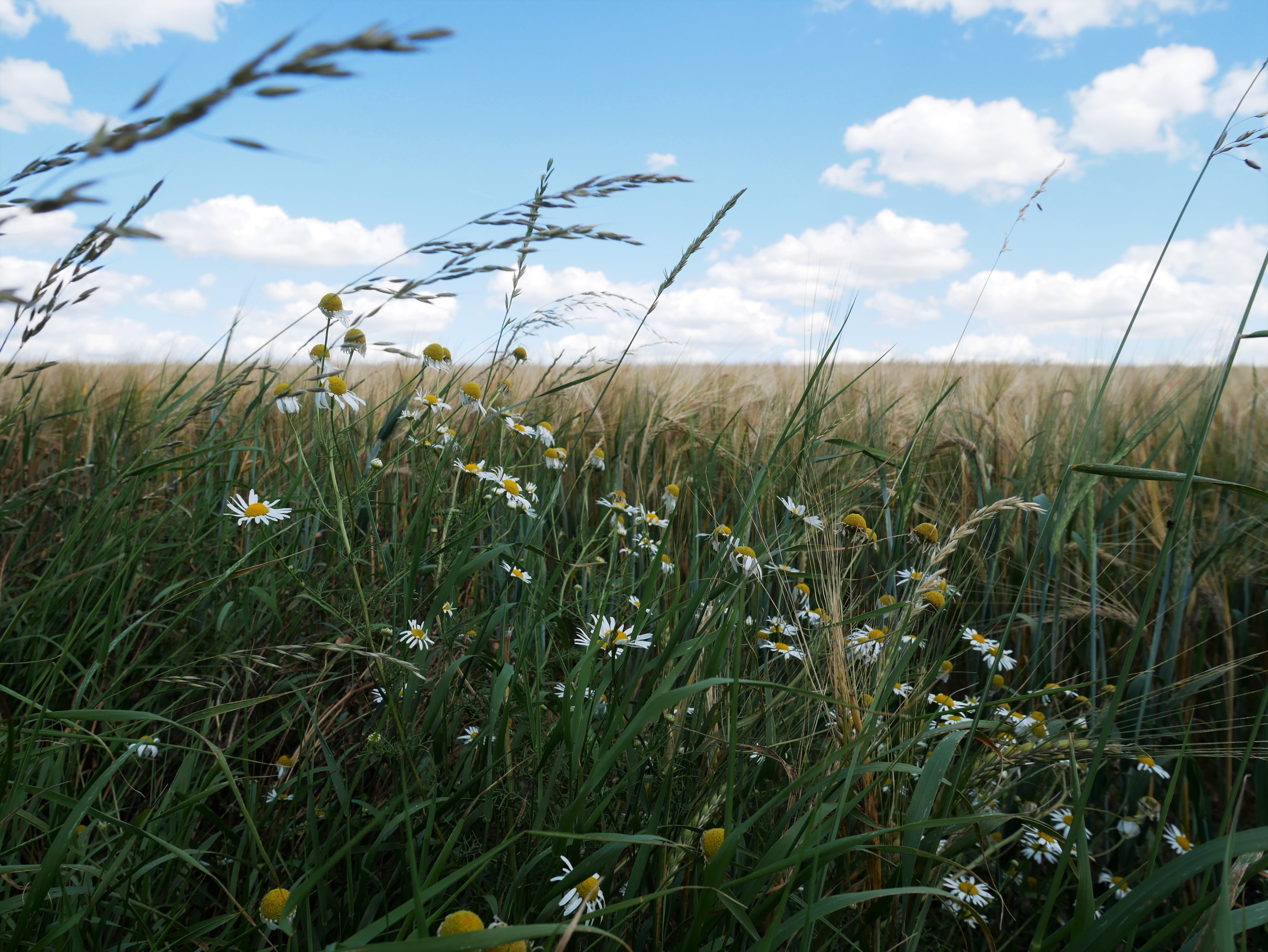 Mit schönen Blumen am Wegesrand... // With pretty flowers along the way...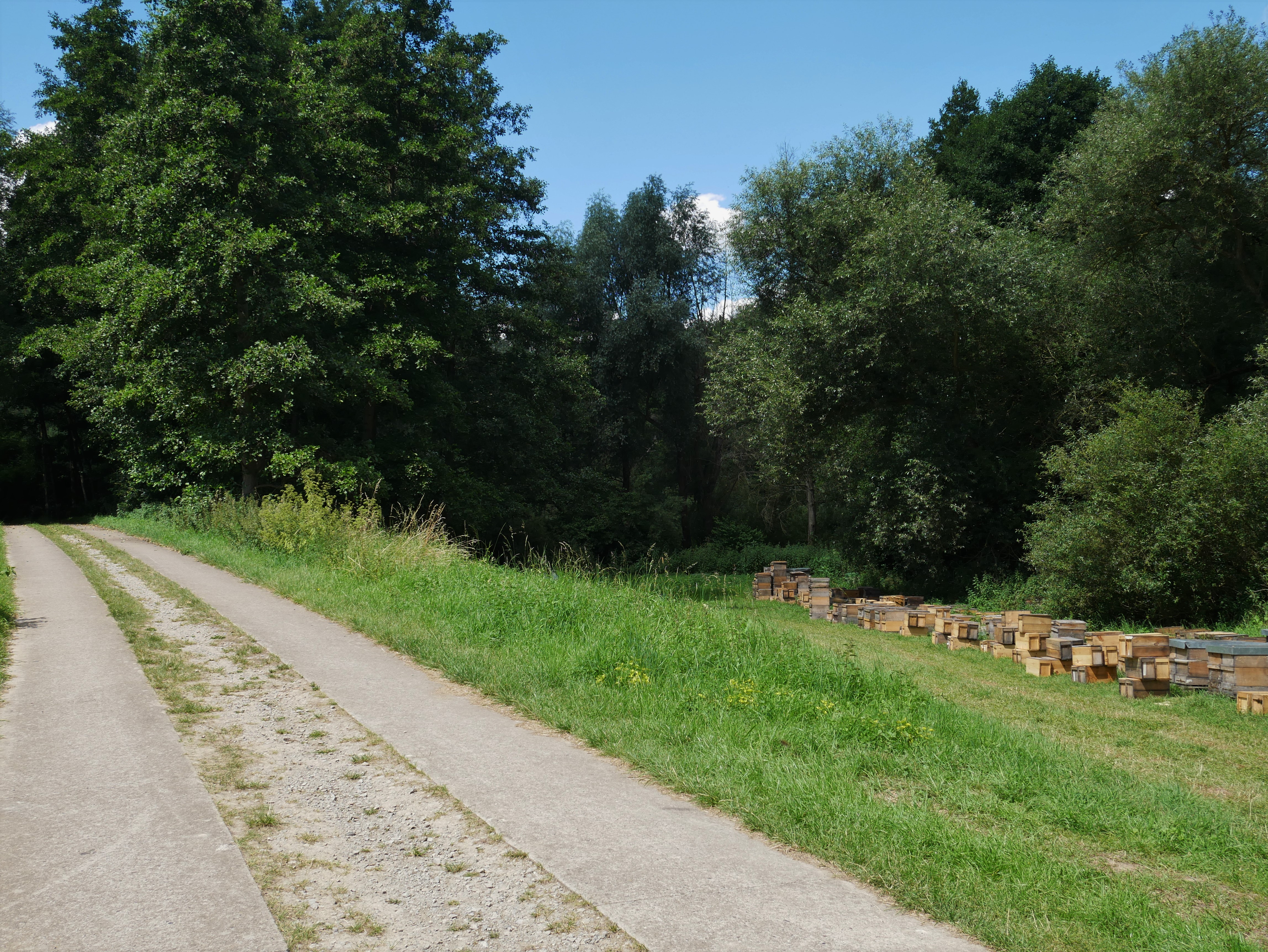 Und vorbei an den vielen Bienenstöcken! // And by many bee hives...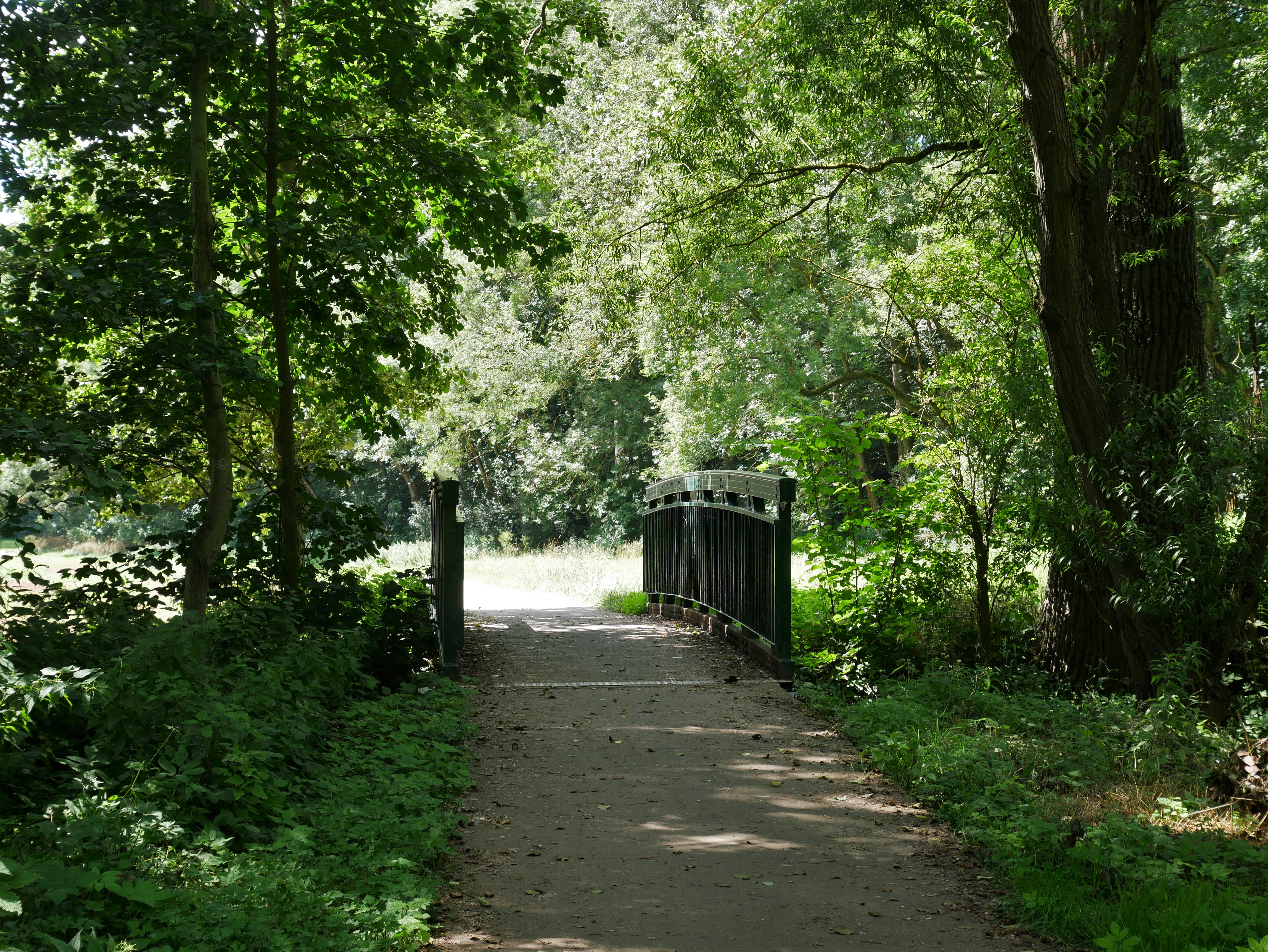 Noch einmal über diese Brücke... // Again over this bridge...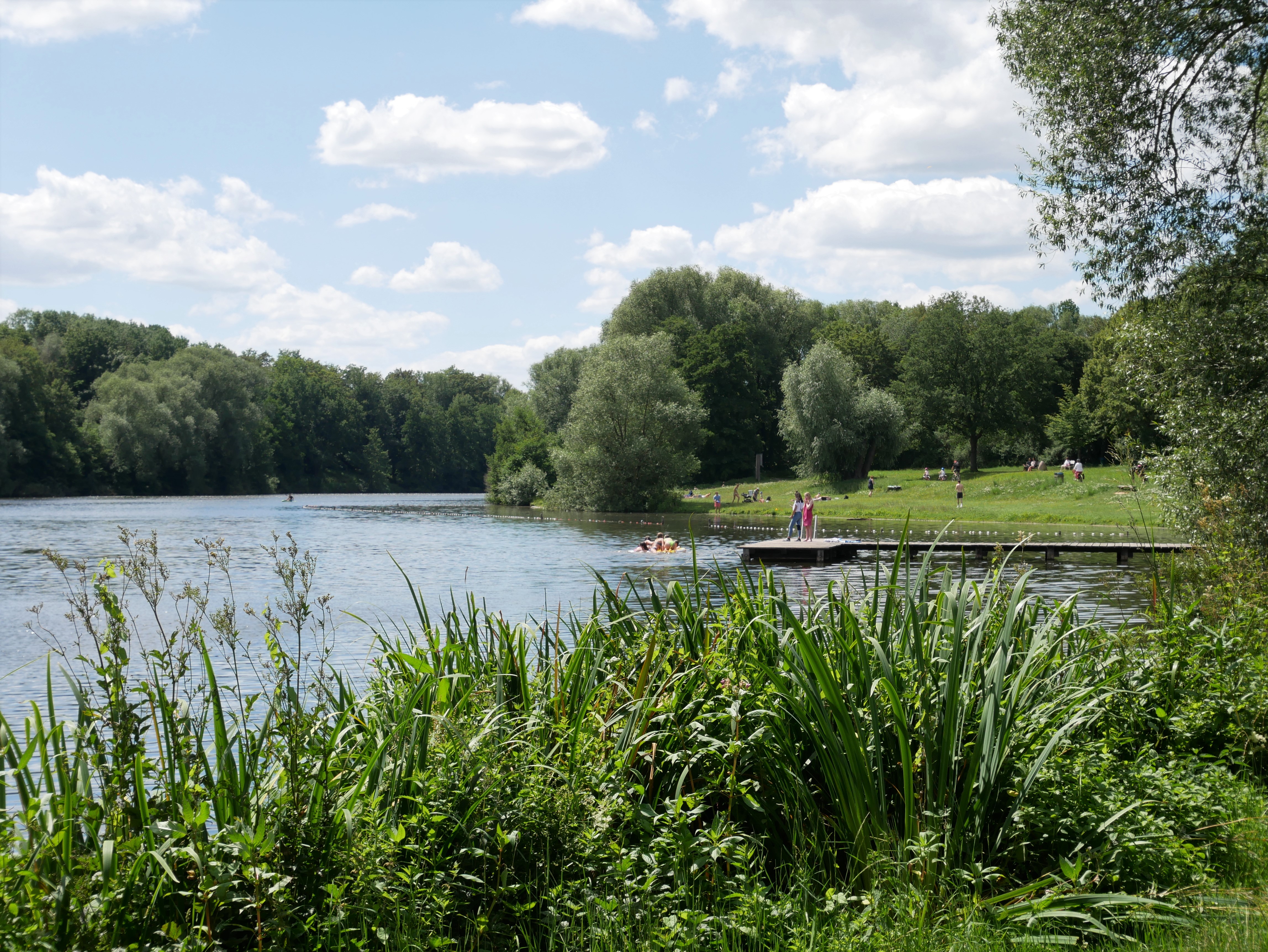 Und da ist er: der Wendebachstausee // And there it is: the Wendebachstausee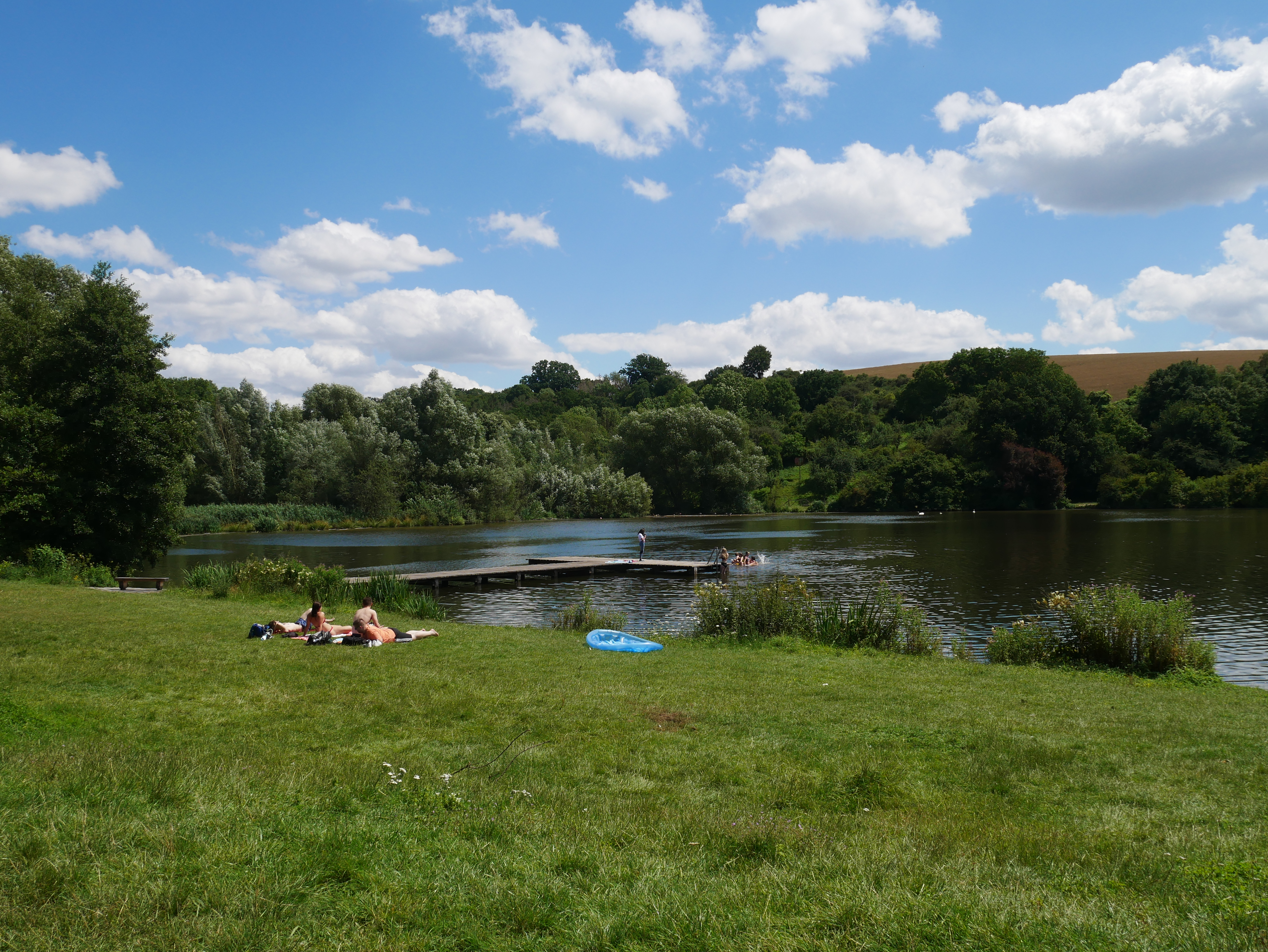 Baden ist hier erlaubt! // Swimming is possible here!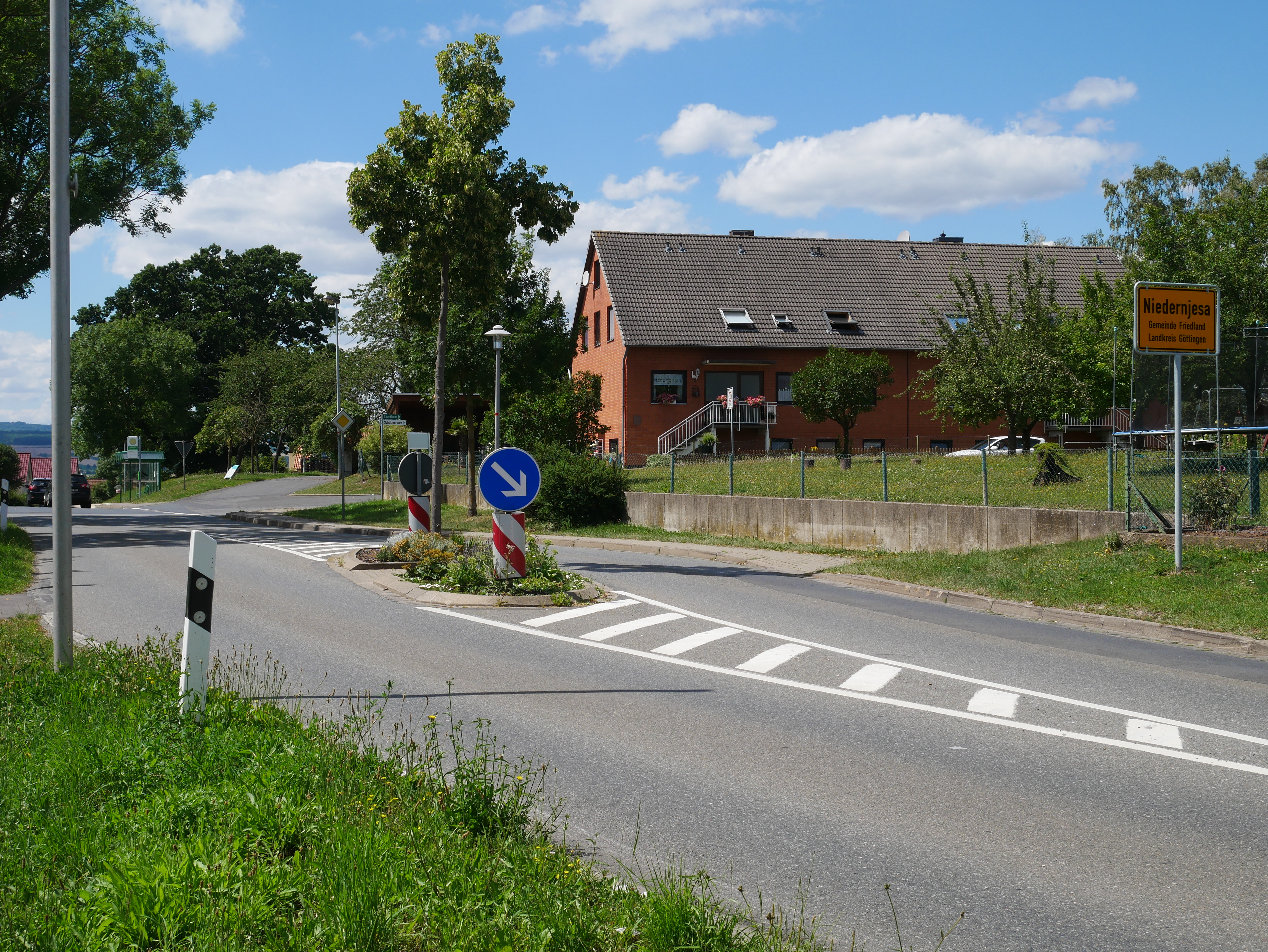 Weiter gehts, Richtung Niedernjesa... // Here we go again, off to Niedernjesa....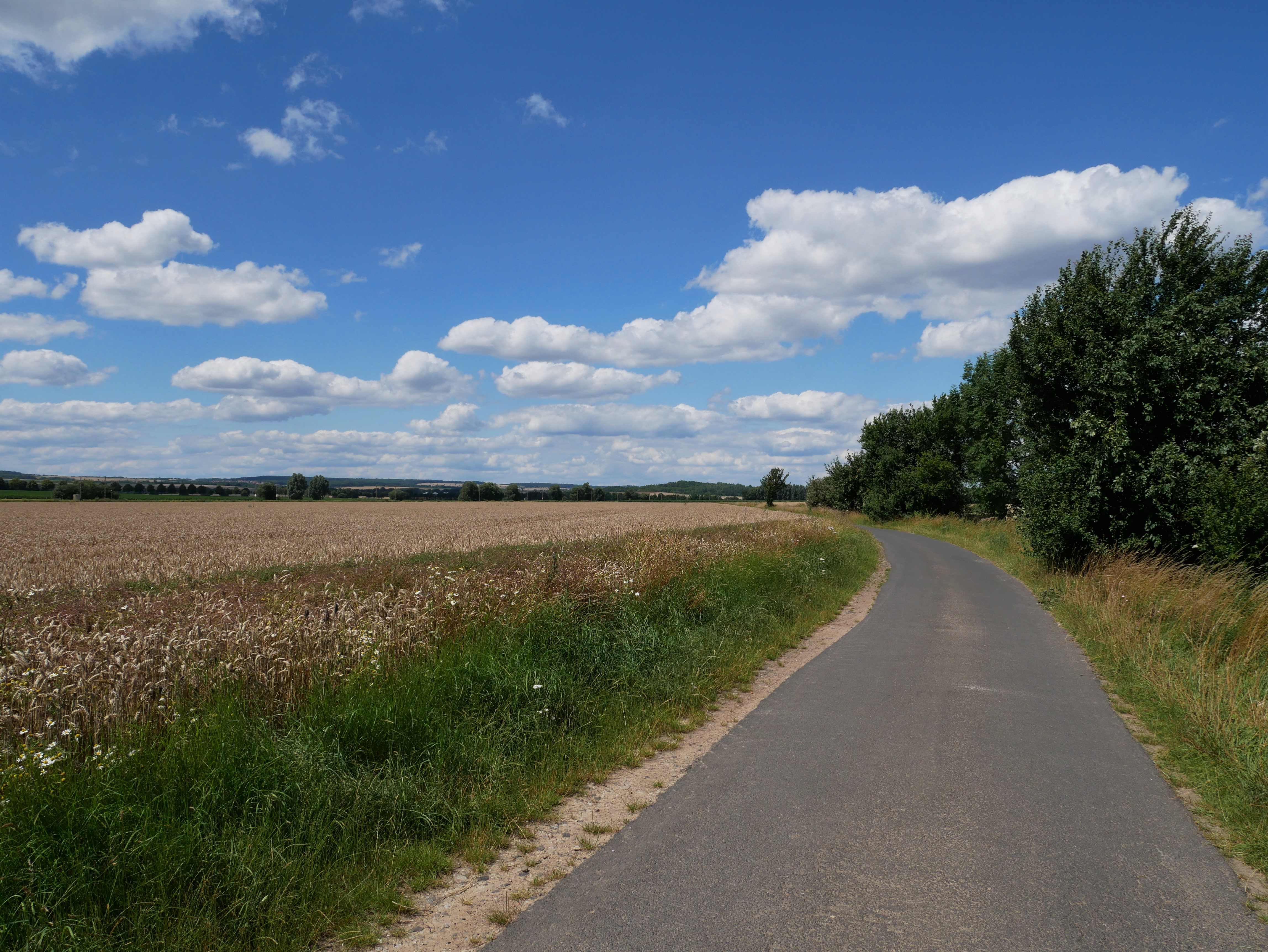 Und dann durch die Felder nach Rosdorf // And through the field to Rosdorf

Am Wegesrand stehen übrigens ein paar Apfelbäume! // You can also see some apple trees next to the road!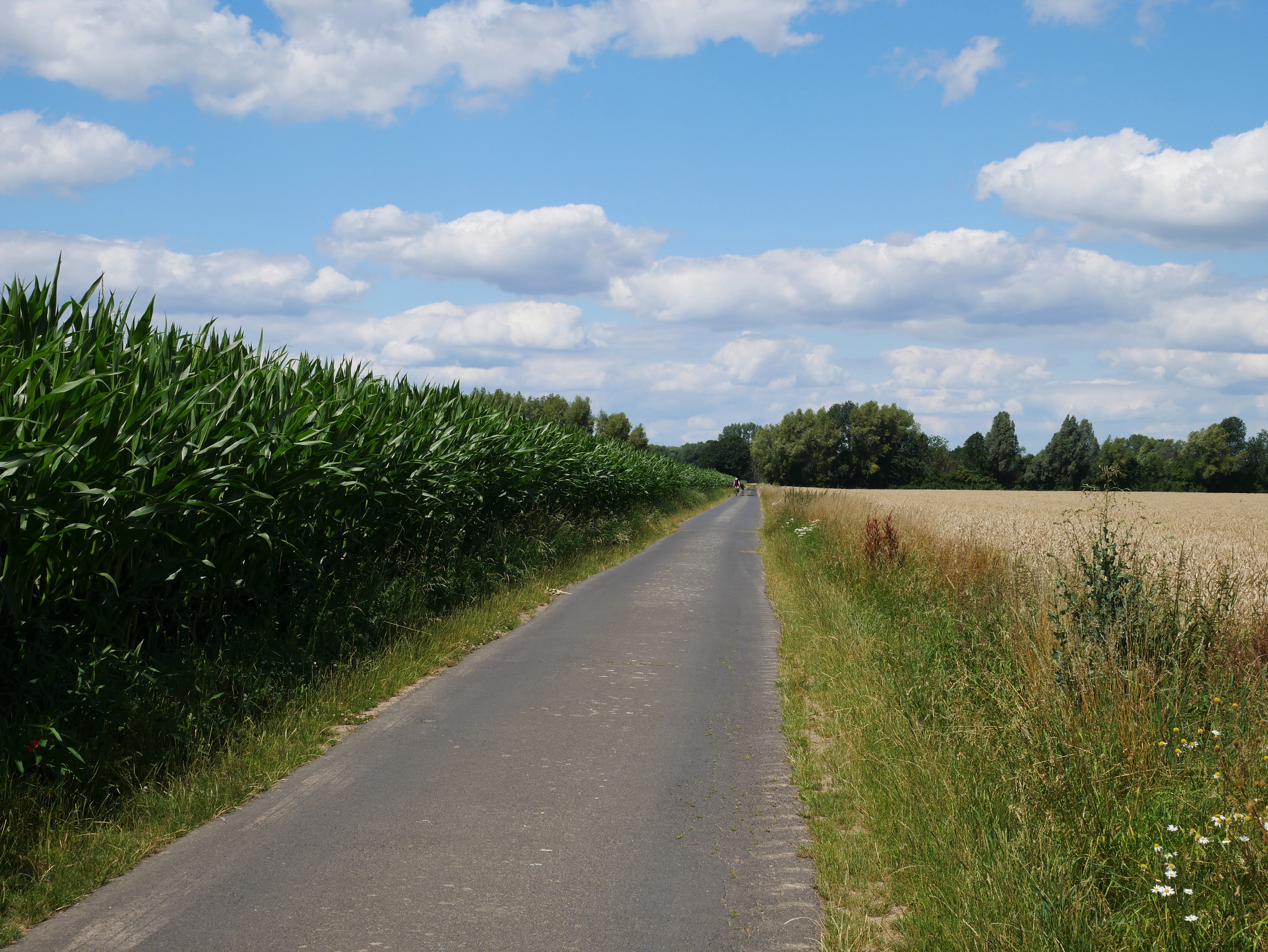 Felder, so weit das Auge reicht... // Fields, as far as the eye can see...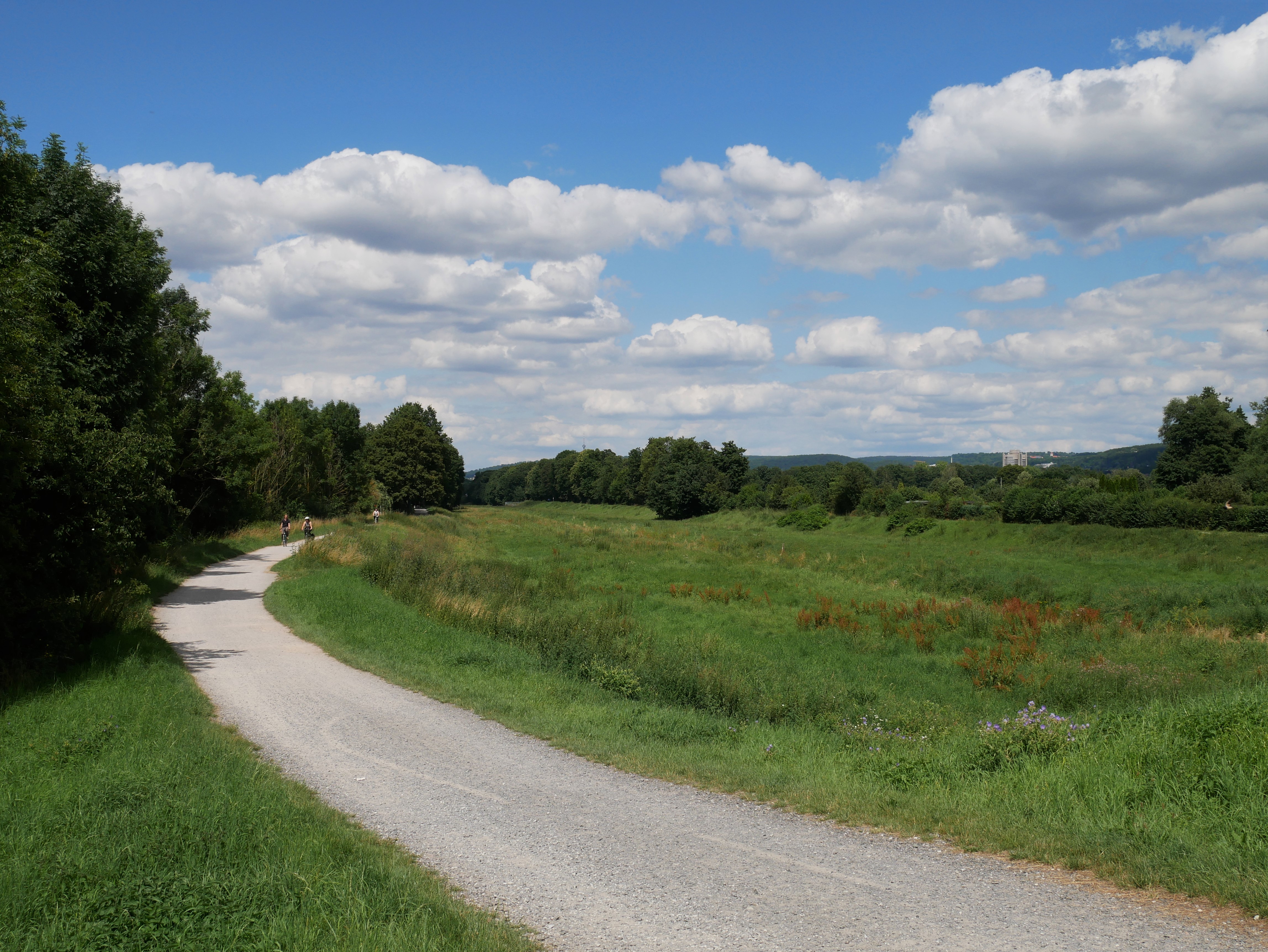 Und die Leine-Auen dürfen auch nicht fehlen // Make sure not to miss the Leine-Auen (Leine wetlands)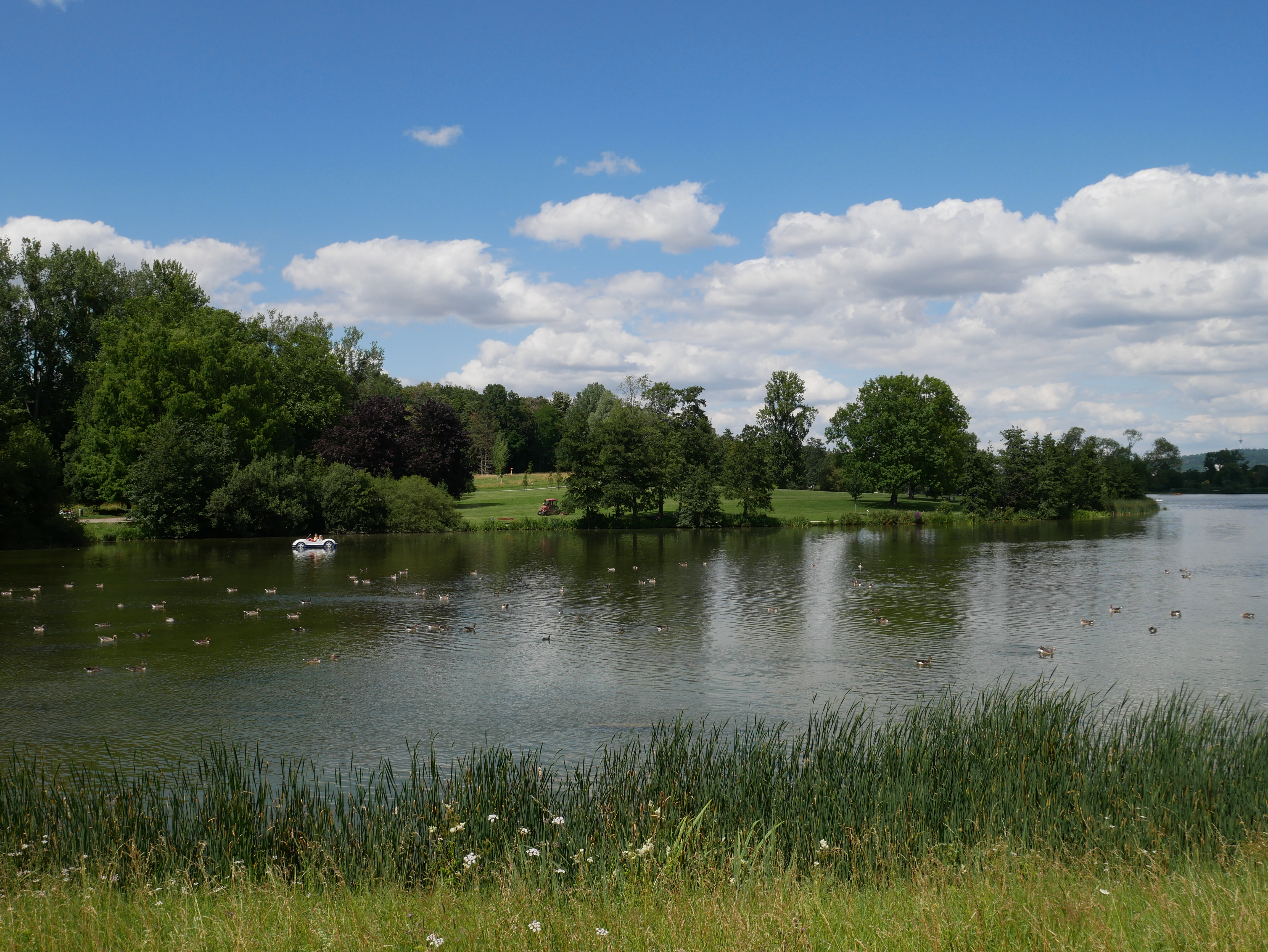 Und da ist er, der Kiessee! Hier gibt es Vögel... // And there it is, the Kiessee! There are birds here...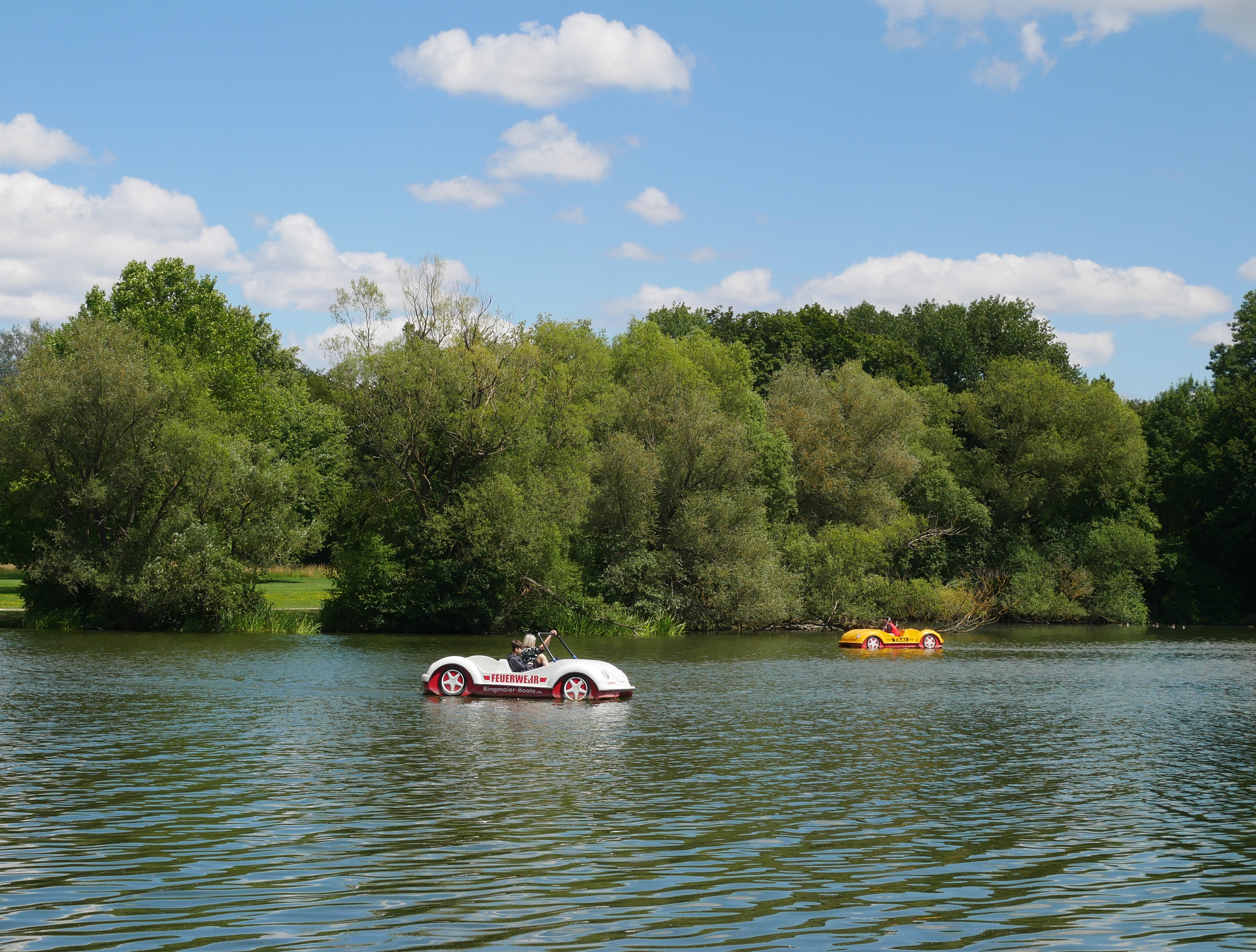 Und lustige Tretboote... // And funny pedal boats...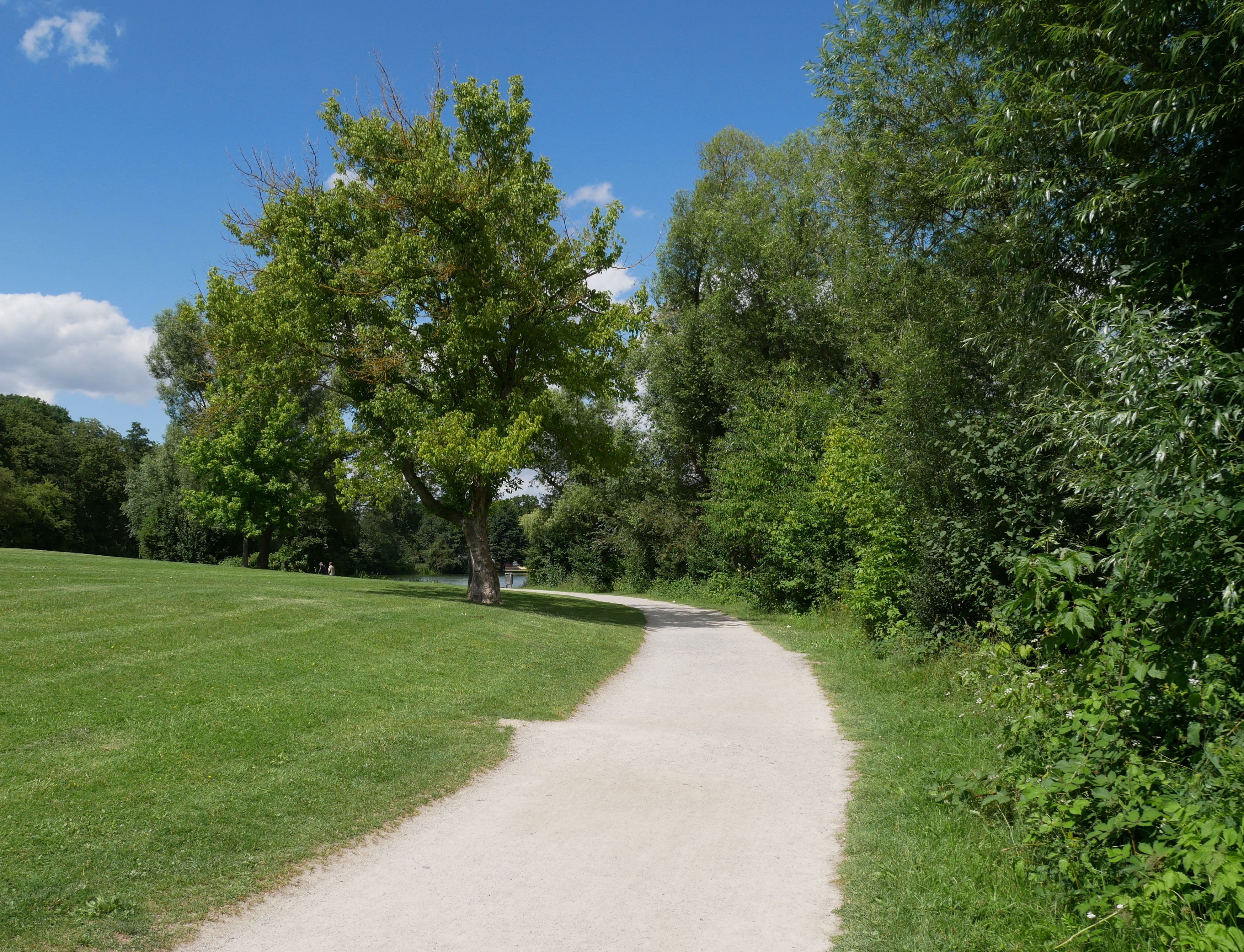 Schöne Wege sind auch dabei // You'll also find some pretty paths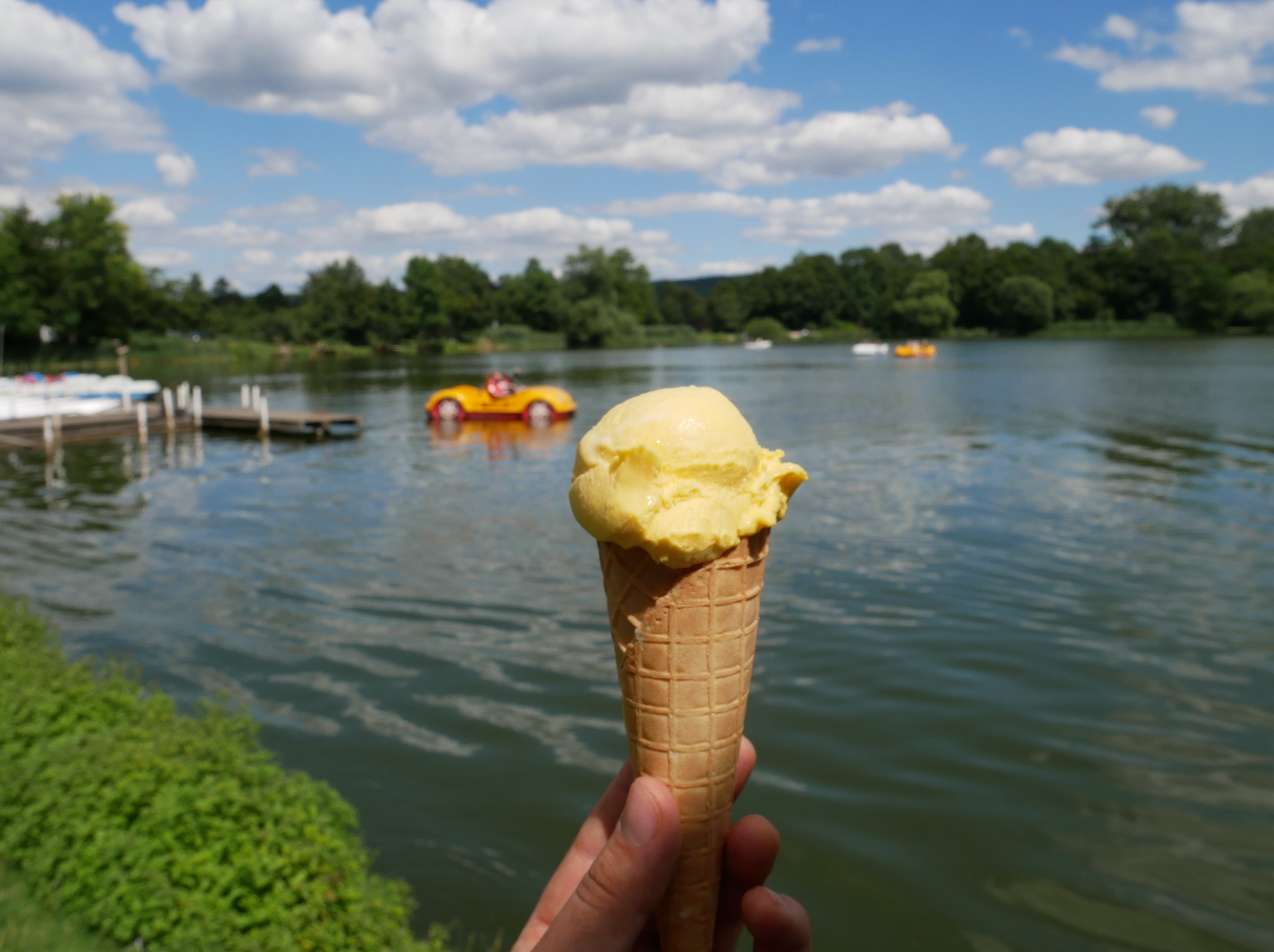 Und zum Schluss der Tour noch ein Eis! // You made it! Go get yourself an ice-cream
Göttingen is a nice town, no doubt. But have you had a look at the surroundings? Woods, meadows, hills and lakes – everything right at your doorstep! So you don't have to search for the best route yourself, I am sharing my favorite bike tour with you: the Göttingen lake round. You start at "Im Bruch" – and already here you literally leave the city behind. You come out of the residential area and all of a sudden, there's a long, straight, seemingly endless path leading through fields and by farms. The view of the landscape is stunning in this part already! The next highlight is the Gartetalradweg. It meanders right by the river through blooming fields. You'll see horses and fruit trees along the way and the bushes will be so entangled at times, it'll seem like you're biking through a green tunnel. Simply magical! After that, it's a bit more strenuous – coming from Diemarden in direction Reinhausen you have to cycle uphill for a while.
But the effort will be worth it! Once you've reached the hilltop, you'll have a great 360 degree view. And even better, you'll get to roll down the winding street to Reinhausen. That's what freedom feels like! Once you're down there, you continue on the bike trail passing horse and sheep meadows and when you hear something buzzing, it's the bee colony with 30 hives nearby. At the Wendebachstausee, it is recommendable to take a break – swimming is allowed here! When you're refreshed and recovered, you start into the last third of the tour – you bike through the village Niedernjesa and continue through the field to the Kiessee. When you reach it, you can step off the bike and take a walk around the lake – there's a lot to see, especially different types of birds and their chicks during spring and summer. If you're lucky, you'll also find some sheep hanging around! In the end, I always get myself an ice cream, either in the shop near the lake or the truck that's located on one of the parking lots sometimes. From Kiesse, you make your way back home – I always feel happy and relaxed after this bike tour. Feel free to try it!
You can also find the tour here.
So what are you still waiting for – grab those boots and get outdoors! In case these routes aren't enough inspiration for tours of exploration for you, we've also compiled the most beautiful places in Göttingen and on campus.