It's very crowded this Monday evening in the ZHG. A loud babel of voices rises from the crowd. It seems like I am not the only one who is interested in the InDiGU Tandem Night. On the huge red tiled floor between the columns in the ZHG, there is an area marked out by pinboards. On those boards I can see multiple slips of paper: "Spanish", "English", "Arabic", "Portuguese". I push myself through the crowd. On the other side I discover a sign: "French"… Yes! That's were I need to go. Once I arrive at the stand, I put two signs to my chest: "German" in green, "French" in red. That's code for "Offering German, searching for French!"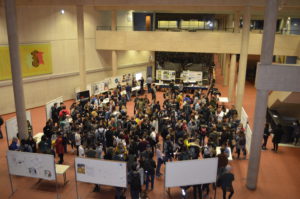 I studied abroad. For one semester I lived in Paris. So it's fair to say I was pretty good in French. But one year later I'm back in Germany and have to say: I have no trouble understanding it (I always watch films and series in French – thanks to Arte!), only speaking doesn't work out as well anymore.
HOW EVERYTHING STARTED…
That's how it looked like in October, just before I decided to join the tandem program. That is to say: I, as a German native speaker, am meeting someone who speaks French. And we chat in both languages in turns. So it's a win-win situation. I was sure that I had to try it. After a short research, I found two options to do tandem at the university. One was to register online and to get someone asigned to me. The other was to go to the tandem evening and search for myself. The evening is organised every semester by InDiGU (Intergration und Diversität an der Göttinger Universität). I opted for direct confrontation and for the evening in the ZHG. Let the experiment begin!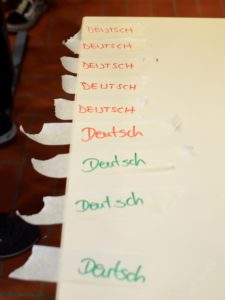 Only problem: at the French-booth I can't find any French native speakers. Round about 20 Germans stand there and wait for someone to show up. I've almost given up hope, but after about 15 minutes five people approach the stand and… miraculously: it's a group of Frenchmen. We rush upon them. I almost feel sorry for them, how they stand helpless against the crowd of Germans who want to learn their language. What follows is the typical conversation: What's your name? What's your field of study? Why are you in Göttingen? For how long? Would you like to meet sometime? Yes? Perhaps? We could exchange numbers and have a look? What's your name again? Ah ok! Yes, it was really nice meeting you. We text each other! Yes! Have a nice evening! See you soon!
It feels a little bit like speed dating. After over one hour, I'm finally on my way home – with one telephone number and one friend on facebook more. Let's see what happens.
…TOOK IT'S COURSE…
A few days ago I started to write with Gilian, my new tandem partner, via Facebook. Today we want to meet for the first time in a Café. I'm a little nervous about it. While I wait thousands of questions are running through my head – ok, not a thousand, but a few: What will we be talking about? Will we find anything to talk about? Will we even understand each other? I feel like I'm about to go on a date.
Finally, we sit in the Café, a Latte Macchiato and a grand Café au Lait in front of us, and everything is going very well – after a few problems at the beginning, especially with finding the right words, followed by shy laughter. Of course, there is the obligatory conversation about a certain on-demand-platform for movies. But we talk about other topics as well. For example beautiful German cities (and why she knows them better than I do), typical eating habits in our countries, Christmas markets and finally music. If I know any french songs? Needless to say, not without reason did I suffer through nine years of French classes at school with CD-player and lyrics as an integral part of the lesson. Again and again we switch between German and French – no strict plan needed. I like it that way.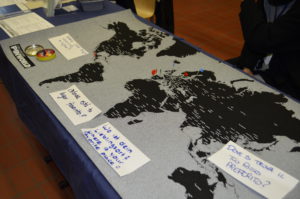 And suddenly an hour and a half has passed. It's already dark outside and we say goodbye for the day. But we have already plans to meet the following week.
…AND YET HAD TO END
That was in October. Now the semester has passed. That means that Gillian, who was in Göttingen for her Eramus-semester, has to go back to France. And for me, it means reviewing our tandem.
We didn't really become friends. We got along with each other well, but it wasn't enough for more than our weekly coffee meetings. And they weren't always as relaxed as our first meeting. We were actually learning partners who profited from each other. But that's partly because of our seemingly incompatible timetables; that we were able to meet every week feels like a miracle. And even that did not always work out. Only once did we manage to meet out of the line. We made Crêpes together and talked for a while. It was an afternoon with a friend. But at our next meeting it felt like nothing had changed. The language barrier between us was probably to blame for this as well. It didn't help that my French did improve over the time.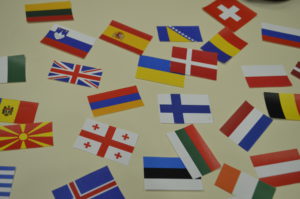 What is sure is that one semster is not enough. Sure, I've been learning a lot these past months. Nonetheless, I have to train my language skills futher. If not, I will pretty soon be at the same point as I was in October, when I started. Perhaps I should talk about more specific topics as well. At our meetings we only spoke about the past week and what was new with us – apart from our conversations about movies and music. For my next tandem, I intend to talk about other stuff as well.
But it is also certain that I've learned a lot – not only language-wise. Through our conversations I have gained deep insight into all possible areas of life in France, even though I myself lived in Paris for four months. Plus, I could help Gillian by uncovering a few secretes of German universities, German music and German television.
My tandem career is definitely not over just yet. The concept has convinced me. It is certain that there will be a next tandem. I'm going to try again. And that's why at the beginning of the semester I will again push my way through an overcrowded ZHG and hope, together with many other Germans, that a few French people will show up who want to talk to us.