Whenever someone from a prominent family gets married in India, they go out of their way to decorate the whole city. Bright banners are put up on empty walls, floral garlands are hung from terraces, colorful patterns drawn on the ground, and lights and lanterns hung on trees. People mull about everywhere, there is a constant melody of the shehnai or the sitar playing somewhere, and the smell of sweets and oil-lanterns hangs heavy in the air. "Decorate the whole city like a bride", is what they call it.
When I was leaving India I was a little wistful to think that I was leaving all this behind, too. So imagine my surprise when I came to Germany and saw the exact same things, albeit in a different form! Instead of the bright banners and floral garlands there was a grand display of street names in shining golden lights. Colourful patterns and lanterns were replaced by glimmering ornaments and decorations. And in place of the shehnai and sweets it was Christmas carols that I heard and Lebkuchen that I smelled. And at the heart of it all, there was still the same joy to be found in coming together, the same celebration and spirit of festivity.
This was, of course, the way things were done before the pandemic happened. The sad reality of the day is that the pandemic is here, and for now it's here to stay. But one of the things humanity is great at, and which I believe to be one of the few redeeming qualities of our species, is being hopeful. Given lemons, we set about making lemonades. And given a crazy pandemic ravaging the whole world, I believe we can still make something resembling a lemonade.
So read on to find out how I rediscovered Christmas this year, and what you can do also, to keep the magic of this season alive – all in a safe socially-distant way of course.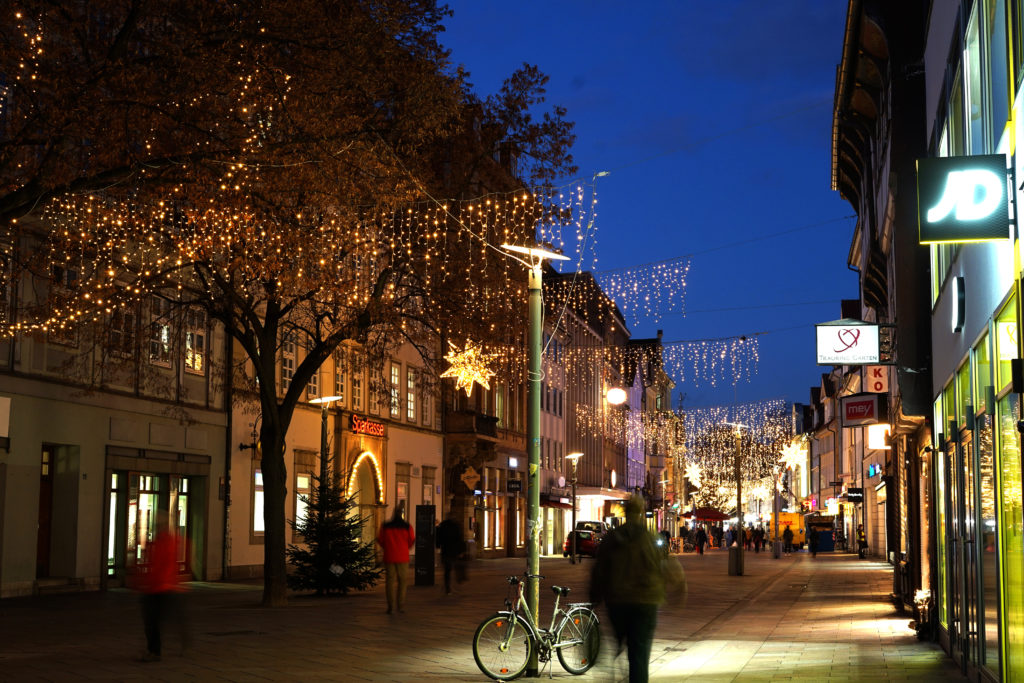 First Impressions
Growing up in a Hindu-majority country, my only impressions of Christmas were those made from Hollywood. These films always portrayed Christmas as a magical season where only good things happen. So naturally, I grew up believing that every Christmas is a white Christmas, and if it hasn't snowed yet then it'd definitely magically start snowing when everyone's finally settled around the fireplace in the evening. I thought that children always woke up screaming "It's Christmas!" before running down the stairs to open their presents. For a brief period when I was younger I believed, also, that if you're a naughty child you would get left at home fighting goons while your family goes off on a holiday by themselves.
On growing up though, I slowly moved away from these American exaggerations and made my own impressions of the season. Interestingly, my first ever experience with a German Christmas Market was not in Germany but in India! The market was hosted by the German embassy in New Delhi, and going in I had zero expectations or knowledge about what really goes on in a Christmas Market. There were brightly lit stalls and exhibits selling all kinds of handiworks and crafts, sweets and snacks, and of course, beer. At the centre of the market was an almost 20 feet tall Christmas tree. The whole thing was decorated with ribbons and pins and angels and what-not. Even if the tree weren't so decadently decorated, I would still have been impressed by the fact that they managed to get a Christmas tree at all in India. There was definitely a certain magic to that place and in that evening. I remember wondering to myself about how an actual market in Germany would be like. Little did I know, that just 4 years later, I was to find out for myself!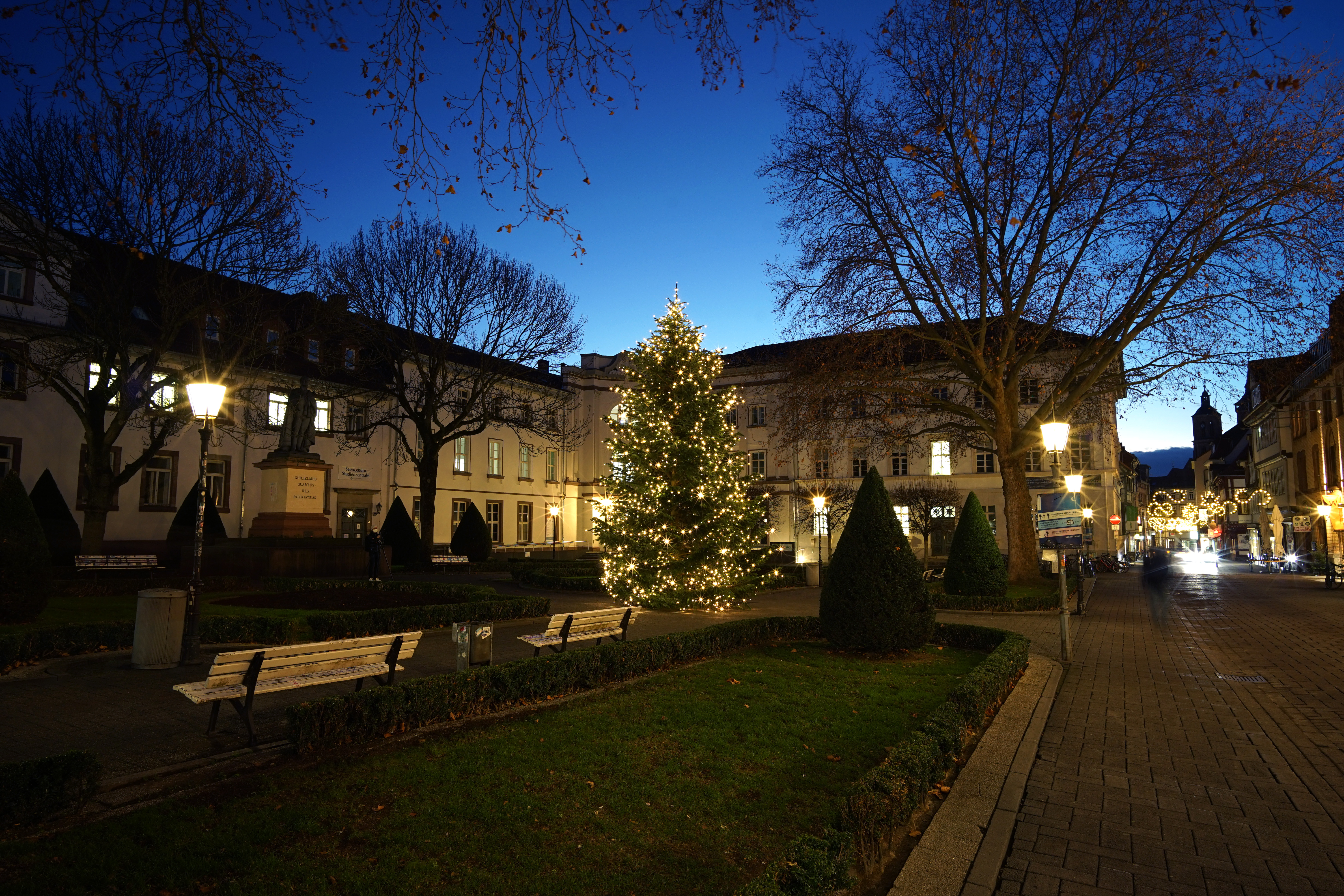 Christmas in Germany
The advent of the Christmas season is a long drawn-out one. Preparations begin in the city from November itself, and come 1st of December, you can see the markers of Christmas all over the city. And it's not just the grandiose decoration and limitless strings of lights put around the streets, but rather the small gestures of hearing a 'frohes Weihnachten!' and getting a small piece of chocolate handed to you along with your shopping that lend a special warmth to this month.
One of the Christmas traditions I have grown particularly fond of in Germany is that of the Adventskranz (Advent wreath). Lighting up a candle every Sunday for the four Sundays leading up to Christmas is a wonderful concept. It's a great way to boost the 'Weihnachtsstimmung' (Christmas spirit), and is indicative of the light brought to the believers by Jesus.
My favorite tradition however, has to be the Adventskalender (Advent calendar). Keeping the material aspect of it aside, I loved the idea of a sort of a countdown to Christmas Eve to build up the Weihnachtsstimmung. What makes the calendar even better is if someone dear to you makes a personalized one for you.
In case you're missing the normal Christmas market in Göttingen or if like me, you're an international student wondering how the market must actually look like – here's a super nice video of it!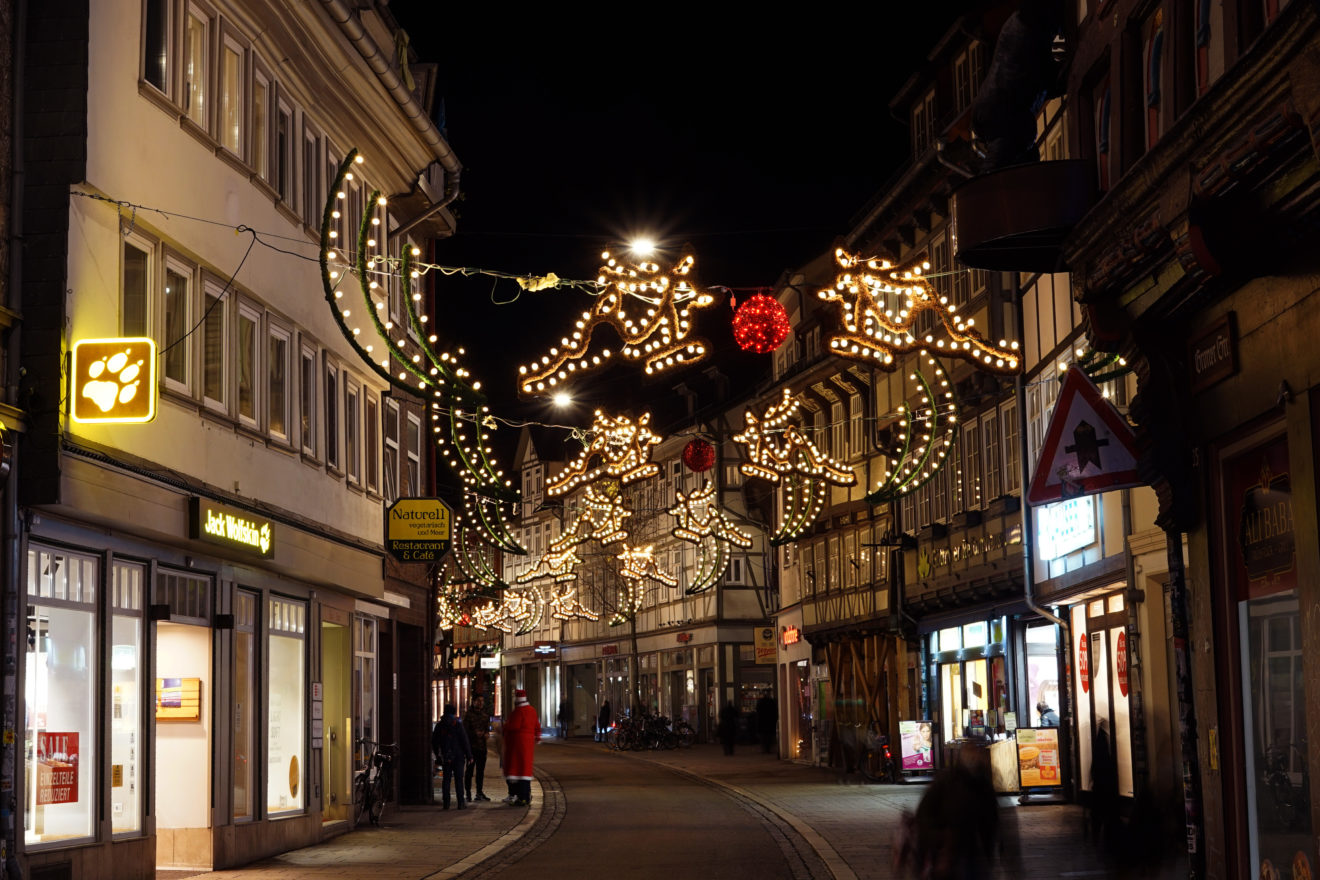 Christmas in Corona times
So what to finally do then this Christmas? Just because the times are bad, doesn't mean everything has to be! Unfortunately there are no Christmas market stalls this year, but you can still take in the beautiful decorations of the city! You can further personalize the experience by putting on your soundtrack for the walk.
What I am going to be doing on Christmas then, is to get my own glass of Glühwein and make my way to the city. I'll put on my favorite Christmas music (Jingle Bell Rock and Oh Tannenbaum, in case you're wondering), and will take my time soaking in the sight of the city. I will make my way to the giant, glittering Christmas tree in front of the old town hall before heading out to see the nicest street decorations in the city (the Reindeers of Lange-Geismar-Straße are my personal favourite). I'd then head on to the city library (the old SUB building) to stare in wonder at the Adventskalender presented by the city. Many of you might have seen it already, but for those who haven't, one side (the one facing the Johannis church) of the old SUB building has been converted into a giant Adventskalender of sorts. Each of the 26 windows of the building's facade are decorated with wreaths and paintings, and with each passing day one more window is lit up. The final window will be lit up tomorrow on Christmas Eve. The building already looks incredible with just a few of the windows lit up, so I can only imagine how beautiful it'd be when all of it is lit up tomorrow.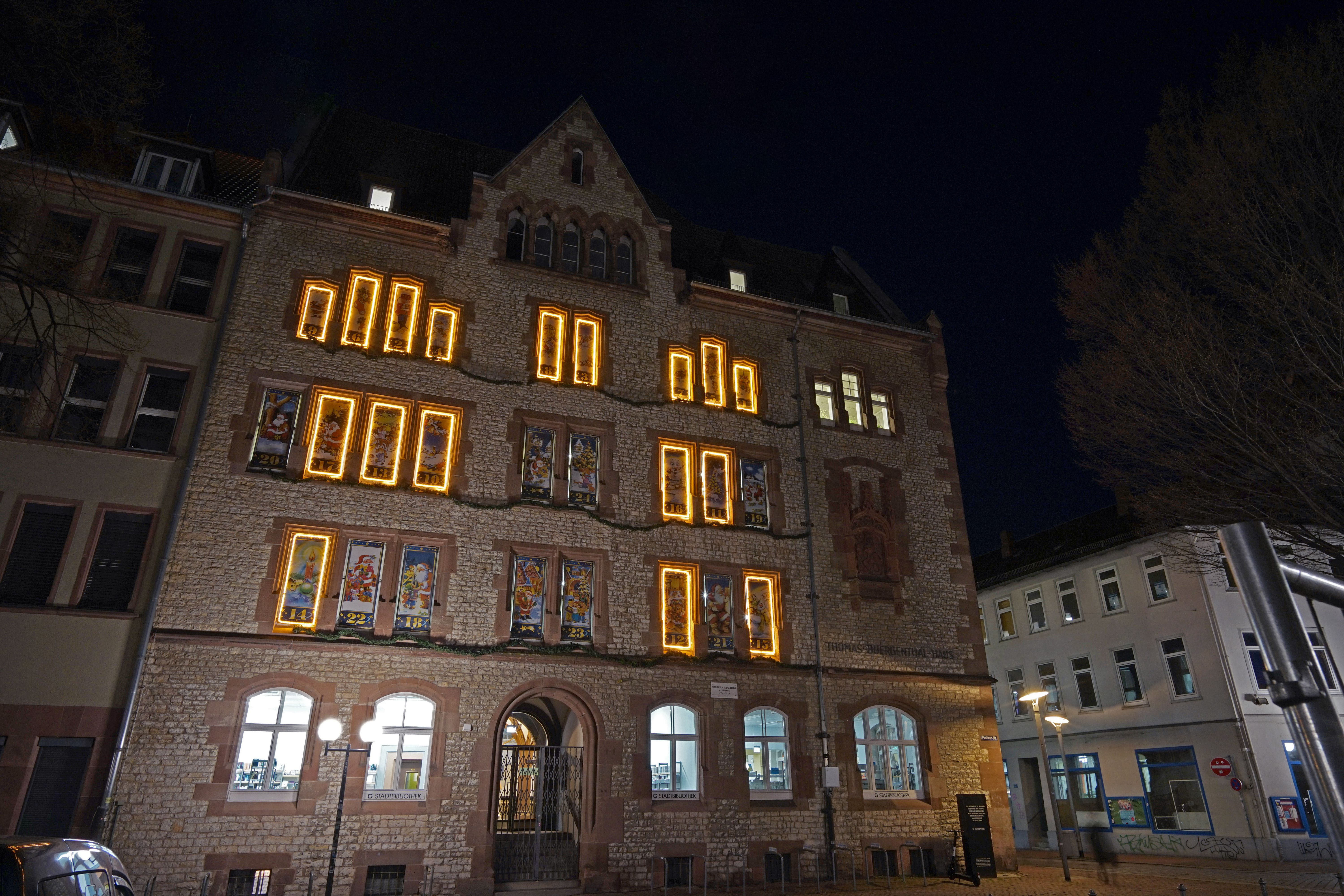 After the Adventskalender, I would walk through the city some more, thinking about the crazy year we've all had. After having had my heart's fill of the Christmas decorations, I would eventually end up at the Christmas tree in front of the old town hall again. This time around I'd walk up to the tree and stand right under it. I'd simply gaze up at the glittering mass of green and golden above my head, and be grateful to have a Christmas season at all this year. 2020 has been such an incredible year for us all. It was extremely demanding and challenging, and changed our lives and society in ways we never thought possible. It's been a year where we have all been forced to deal with being alone, and has made us realise the importance of having people around us. So even as you stand there under that Christmas tree alone, remember that you're doing it for all your loved ones. And that they're doing the same for you. While you're at it, why not take a picture too? If for nothing else then for it to serve as a reminder of just how far we've all come, and how resilient this year has made us all.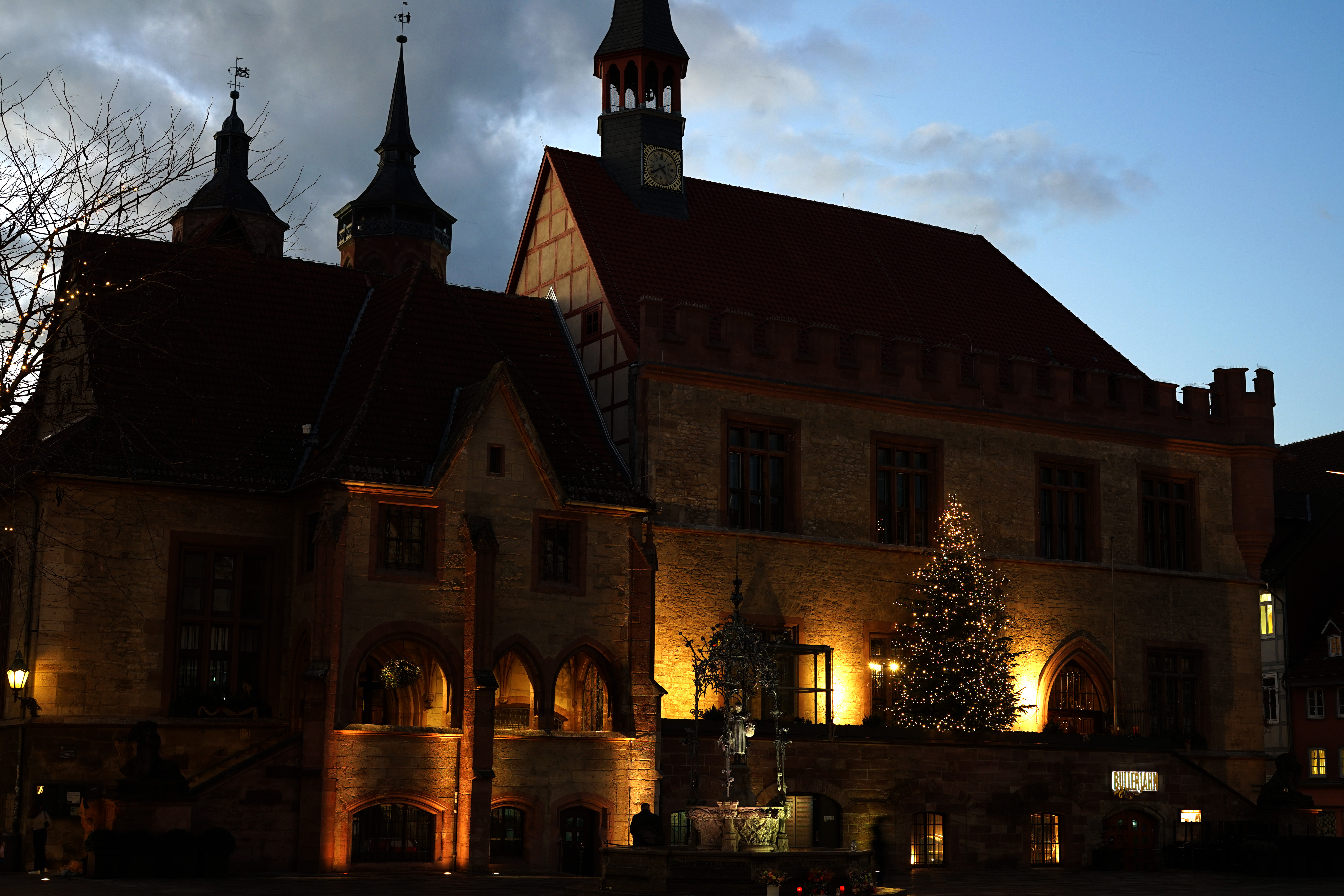 So I hope you find ways to rediscover the Christmas season this year just like I did, and with that I hope you have a very merry socially-distant Christmas!