This Christmas season, BLUG will be opening some festive doors for you! Behind them you will find information, advice, and support concerning all aspects of studying and life at Göttingen University. You can of course visit these places even when it's not Christmas season, but we know – the first step to get out there is the hardest. Therefore we want to give you a special incentive to get to know the advisory and information services that our university offers! Starting now and through all of December, BLUG will introduce different advisory offices around campus every week. You will also have the chance to win a voucher worth 50 Euro redeemable at any canteen and café on campus. How? You simply need to visit the "BLUG advisory office of the week", answer one of our questions concerning their services, and then send a picture to us to prove you've really been there! Important note: Please take a selfie with the BLUG logo (we have left one at every advisory office we introduce to you)! The winners will then be drawn from everyone who has sent in a picture and a correct answer to our question.
This week, we will start with…
"Göttingen International", located at Von-Siebold Straße 2!
The first place to go if you are a student in Göttingen and you wish to take a year abroad – or the other way around – is the Von-Siebold Straße 2. This is the location of Göttingen International (GI). The international relations of the University are coordinated here, as well as the advisory and service center for (international) students, academics, and staff.
This week we present to you the services offered to students by Göttingen International. Information for doctoral students, international scientists, etc. can be found on the homepage of Göttingen International.
If you've been thinking about studying abroad for some time or if you're in the middle of planning a stay abroad but still need some support – take a look at the services on offer by the "Advising students abroad" office!
International students will also find information about applying, enrolling and studying full-time at Göttingen University as well as support for exchange studies like Erasmus or other partnership programs.
Furthermore, all students are invited to take part in the many different international events organized by the GI. Here are some examples:
The Tandem-Evening for learning languages together.
The diverse cultural program of the Foyer International (e.g. they offer workshops to improve languages, organize English movie nights, and have a yoga-workshop every once in a while!)
As part of their cultural event series, the highlight of the Foyer International this week is the "Serbian culture evening" on Monday, December 2nd.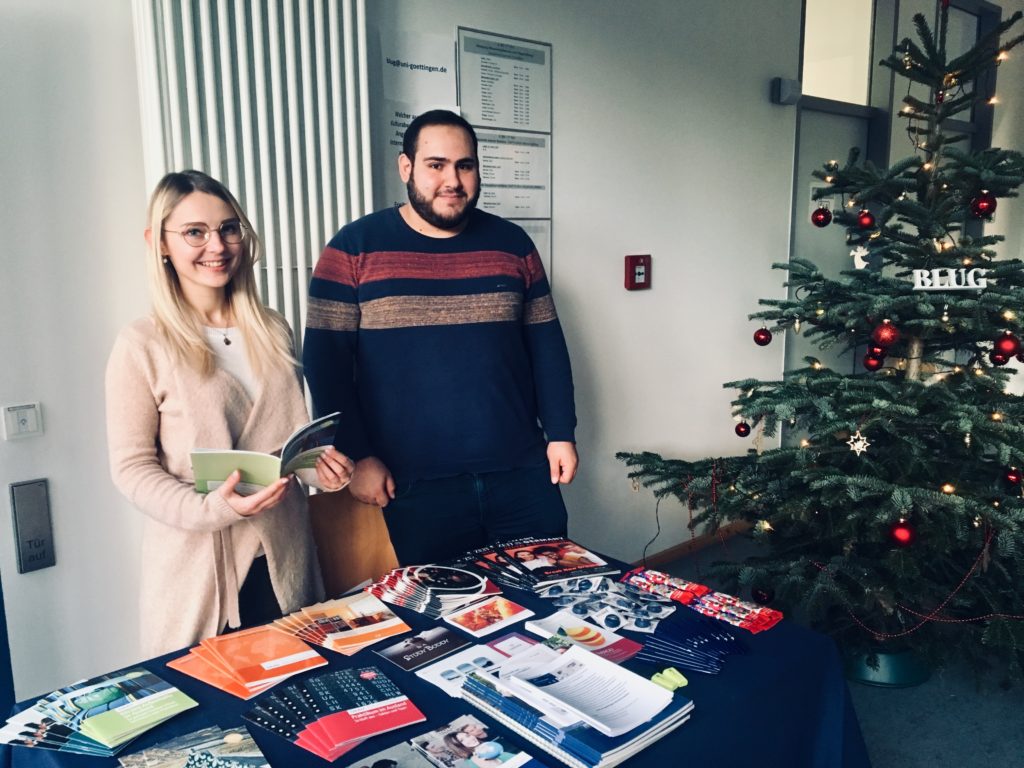 With so many different options the best thing to do is to pay a visit to Göttingen International to get all the information you need and maybe even more. On the following dates, there will be an additional info desk for your questions:
Monday, Dec 2nd , 4-6pm
Wednesday, Dec 4th, 10am-12pm
Friday, Dec 6th, 10am-12pm
And if you are there anyway, then why not take a quick selfie with our beautiful BLUG logo that you can find in the Foyer of the Göttingen International office at the Von-Siebold Straße 2 from December 2nd to December 6th between 9am and 5pm (friday till 12!). To win a mensa voucher worth 50 Euro all you have to do is send the selfie with the BLUG logo at blug@uni-goettingen.de (The picture is only proof that you've really been to Göttingen International. Of course, we will NOT publish it without your consent)! Also, in the mail with your selfie, please answer the BLUG-question of the week: "Which of the different cultural evenings organized by Göttingen International or which part of the program of the Foyer International do you think is the most interesting?".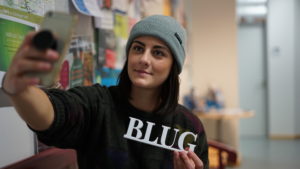 We will draw the winners of the 50 Euro voucher from everyone who sent in a selfie with the BLUG-logo and who answered our question no later than Friday, December 6th, at 12.30 o'clock!
Conditions of participation: The aim of this campaign is to raise awareness among students of the Georg-August-Universität Göttingen for the advisory services offered on campus. This is why only students are eligible to participate. The e-mail sent in must contain a selfie with the BLUG logo, which was taken in the corresponding institution, and an answer to the weekly question. Each student may participate only once per week. The winners will be decided by lot and notified via e-mail.