I can't hear it anymore, but there's also no way of ignoring it: Corona significantly changed our everyday lives. For us as students, who are used to having 5-10 classes a week, going to the cafeteria for lunch and cram for exams in the libraries late at night, the digital semester was definitely a whole new challenge. As the next one will not be any different and we will from now on just have to push through it digitally, we collected 5 top tips for studying digitally for you to have a smooth start.
Know your tools
As the past semester has shown, both the most proven and popular conference tools that the university also have a license for are BigBlueButton and Zoom. Here, digital class and meetings rooms with three digit person counts can be arranged. It is also advisable to practice video conferences beforehand. The inhibition of turning one's own camera on and actively participate in conferences is way lower if you are familiar with the technical devices and you've seen yourself on camera before. (This is also a good way to get used to the subtle differences of the two programmes – I at least am always totally confused when I see that my video is mirrored in one and not in the other…). And for professors and lectures it is also much easer to create lively lessons when they see their students' faces during the class–even if it's just digitally! (For legal reasons nobody can actually make you turn your camera on.)
How to use BigBlueButton, video tutorials and tips for hosts and participants you can find here.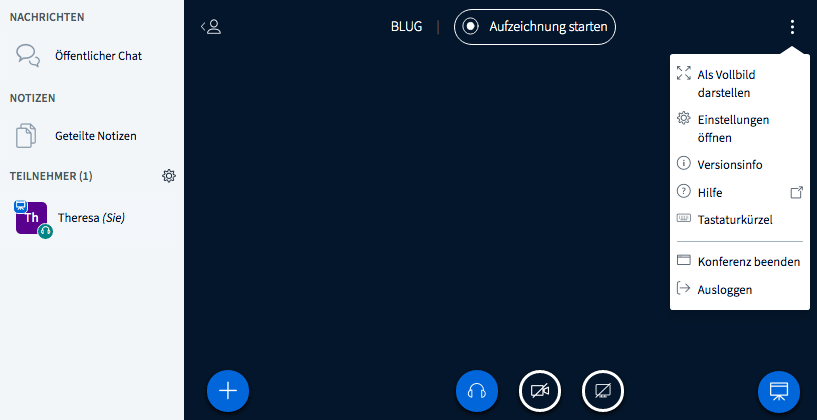 If you want to know how to get your own Zoom account via GWDG and how to participate in classes or organize meetings, take a look here. 
Other digital tools you'll find here, for example how to screencast a presentation, how to use GöTours or create study cards on ILIAS.
But first and foremost our essential online systems eCampus and Stud.IP are you fellow companions during your (digital) studies. Here, all classes are organized, documents can be uploaded and you can use your university e-mail address to contact your professors and fellow students. Our BLUG article about the 5 top tips concerning the online systems  further explains them to you.
Get an overview of online classes
Not all classes are the same during the digital semester–just like during the regular, attendant semester. Normally, there are also all kinds of lectures, tutorials, seminars, exercise courses and so on, so you cannot even name a "regular" course. And it's just the same online: You can attend lectures with muted participants, seminars with required active participation, video on, video off, sound on, sound off, recorded lectures… the list continues. To get some kind of orientation about the different forms, you can get an overview here.
Learn to study
Learning doesn't equal learning, which you might have experienced in school. The approach is crucial and can lead to either losing our acquired knowledge one day after the exam or–much better– to sustainably storing it in our brains. In our BLUG series #unigoelernt", which we jointly created with the Central Student Advisory Service of the university, our reporters tested different studying methods that might me helpful for your self studies at home. Because unfortunately, this new form of studying requires even more discipline, time management and motivation that normally. That's also why we encourage you to keep up the usual home office rules: getting dressed just like you did when you left for university, organizing your daily routines, creating time tables etc.
Expand you digital skills
In order to get a little fitter digitally, the university offers self study classes. Here, you individually work through the course material, while the respective institutions provide the material and information. IT, data security, literary research… If you want to know more to broaden your set of digital skills, which are doubtlessly very important (and not only during the digital semester), these courses can help you. Take a look at their website to learn more about which classes they offer, how to register and how to proceed.
Connect socially
The best part of going to university is actually happening outside of the class rooms: pub crawls, long lunches at the cafeterias with friends or even night shifts at the LSG to finish the d*mn term papers. But we don't have to completely abstain from the social activities (anymore), there are ways to connect anyways. On the one hand, you can still have small gatherings outside under corona safety measures (!), on the other hand you can just use the digital ways to get in touch. Via Stud.IP you can first encounter your class mates and fellow students and easily get together virtually. For all first semester students there is a variety of orientation events both online and in attendance (yay!). You can find the events offered by your subject if you check out the central website.
If you found each other and now want to study together without meeting in person and risking your health, try the GWDG-Pad, the Rocket-Chat or the study group function on Stud.IP. Here, you can plan your projects and communicate in bigger groups without necessarily create the hundredth WhatsApp group chat. 

Of course nobody knows, when we can study normally again, but with these tips in mind you're all set to cut loose digitally. And one thing is for sure: We will appreciate even the most hated of all lectures once we can all suffer together again in one class room…