When I first started studying in Göttingen in 2014, I was overwhelmed with all the new information. Those are my login details for this portal, which I can also use to get access to the other very important portal on the exact same page. This is for classes, this one for exams, another one for my e-mails and my schedule… To make it easier for you to find a way through this avalanche of information, here is part 2 of our digital orientation with the top 5 online systems you will encounter during your studies.
1. eCampus
eCampus is the most important portal for managing your studies; you will get your login information with your enrollment documents. Here, you can write e-mails to your professors, teaching assistants and fellow students (eCampusMail) and get access to all the other important portals explained in the following. The home page is especially useful for organizing tabs like print credit, mensa menues, or books you ordered from the libraries. This way, you will get a nice overview and direct access. By clicking on "links" you will also find the application site for the scholarships Niedersachsenstipendium and the Deutschlandstipendium.
2. Stud.IP
At the top bar in eCampus you will get to Stud.IP (you don't need any additional login details), where you can –or have to– organize your classes: starting from searching for classes to registering and getting access to course material, Stud.IP is the tool to do it all.
Here is a detailed explanation of Stud.IP (in German only).
3. FlexNow
Also at the top bar, right next to Stud.IP, you can find FlexNow. While Stud.IP is important for courses, FlexNow is the exam equivalent and therefore very important. This is your virtual connection to the examination office and the place you register for your exams (not for classes!). Be aware that FlexNow is a little stricter than Stud.IP because this is the place where you get your credits. It is key to meet the deadlines of registration, otherwise you cannot participate in the exam and that might cost you a lot of time and effort. Other than that, this platform also gives you a good overview of your previous and upcoming exams and also your accomplishments, which you can view and download as a sheet. FlexNow is also the only platform where you can register for ZESS classes, for which you have to take part in a lottery process.
If you need more information on FlexNow, this video can help you (unfortunately only available in German).
4. SB/UniVZ
Next on the bar at eCampus: "Weitere Dienste", which translates to "additional services". The first useful service is UniVZ, a catalog of all the classes from 2007 up until today. But: This tool is only for getting your information, it is not possible to register via UniVZ, only via Stud.IP. On the left hand side under "My functions", you can access several certificates you might need, e.g. certificate of enrollment or payment receipts.
5. Booking rooms at LSG/SUB
The second useful service at "Weitere Dienste" is a tool to reserve study rooms at the LSG or SUB. These rooms vary in their sizes and are perfect for group work and/or isolated studying. They are short term only, meaning you can only reserve them for several hours on one day. While the LSG has various rooms from booths in shared rooms or small single rooms up to a couple of big ones for 12 people or more. The SUB only offers single rooms, some with windows and some without. On this page, you can access the booking system, where it tells you how many points you have left (it's an ingenious system with an equal number of points for every student) and which rooms are available at a certain time.
How everything works exactly, you can find out here or in this short summary (both only in German).

Slide show: Overview of the systems
Now that you know the most important functions of the systems, here's a visual overview.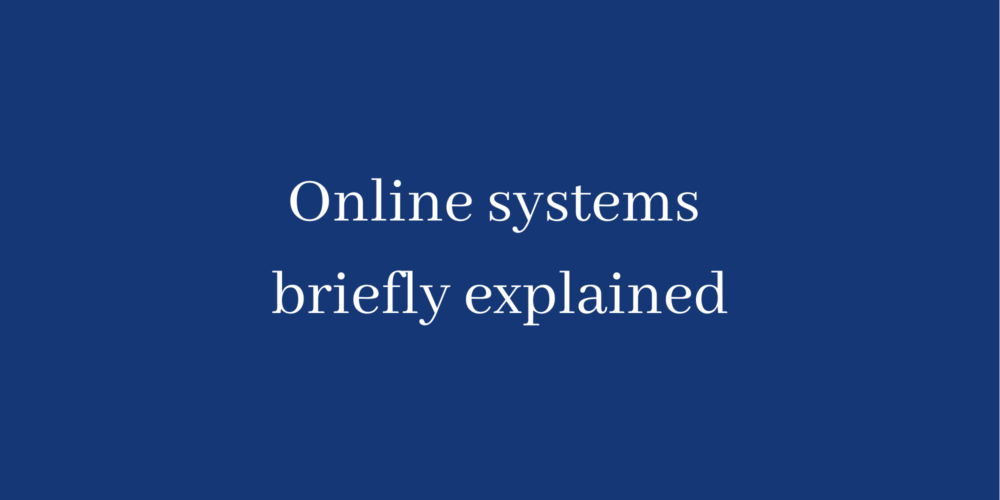 You can create your home page individually with your preferred tabs and also access all the other systems you need on the bar on top.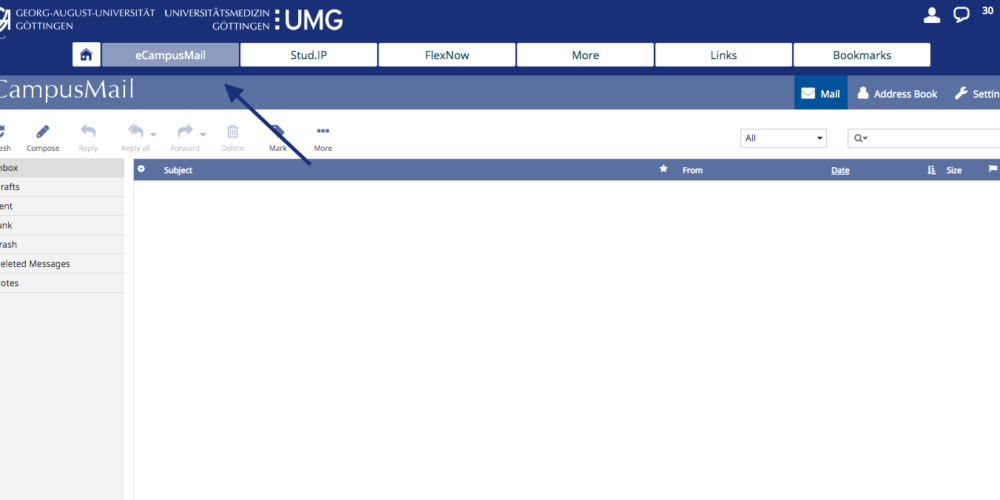 eCampusMail is your e-mail client that you can access here. You get your e-mail information with your enrollment documents.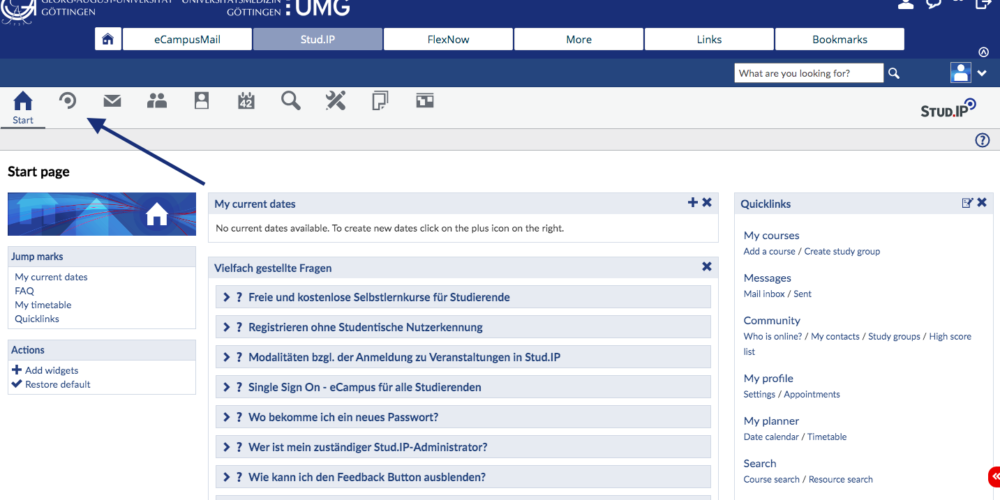 Stud.IP is the main tool to organize classes and lectures. You'll find them here (arrow).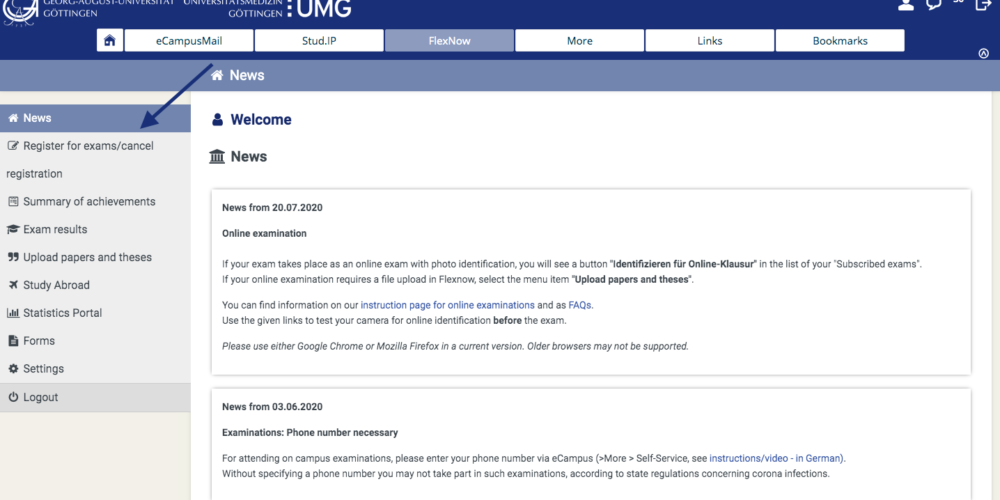 FlexNow gives you access to these services.

By the way: only on FlexNow you can register for ZESS classes!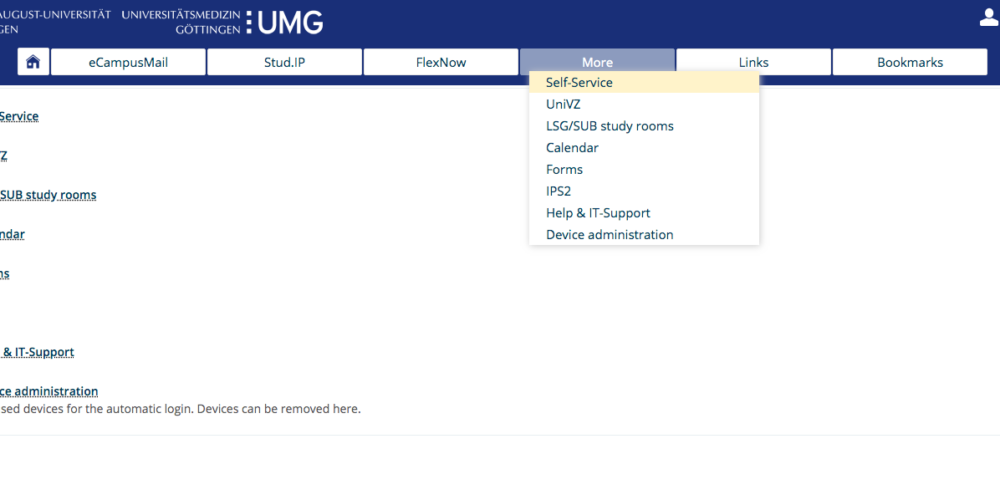 With the self service device you can manage everything related to your enrollment.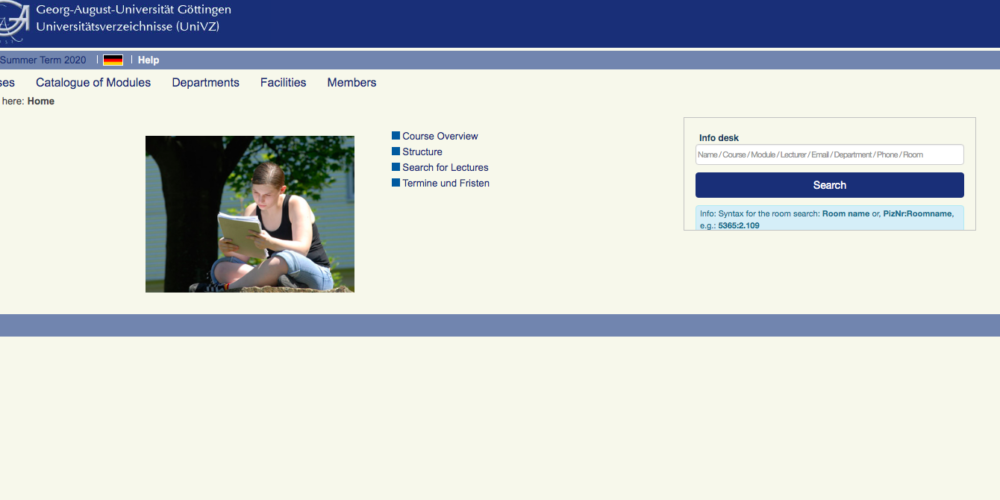 UniVZ is the archive for all courses and lectures. But: You can't register for your classes here, you can only view them.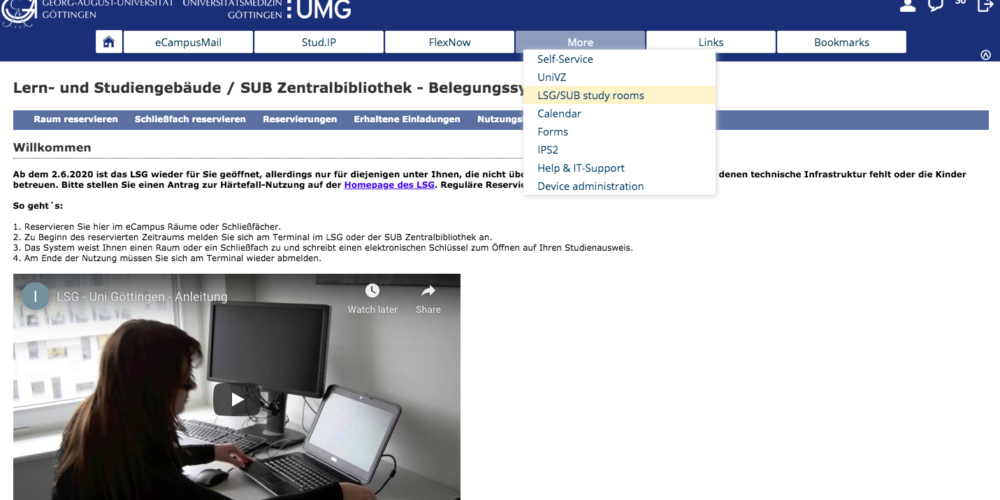 Via eCampus you can also access the online system of the LSG and SUB, where you can book short term study rooms.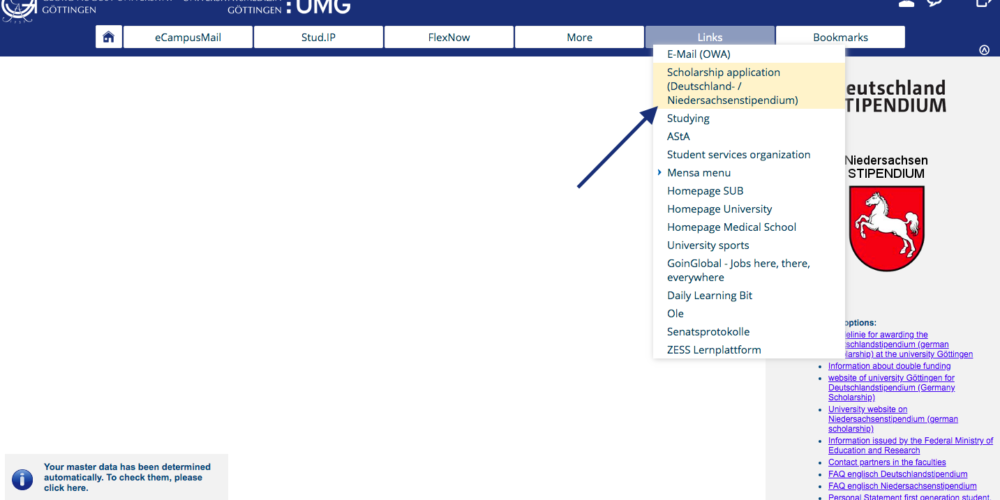 On "links" you also find the application site for the Niedersachsen and Deutschland scholarships.